Social Library, Volume 99
Jennifer Peterson
/
09 January 2018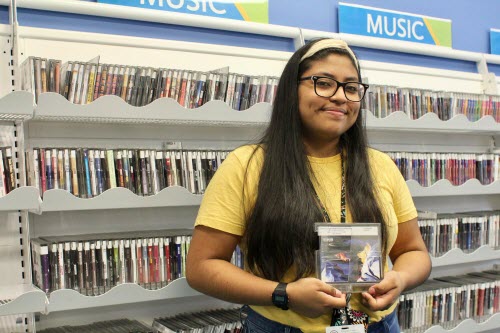 In this, the first 2018 edition of our Social Library series, we're highlighting a fresh set of stellar examples of libraries leveraging Facebook in innovative ways. From a fun movie tie-in contest to a reading challenge, and from staff favorites to over-flowing book drops, these social libraries are sure to inspire you in your work! We're extra excited to feature Mandel Public Library of West Palm Beach and thank them for reaching out to us with their staff recommendation series. If you'd like to see your library featured in a Social Library edition, please let us know via social@webjunction.org or find us on Facebook.
Mandel Public Library of West Palm Beach in Florida reached out to us to let us know about their Staff Favorites of 2017 Countdown Series. "The posts began on December 22 and for 10 days featured a picture of a staff member posing with their favorite book, music album, or movie as well as a quote about why it's their favorite and a link to the item in the catalog. Not only does this market our collection, it's also a way for patrons to get to know the people who work at the library and show staff that they're appreciated." Thanks so much for sharing your stellar social library example!

Featured in our last Social Library edition, Prince William Public Libraries again deserves mention, this time for their "replace any word in a book title with 'Jedi' contest" which garnered nearly 200 comments in just 4 days. They invited the community to post their new titles in the comments and then recognized top titles that received the most likes. The winning titles were: How the Jedi Stole Christmas, Alexander and the Terrible, Horrible, No Good Very Bad Jedi, Fifty Shades of Jedi, and Diary of a Wimpy Jedi. 

Sunnyvale Public Library in California caught our eye with this back-room photo of their avalanche of book returns. What a fun way to show how much reading happened over the holiday closure and a great way to thank the circulation staff for all their hard work. The post was shared multiple times (undoubtedly by many other libraries!) and it garnered loads of likes and comments.

Through a post in the Libraries and Social Media group, we learned about a unique program offered in 2014 at the Radford Public Library in Virginia. Hosted weekly that summer, Chopped Literary Edition, invited the community to come to the library or play at home, to test their storytelling skills. The library shared, "Inspired by the cooking show of the same name we have adapted the format to a friendly, fast-paced, non-competitive writer's workshop for writers of all skill levels. We have baskets of mystery ingredients; words, themes, items, source materials for inspiration." Patrons were given 15 minutes to write the story or poem, and invited to share at the library or on Facebook. Here's one of the baskets and a few of the stories shared on Facebook.

Wichita Public Library in Kansas has launched a 2018 Reading Challenge in partnership with the Wichita Eagle and reporter Suzanne Tobias. The challenge invites adults to read 12 books in 2018. To make it fun and a little bit challenging, Suzanne has created 12 different categories of books to read (also available in a reading log pdf), and for help completing the challenge, the library has provided book recommendations for the categories. "The library will be hosting a live streaming online book discussion on the Library's Facebook page on Wednesday, January 17 at 12:30 CT for the community to learn more about this year's challenge." AND there's a Facebook group and Twitter hashtag for those participating in the challenge.