Social Library, the Great Outdoors Edition
Jennifer Peterson
/
12 May 2021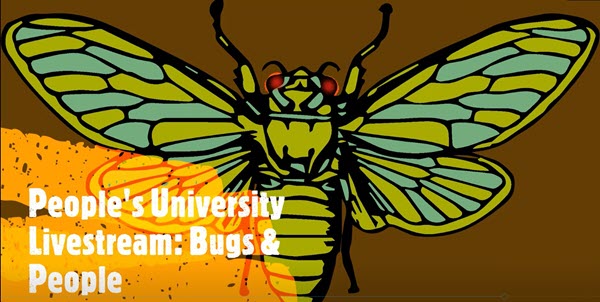 Though some libraries have begun to welcome communities back to their indoor spaces, many libraries are continuing to explore opportunities for patrons to enjoy library services and programming in the great outdoors. Libraries highlighted are offering classes with entomologists, garden boxes for kids, a popup seed library, a new outdoor shelter, and even an outdoor learning center with multiple interactive gardens, along with outside seating and wifi. If you'd like your library to be featured in an upcoming edition of the Social Library, let us know via [email protected] or find us on Facebook. 
Ohio County Public Library in West Virginia is offering an impressive 8-class summer series online, "inspired by the return of Brood X or the Great Eastern Brood of periodical cicadas." The series, PU Livestream: Bugs & People, hosted as part of the popular People's University at the Ohio County Public Library, will feature entomologists and experts from all over North America to teach attendees about the six major insect orders, as well as the history of human and insect interaction, a subject known as cultural entomology. "The People's University is a free program for adults who wish to continue their education in the liberal arts. It features courses—taught by experts in each subject—that enable patrons to pursue their goal of lifelong learning in classic subjects such as history, philosophy, and literature." This is the 32nd series to be offered through the People's University since the program launched in 2010!

Delmont Public Library in Pennsylvania will host an Open House for their new Outdoor Learning Center. "Our Outdoor Learning Center, slated to open June 5, 2021, will include a Butterfly Habitat, Community Herb Garden boxes, an Enchanted Forest, outdoor seating, and wi-fi extending 200 yards outside our library walls." The library also hosted a very successful Paver Campaign to raise funds for youth programs and outdoor amenities for this wonderful new active learning space.

Woodstock Public Library in Illinois, after receiving a very large donation of vegetable seed packets, created a Pop-Up Seed Library! "Library staff has been talking to area master gardeners about starting a seed library and today's donation just moved things ahead quicker than we anticipated. Seeds can be 'returned' to the library in the form of produce for the library's food pantry, sharing with others, or as seeds for next year's planting season." And, of course, we love seed libraries in old card catalogs!
Weyauwega Public Library in Wisconsin posted a photo and update of their new outdoor shelter being built in the library's backyard by the local Weyauwega-Fremont High School's tech ed class. In an earlier post, the library shares a photo depicting the future shelter, which will include "a picnic table and, if there is room, a bench or two. There will be WiFi access and power for charging devices."