Social Library, Volume 163
Jennifer Peterson
/
24 September 2020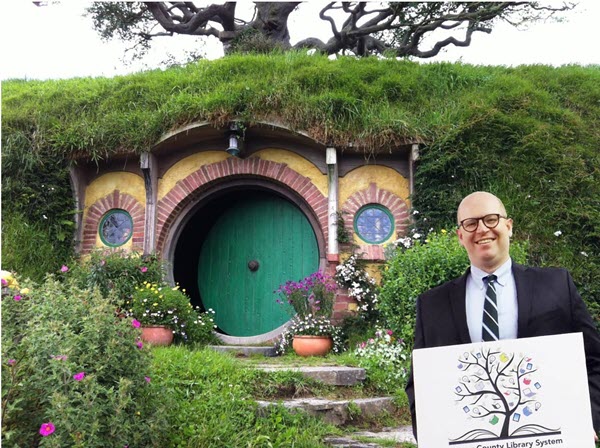 Libraries continue to respond to the social distancing challenges created by COVID-19, and we're pleased to share these innovative approaches to programming and community engagement. From circulating pedal machines for exercise to virtual cooking competitions, and from a plant swap to a "traveling" library director during Library Card Sign Up Month, these ideas are sure to inspire! If you'd like your library to be featured in an upcoming edition of the Social Library, let us know via [email protected] or find us on Facebook.
Sussex County Library System in New Jersey has been celebrating National Library Card Sign Up Month with a delightful campaign, Where in the World is Library Card Will? Building on last year's success, when patrons were invited to find Will in locations around the county, this year, "Library Card Will is traveling the world (virtually, of course) to share his love of reading and libraries! Throughout September, we will be sharing photos of Will's travels. Tell us the name of the location in the comments for a chance to win an Amazon Gift Card!" Browse the library's Facebook feed to see the places Library Card Will visited, and test your skills!

Laurel Public Library in Delaware is circulating Pedal Machines! In the post announcing the eight pedal machines available for check out, they mention the research indicating stationary bikes, or pedal machines, can help young remote learners stay focused and fit while learning from home.

J. Robert Jamerson Memorial Library in Virginia had great success with their social distancing Plant Swap. In an early September post, they shared that they had received the donation of a baker's rack from a local restaurant and that the plant swap would be their first event using the rack. A simple list of rules were shared, and patrons were invited to "bring in a few cuttings, roots, or plants and take home a new friend." Staff also put out large pickle jars with lids and instructions on how to build a terrarium (thanks to the Mississippi State University Extension Service), free seed packets from the Virginia Cooperate Extension Office, and cuttings from plants inside the library. (Thanks to Appomattox County Library Association for sharing many of these details in the Programming Librarian Interest Group!)



Cambria County Library in Pennsylvania invited patrons to compete in a virtual cooking competition, Chopped Johnstown. The local news helped promote the event, providing additional details on how patrons can submit their culinary creations. Each of the three age groups (Chopped Junior, Teen and Adult) are provided with a different list of ingredients to include in their dish of choice, with substitutions allowed to accommodate dietary needs (ex: vegan, gluten-free alternatives). The submissions must include a video explaining how each of the secret ingredients have been incorporated into the dish, and a photo of the final plated dish to be judged by library staff. Prizes will be awarded for each of the three age groups, including a kid's cooking prize basket, a $25 Amazon gift card for the teen chef, and an air fryer for the winning adult submission. 



Red Hook Public Library in New York is moving their Thursday preschool programming outside with Let's go for a walk. "Meet Amy at local parks for socially-distanced nature walks for fresh air, science and fun."