Social Library, Sizzling Summer Edition
Jennifer Peterson
/
23 July 2019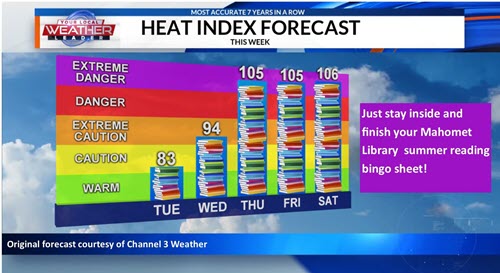 In this special edition of the Social Library series, we're highlighting libraries who are using Facebook to remind the community that libraries can be a great place to cool down in the heat. Libraries can serve as formal or informal Cooling Centers, in addition to providing access to all the library has to offer. If you'd like to see your library featured in an upcoming edition, please let us know via social@webjunction.org or find us on Facebook.
Mahomet Public Library in Illinois brought some humor to the heat, adapting the heat index forecast image from a local weather report to reflect the number of books needed to "Just stay inside and finish your Mahomet Library summer reading bingo sheet!"
Pope County Library System in Arkansas sent out a Heat Advisory in their post. "The Pope County Library is a great place to get out of the heat. We have FREE WiFi and computers. We are open from 8:30 am- 5:30 pm today. Be safe! Drink plenty of water. If you need a place to cool off, remember all Pope County Libraries are here to help."

Andover Public Library in Ohio shared this fantastic retro-inspired graphic at right with a message, "The forecast is calling for intense heat. Please check on your neighbors, especially our senior friends. Remind them that the library is air conditioned and we welcome everyone to come in out of the heat."