Social Library, Recognition Edition
Jennifer Peterson
/
16 October 2018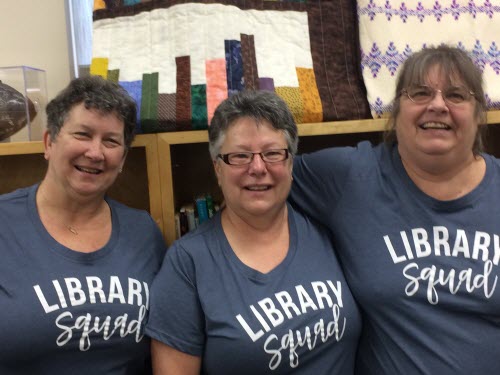 This Social Library special edition highlights libraries who use Facebook to thank staff and volunteers for their great work. Recognizing members of your library team on social media provides a great way for the public to thank them as well. Examples include staff in t-shirts provided by an anonymous donor, and a creative closure announcement for staff training. And don't forget to use social media to recognize and thank your Friends group during National Friends of Libraries Week, October 21-27! If you'd like to see your library featured in an upcoming edition, please let us know via social@webjunction.org or find us on Facebook.
Pepin Public Library in the tiny village of Pepin, Wisconsin (population just over 800) posted this wonderful photo of the team donning their new Library Squad shirts, a gift from an anonymous donor! "We finally are all in one place at the same time. Stop in and visit your favorite member of the "Library Squad" anytime the library is open."
Shreve Memorial Library in Louisiana recognizes staff weekly with their #SMLTeamTuesday hashtag. Each post includes a brief bio and a quote from the staffer. We met Cynthia Clark, Mooringsport branch manager, at the recent ARSL conference, and she mentioned Angela Childress' work to collect library cards from libraries around the world to celebrate National Library Card Sign-Up Month in September. She contacted the libraries through social media channels and created a wonderful display highlighting the cards and places. And we see that Angela was recognized in a September #SMLTeamTuesday post!

Branch District Library in Michigan announced that the library would be closed for staff training with this awesome photo and post, "All 6 branches of the BDL will be closed on Monday, October 8 for cart racing....I mean staff training." We hope staff day went well and that you were able to squeeze in some cart racing after all!

Louttit Library in Rhode Island shared a photo post recognizing Donni Champagne for over twenty years of service as a library trustee. "Donni has served as President, Treasurer and member-at-large on our Board of Trustees. He brings patience, kindness and a healthy sense of humor to everything he does."

Calcasieu Parish Public Library in Louisiana announced this year's recipient of the Lynda Lee Mills Carlberg award which recognizes a Calcasieu Parish Public Library staff member for outstanding service to the library. Congratulations to Marcus Gradney from the Facilities Management Department who serves as "Courier for the library system and sees to it that all of the books and holds are delivered and transported to other branches in a timely and safe manner...Each year staff members nominate a fellow staff member who has provided outstanding service to the library and has done their best to make a significant contribution to the patrons and the library system."