Social Library, Volume 113
Jennifer Peterson
/
24 July 2018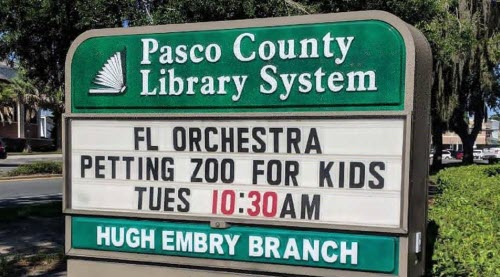 The latest edition of our Social Library series covers everything from an instrument petting zoo to Zambonis, and from international snacks to a speakeasy. These libraries prove there are no limits to the possibilities for community engagement and they're leveraging social media and partnerships to reach far and wide. If you'd like to see your library featured in a Social Library edition, please let us know via social@webjunction.org or find us on Facebook.
Pasco County Library System in Florida has partnered with The Florida Orchestra to bring their Instrument Petting Zoo to libraries throughout the Tampa Bay area this summer, to help introduce kids to instruments of the orchestra. A Tampa Bay Times article indicates "the free, hands-on program, presented by the North Suncoast Associates volunteers, is a regular feature at the orchestra concerts and a new summer offering at local libraries." And the president of their Friends of the Library is the person who reached out to the Orchestra about bringing the program to libraries. Great work!

Essex Public Library in Virginia is hosting a unique program, International Snacks: Taste test for teens. "Try some international snacks and guess where they're from. We'll rate our favorites and vote on the world's best snack." What a fun and simple way to explore the world of snacks and different cultures!

Blount County Public Library in Tennessee shared an 18-second video peek of new books being processed for circulation. "Remember the shipment of books we got yesterday? Each book goes through a pretty lengthy process before it hits the shelves for patrons to enjoy. Getting stamped, taped, and stickered is just a tiny part of the work that goes into making our books reader-ready! Here's a quick peek." Within less than a week, this clever post garnered numerous comments, nearly 100 likes and 23 shares.

Broward County Library in Florida is hosting the first-annual summer reading tour with the Florida Panthers hockey team. The Broward Public Library Foundation shared a wonderful album of photos from the tour's stop at North Lauderdale Saraniero Library. And earlier in the month the library posted a video of Florida Panthers alumni and NHL Network analyst Bill Lindsay reading "I'm Cool!", a children's book about zambonis. In addition to storytimes with the NHL players, the summer reading tour promises special guest appearances from Florida Panthers' broadcasters, alumni and team mascot, Stanley C. Panther (at right), along with a video game truck, corn hole, giant Jenga and more.

Bartow County Library System in Georgia is reaching out to the 21 and over crowd with two unique programs. First, On the Rocks, a workshop with a local mixologist teaching the basics of home bartending, and up next, Library After Hours: Speakeasy, hosted by the Friends of the Bartow County Library. The Daily Tribune News promoted the workshop and shared this about how it came to be. "'It came up when we were brainstorming program ideas based on 'Libraries Rock!' — On the Rocks," Director Carmen Sims said. "Recently at a book club meeting, we read 'Packing for Mars.' The meeting leader's husband, Shane Haney, made us Moscow Mules to go with the space theme. I asked Shane Haney if he would like to do a program on mixology, and we went from there.'" And the Speakeasy announcement invites attendees to "Bring your dancing shoes, get all gussied up, and head to the library for a roarin' good time. Friends of the Bartow County Library are hosting our very first After Hours Speakeasy! Sip on champagne punch (or its non-alcoholic equivalent), nibble some tasty treats, and enjoy the classic hits of the 1920s. It'll be the bees knees! Bring your honey, and make it a (free) date night."