Social Library, Volume 110
Jennifer Peterson
/
12 June 2018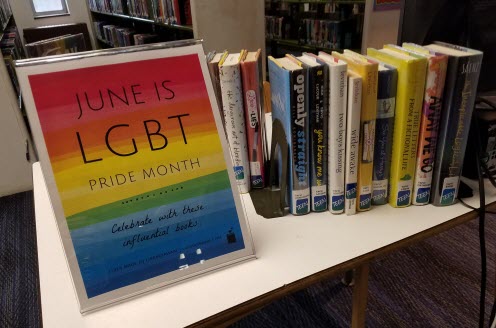 In this edition of our Social Library series, we've featured libraries who are using Facebook to promote celebrations, events, holidays, books, and all that libraries have to offer. From entertaining videos to book displays, and from pixalated covers to self defense basics, these eye-catching posts are sure to inspire. If you'd like to see your library featured in a Social Library edition, please let us know via social@webjunction.org or find us on Facebook.
Fair Lawn Public Library in New Jersey shared a photo of an LGBT books display, in celebration of Pride month. June is Lesbian, Gay, Bisexual, and Transgender Pride Month in the US—a time to recognize the impact that lesbian, gay, bisexual and transgender individuals have had on history locally, nationally, and internationally. The Library of Congress makes available an extensive site about Pride Month, related research guides and other resources, and audio and video materials.
Memphis Public Libraries in Tennessee shared a one-minute video promotion as part of their Start Here campaign, featuring a ReadBox (in the style of RedBox) inviting people to read and leave books, and to find 1000s more books available online and at 18 library locations. The video follows the ReadBox as it moves through different locations in the city, including next to a RedBox. Be sure to check out the series of Start Here videos featuring community members and their library stories.

Shelton Timberland Library in Washington hosted, in collaboration with teachers from the local karate school, a 90-minute workshop on Self Defense Basics. Attendees had "a chance to try out self defense techniques on focus mitts and kick pads and learn to use their own tools such as elbows, knees, palms of the hands, a strong voice, and a projection of confidence."

Winnipeg Public Library in Canada caught our eye once again, this time with a clever pixalated book cover quiz. They posted a pixalated version of the cover of Diary of a Wimpy Kid and the post generated many correct responses and some funny ones too. What a simple yet engaging approach to sharing books on social media. We look forward to seeing their next #pixelplay posts!

Wollongong City Libraries in Australia shared this funny video as a creative way to let patrons know that the library will be closed for an upcoming holiday. "Don't forget to stock up for the long weekend!"