Virtual Road Trip Part Two: Small Libraries Ready to Create Smart Spaces
Part Two: South Dakota, Iowa and Minnesota
Erin M. Schadt
/
28 February 2017
Small Libraries Create Smart Spaces is a new project from WebJunction just getting underway. More than 100 libraries applied, and 15 small and rural libraries were chosen to participate in this project, which will support them as they reimagine and reconfigure their libraries into smart spaces. The cohort of 15 libraries formally kicked off their training this month, and while they are focused on learning, let's learn more about them! Join us on this four-part virtual road trip around the US to meet the 15 libraries and their communities—second stop, South Dakota, Iowa and Minnesota!
Our last stop on this virtual road trip was Ronan, MT, so it's time to head back to I-90 and start our long journey east. We'll traverse the entirety of Big Sky Country, where there are too many scenic and historical detours to count. One definitely worth pulling off for, though, is the Little Bighorn Battlefield National Monument just past Billings, a place of quiet reflection memorializing the land where the Sioux and Cheyenne tribes made one of their last armed efforts to preserve their way of life.
Once into South Dakota, you can swoop down into the Black Hills National Forest and see the legendary Mount Rushmore National Memorial—or keep heading east at Rapid City and in five hours (plus time for a stop at Wall Drug for a jackalope souvenir and in Mitchell to see the Corn Palace, of course) you'll be at the other side of the state and to our next destination: Madison, SD.
Madison Public Library, Madison, South Dakota

Madison is the largest of ten communities and 16 townships in Lake County—a total population of around 12,600. "Lake County embraces itself as rural, proud of its farming heritage, interconnected community and focus on the future," says Lisa Martin, Children's Librarian, who is one of five full-time librarians and two part-time employees at Madison Public Library (MPL).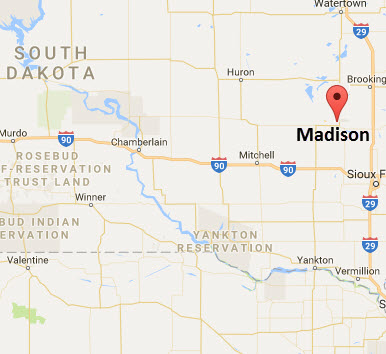 "Like many rural areas, Lake County is a welcoming place to put down roots and raise a family, start a business or retire. Lake County also has that work ethic and kindness the Midwest is famous for. But one thing that makes our community unique is our ability to work together," explains Martin. "Lake County is built and run on cooperation. Our area schools are an ongoing example of cooperation; they share resources to create optimal learning. The Rec Center was built when the local state university and the City of Madison united, benefiting residents and students. And MPL often partners with the community to bring programs and exhibits to the public."
Even with the we're-all-in-this-together spirit of Lake County, gaps remain in meeting the community's learning needs, in particular when it comes to technology. Being a Carnegie building that hasn't had a major space renovation in 20 years, there are challenges to meeting the technology needs of today, and technology access for all ages is a high priority at MPL.
"Senior patrons would benefit from simple computer training, but there is a lack of resources for a group class," says Martin. "The six computers MPL has are highly utilized by internet-surfing adolescents. MPL wishes to take those young patrons from passive consumers of technology to active participants—filming book commercials, creating webpages and more. And MPL wants a better way to assess our adult patrons' evolving needs so that we may enhance their learning goals too."
A recent example of adapting to the needs of their community was recognizing that while they had access to technology for adults, the options for children were lacking. MPL talked with both parents and children when they came to the library to understand their needs and desires. At the same time, they were approached by benefactors who wanted to meet a present need. Martin says, "We proposed our iPad plan and they donated the desks and iPads. After securing the iPads, the Madison Public Library approached the local Kiwanis club and asked if they would donate the apps for the iPads."
"We now have four iPads in two child sized iPad desks with child sized chairs. The iPads are loaded with learning apps specifically for ages 2 to 6. Our youngest community members run straight to the little desks as soon as they get through the doors of the library."
This success has only whet the learning appetite of the library, and their sights are set on expanding this access to technology. "The enhancements this grant can supply will make learning more accessible to the community, allow Lake County residents to grow and shape themselves, the community at large, and the future in new and exciting ways," says Martin. "We are confident that Lake County will be as excited as we are about creating a smart space."
We are sure looking forward to how MPL and the Lake County community will work together to reshape the library's space and programs!
But for now, it's back in the car to our next stop, which is just down the road apiece. A mere three-and-a-half hour drive, crossing the Missouri River, through Sioux City—the fourth largest city in Iowa—east a bit, and we come to Denison, IA.
Norelius Community Library, Denison, Iowa
Located in the rolling hills of western Iowa, Denison is the county seat of Crawford County, and at 8,300 is the largest town in a 30-mile radius. What might surprise a newcomer is the diversity of this small community, which includes a sizable Latinx, Sudanese and Asian American population. In fact 61% of students in the local school district are Latinx. According to Sandy Velasquez, Youth Services Director at Norelius Community Library, there are 16 different languages spoken in the county and a large percentage of the population are English language learners.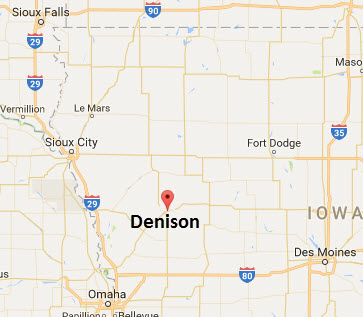 "Due to Denison's diverse population, we meet families that come from countries that do not have access to a library. We want to reach out to these families by providing a welcoming environment for parents to participate and engage in their child's education," says Velasquez. "Our community demographics are constantly changing, not only culturally, but also technologically. We need to be engaging with those parents that might not feel comfortable helping their children with technology, may not have internet access at home and are challenged by language barriers."
The library has a vision of creating interactive learning sections for children and adults to explore technology, encourage reading and more. "We are welcoming parents into the library by providing their children learning opportunities, which will give us occasion to tell them about our resources and all that we can offer them," explains Velasquez.
An emphasis of the Small Libraries Create Smart Spaces project is community engagement, and Norelius Community Library is no stranger to reaching out to their diverse community. In fact, in a recent initiative, they worked with organizations Headstart and Baby Boutique, which provide assistance to low-income families of preschoolers and expectant parents, to let these parents know about all the library has to offer.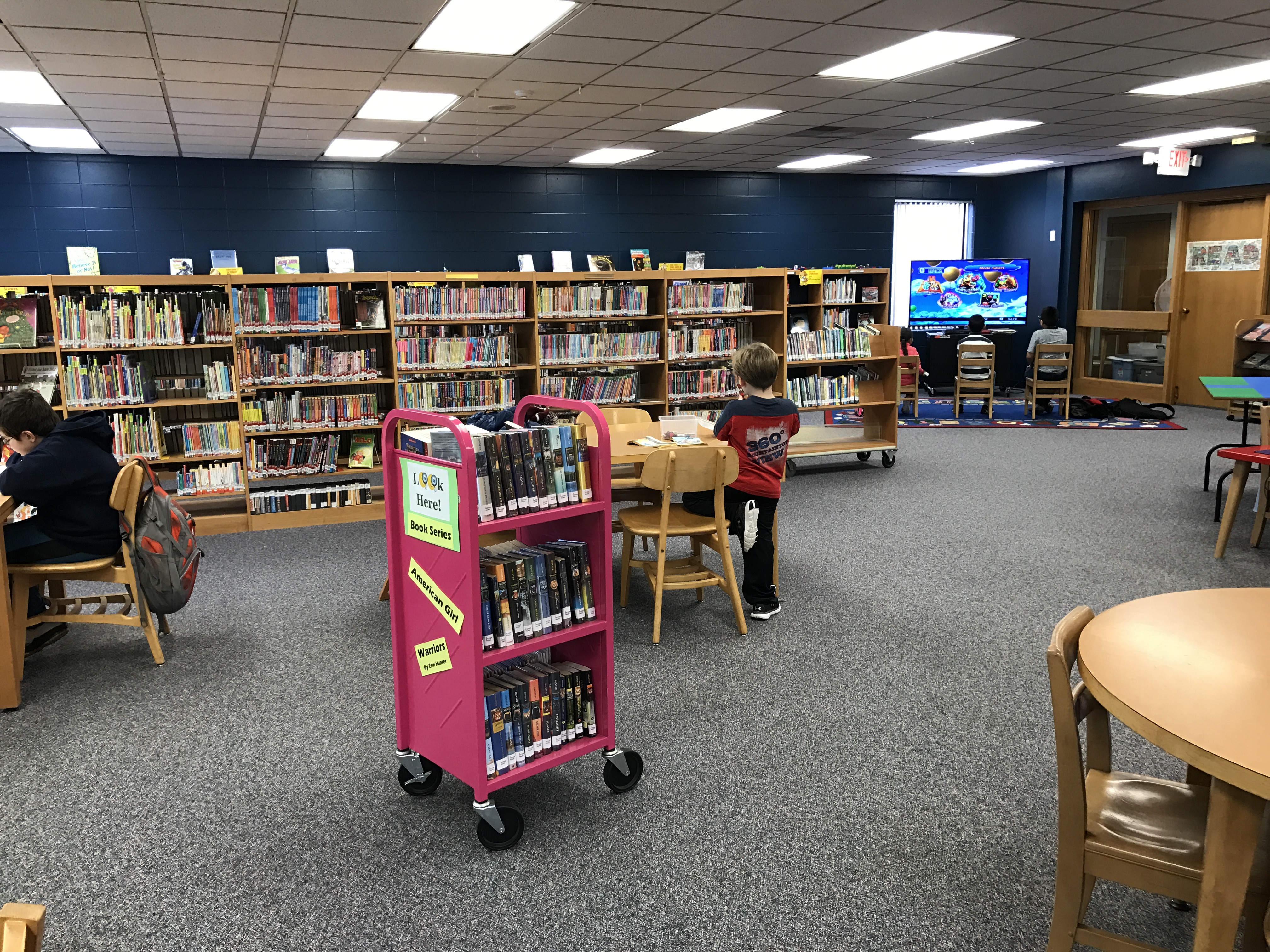 "Many of these parents were non-English speakers and were unknowledgeable of the resources we provide," says Velasquez. "During our presentations we were able to demonstrate our selection of Spanish books, reinforce the importance of reading at a young age, and introduce the variety of resources the library provides. We have families coming to the library that had no idea that we provided more than books."
Ultimately, Velasquez says, "We want to provide an environment for personal growth as well as challenge younger patrons to transform the way they use technology. With advances in technology, we have seen an increase in digital format circulation and a decrease in book circulation. It is important for the library to grow and demonstrate how someone can use books in any form to actively learn."
And that's certainly a challenge to libraries across the country no matter size or place. Stay tuned as we check in with Norelius Community Library as the Smart Spaces project progresses to see how they are engaging community on this front.
We have another stop in Iowa, but first let's head north to Caledonia, MN. We'll go up as diagonally as possible on a grid road system through Iowa. Mason City is a good place for a break from the road—hometown of Meredith Willson who used his "River City" as inspiration for the award-winning and beloved musical The Music Man. Also along the way, just a stone's throw from the Iowa-Minnesota border, is Burr Oak where one of the homes of Laura Ingalls Wilder, author of the Little House on the Prairie, is memorialized as a park and museum on the National Register of Historical Places.
Caledonia Public Library, Caledonia, Minnesota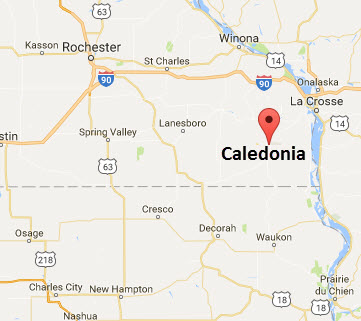 With a population of about 2,800, Caledonia is an agricultural town close to 24 miles west of La Crosse, WI.
"Our library serves many segments of our city's population, but the groups that spend the most time in the library space are children under the age of 15, adults over the age of 55, and adults with disabilities," explains Ashley Dress, Director, and one of two staff members at Caledonia Public Library. "Our location is unique in that it sits in the center of town, so residents from all over the city are within walking distance of the library. Because of this, we have so many groups of kids that come in, sometimes with parents, sometimes without. They'll play on the computers, read quietly or work on homework or projects with friends. This group has different uses for the library and often come here for reasons that differ from our adult patrons."
In addition, Dress says "The space is great for those quietly working on their own, but, another unique aspect of our library is that we aren't a 'quiet library;' people come in to visit with their neighbors and friends and with the staff as well. I would like our space to better reflect the reality of our community."
Although the library is just 2,679 sq. ft., Dress sees opportunities to transform the library into a space more conducive to collaborative learning.
Understanding the needs of a broader community is at the heart of the Small Libraries Create Smart Spaces project, and an important learning for the cohort of 15 libraries is how to assess the needs of different groups.
Fortunately, the library has experience engaging the community to meet a need. Dress was approached by the director of the community education program in Caledonia who wanted to offer technology courses to adults age 55 and older, but didn't have space to hold the classes.
"By partnering with community education, we were able to promote the classes through the flyers that they distribute across the service area. The classes attracted patrons who hadn't been to our library in years because they were offered something that hadn't ever been offered here before."
The shared mission of furthering the education of Caledonia's residents made the partnership a good fit, and Dress reports, "We were able to offer five classes, which were attended by 16 community members. We limited each class to five people, so we were really happy with the results and continue to offer them now."
Looking forward to the project, Dress says, "many in the community support the work that the library is doing and want to continue to make the library a vibrant part of our city." We have no doubt that Caledonia Public Library will receive support from the community and fellow libraries!
Time to head down to our last stop on this second of four parts to this virtual road trip introducing the 15 libraries selected to take part in the Small Libraries Create Smart Spaces project. There are quicker ways to get to Dyersville, but the most beautiful by far is to take the river road down the mighty Mississippi all the way to the bluff-lined Dubuque, then head back east to our next stop. (And yes, I said bluffs, Iowa is not as flat as you've been led to believe!)
James Kennedy Public Library, Dyersville, Iowa
Before we head into the heart of the town to see James Kennedy Public Library, let's swing past the perennial favorite tourist destination, The Field of Dreams. If you love baseball and have a special place in your heart for quiet places, then this field really does feel magical. You can putter on the field, sit in the bleachers, and during the baseball season, you can even catch a game.
A short drive into town, and you'll find yourself on 1st Avenue East. Standing in front of the James Kennedy Public Library, if you look down the street, you can see the Basilica of St. Francis Xavier, a truly stunning church and one of the few minor Roman Catholic basilicas in the US in a rural area.
"Historically, this community has been agriculturally based with most area residents living and working on farms. Today, more people may have jobs 'in town' or live within the city limits, but there are still very strong ties to the country and agricultural life," says Shirley Vonderhaar, Director, James Kennedy Public Library (JKPL).
I have had the pleasure of visiting JKPL in person and can attest to its community-centered nature. Vonderhaar says the library, which was built in 2001 (after living cramped in the back of City Hall for many years), is based on the concept of a third place. "This is not a quiet library," she says with muted pride. This sentiment rings true in many libraries that have found their place as anchors for their communities. JKPL does what all good libraries do, keep a strong rapport with the community, change with the times, and listen.
"The JKPL is an anchor for the community, serving as a resource for information and recreation as well as the place to meet, gather and learn," says Vonderhaar. "In the fall of 2014, the JKPL began the Planning for Results planning process. We enlisted a community focus group to help the library determine what library services responses (roles) are a priority for the community. As a result of this engagement, the JKPL Board adopted the tagline 'Discover. Connect. Inspire' and approved a new strategic plan that includes supporting the community in expressing their creativity, stimulating their imagination and satisfying their curiosity; as well as being a welcoming, engaging and safe space. It is clear that the Dyersville community wants the library to take the lead in engaging the community in learning and creating."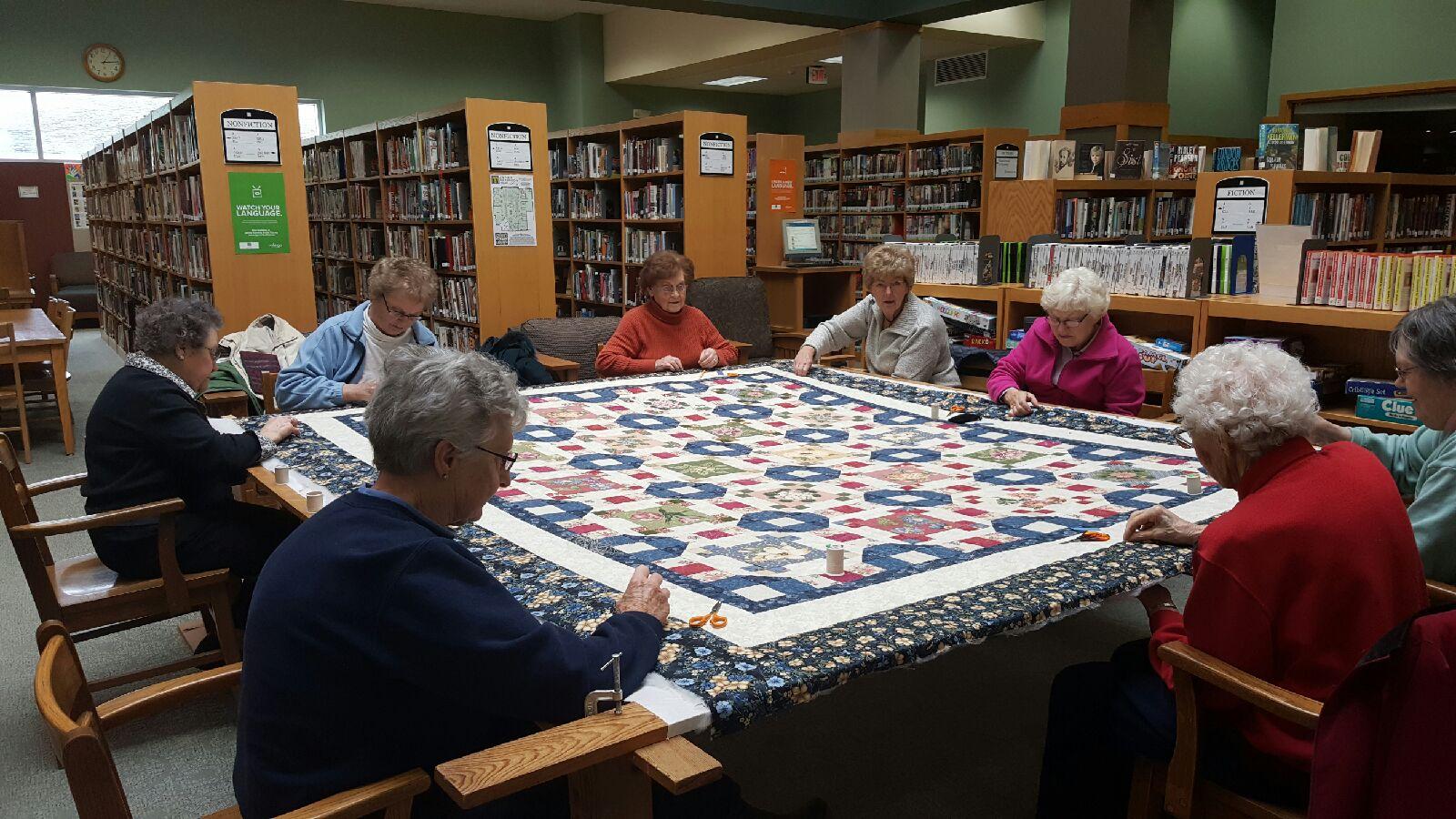 Vonderhaar adds that, "This Smart Spaces opportunity dovetails closely with this Strategic Plan. Participation would allow the library to reach out once again to the community and together develop and implement a plan that would remake the existing library space into a space that invites residents to come and learn, play and share, connect and grow."
JKPL has a history of engaging their community in the direction of the library, whether on programming for young adults, fundraisers, or when taking a bigger picture view.
For example, in 2013 and 2014 JKPL, along with three municipal libraries and one county library in Dubuque County, under took a study of library service in the county. "There was some concern about the inequity of library service in the county and there was interest in looking at ways to share services and resources," explains Vonderhaar.
Focus groups were held in several communities, and a survey was taken in each library as well as made available online, and community groups and civic organizations were consulted.
"Each library reached out to their local stakeholders and invited them to participate in the focus groups and/or submit the survey," explains Vonderhaar. "Leaders in towns without libraries were also included in this outreach. There were also articles in the local newspaper and on the radio about this process. People who did not use library services did participate and share their thoughts on the future of libraries in Dubuque County."
"While we did not come up with a way balance the financial inequity (because of the limits placed by law and geography)," says Vonderhaar, "the process was still very positive as it helped all parties and the public to better understand how library service works and is funded on the local level. It was also great marketing as the community learned about the efforts and followed up by learning more about what their local libraries offered."
Having personally visited this library and talked to staff and patrons, I have no doubt that participation in the Small Libraries Create Smart Spaces project will impact and involve the community in substantial ways, and I look forward to hearing more from James Kennedy Public Library about it!
Well, that wraps up part two of this virtual road trip, but we have many more libraries to go. Join us on our next stops in Pennsylvania, New York and New Hampshire!
Small Libraries Create Smart Spaces
Fifteen small U.S. public libraries were selected to participate in the Small Libraries Create Smart Spaces project. The selected libraries are:
Caledonia Public Library, Caledonia, Minnesota
Cornwall Public Library, Cornwall, New York
Glenns Ferry Public Library, Glenns Ferry, Idaho
Greenwich Free Library, Greenwich, New York
Honey Grove Library & Learning Center, Honey Grove, Texas
Hot Springs Library, Hot Springs, North Carolina
Ignacio Community Library, Ignacio, Colorado
James Kennedy Public Library, Dyersville, Iowa
Madison Public Library, Madison, South Dakota
Norelius Community Library, Denison, Iowa
Punxsutawney Memorial Library, Punxsutawney, Pennsylvania
Ronan Library District, Ronan, Montana
Town Creek Public Library, Town Creek, Alabama
Tucker Free Library, Henniker, New Hampshire
Wilton Public and Gregg Free Library, Wilton, New Hampshire
This two-year project is made possible by a National Leadership Grant from the Institute of Museum and Library Services and is implemented in partnership by WebJunction and the Association for Rural and Small Libraries.