The Library as Incubator Project
Erinn Batykefer
/
12 October 2015

At the Library as Incubator Project, we believe the Library is a place to connect and create, and our mission is equally simple: we promote and facilitate creative collaboration between libraries and artists of all types, and we advocate for libraries as incubators of the arts.
Laura and I created the Library as Incubator Project because we wanted to be the kinds of librarians who supported artists in our communities. This was a little bit selfish, I'll admit. Both of us are artists (Laura studied acting and dramaturgy, and I have an MFA in writing), and both of us have found deep and lasting support for our creative endeavors in libraries. At the same time that we were learning about "providing access" to information, we were both cognizant of the fact that there are things people want to learn that aren't in books.
How does an actor learn how to hold herself to communicate an emotion with her body, even if she doesn't have lines? How does a painter learn how to lay down washes of color to build an underpainting? How does a writer learn to write realistic dialogue? These are things you learn by doing. You learn them in workshops and studios. You get a mentor, you become an apprentice, and you make mistakes till you get it right.
How do you provide access to that kind of information?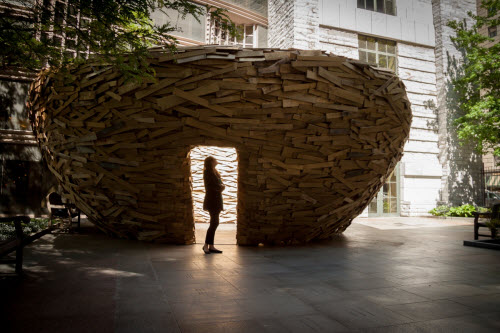 The Reading Nest by Mark Reigelman at the Cleveland Public Library
While we were still in library school, we wondered whether anyone had considered artists as a user group when examining how libraries could serve their communities in a more complete and holistic fashion—did anyone consider how they learned? What they needed to know? How they worked?
Our website is where we launched that conversation in October of 2011, and we immediately found that artists and creative librarians from all over the country, and the world, were hungry for it. Four years later, we're still sharing new and exciting content from people who see libraries not just as community resources but as creative platforms for expression, new ideas, and for connecting people to creative work and conversations they might not otherwise be exposed to.
Today our website and social media empire is where that conversation happens daily, and we're continually inspired and impressed by the stories artists and librarians share there. Essentially, we're here to share good examples of "arts-incubating" librarianship and to share the stories of artists who have used libraries to make creative works so we can learn to serve them better.
On the site, you can find:
We are also building a new database of Artist-in-Residence programs at libraries to promote more conversation and collaboration—and hopefully a lot more residency programs! We encourage you to submit your Artist in Residence program to the list, and of course, we invite you to share your arts-incubating stories with us at any time. We'd love to hear from you!
Library as Incubator Project www.libraryasincubatorproject.org
Twitter: @IArtLibraries
Facebook: Library as Incubator Project
Pinterest: IArtLibraries
Erinn Batykefer is co-founder and editor of the Library as Incubator Project along with Laura Damon-Moore. She is the Programming Librarian at New Canaan Library in Connecticut.