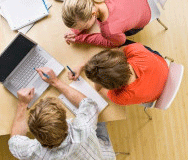 In true back-to-school fashion, September brings a wealth of learning opportunities for library staff, trustees and friends. From fundraising to book clubs, and from mentoring to nutrition, this list is sure to bring you new insights and inspiration.This list of 88 webinars covering 20 topic areas, was collected by the Wyoming State Library. It's updated monthly on the Free Training page, where you can also view the offerings by topic.

For additional training, check out the WebJunction Catalog, free and open to library staff and volunteers everywhere.
September 4
Building a Successful Grants Program 101 for Nonprofits (Elevate)
Join us for this FREE 60-minute webinar, where the grant writing experts from Elevate share some of the biggest lessons we've learned from building sustainable grants programs for our clients, including: How to tell whether grant writing is right for your organization; The pillars of a strong grants program; Which tasks and pieces to focus on first; and The systems we use to make sure our own grant writing processes run smoothly. There will also be time for Q&A.
Exploring AASL Best Websites for Teaching & Learning 2018 (American Association of School Librarians)
Come and hear from the AASL Best Websites for Teaching & Learning Committee incoming and outgoing chairs as they highlight and explore the newly named 2018 Best Websites. These recognized sites all align with the new AASL Standards Shared Foundations. Make sure to attend this popular webinar event to learn more and explore the latest winning websites in the fields of librarianship, education, and instruction, so you can use them yourself, and share them with teachers and students.
September 5
NCompass Live: The Great American Read (Nebraska Library Commission)
The Great American Read is the new PBS eight-part television competition and nationwide campaign to discover America's favorite novel. Everyone can vote for their favorite from a list of 100 novels chosen in a national survey. Martha Florence, from NET Television, and Katie Murtha, from Lincoln City Libraries, will join us to share resources and activities that you can use in your library to help your community participate in the program.
Podcast Playground - Part 1 - Discovery of Kids Podcasts (Association for Library Services to Children)
Come play in our Podcast Playground where we'll listen, explore, and play with the evolving world of kids podcasting. In Part 1, we'll play with various ways to discover and find great podcasts for kids; we'll share ways to access, search, and play kids podcasts and we'll also share where to find podcast recommendations/reviews for high-quality audio.
10 Tips and Tricks for a Successful Grant Seeking Strategy (Charity How To)
In this live webinar, we will go through ten tips that all grant professionals can use to help implement a successful grant seeking strategy in their organization. We will look at specific examples of how these tips can and have been successfully used so you can consider how to best utilize the information within your own organization.
How to Save a Life - Administering Naloxone 101 (National Network of Libraries of Medicine)
This webinar will provide a live demonstration of how to administer naloxone, and discuss where you can acquire this life-saving drug.
Sparking Student Questions: Engaging All Students in Critical Thinking (Education Week)
Join this webinar to learn four questioning protocols guaranteed to boost student questioning. These protocols support students as they learn to develop high-quality questions that promote critical thinking and connect to students' interests. They can be used at any grade level or in any content area.
In Case You Missed It: What We Learned at the Future Ready Librarian Leadership Summit (Follett)
In case you were unable to attend the June Future Ready Librarians Summit in Chicago, it's not too late to gain new skills and get inspired for the new school year. Join library leaders Shannon McClintock Miller, Elissa Malespina and Traci Chun—who all played key roles in the Summit—as they share lessons learned and new strategies and tools discovered during this action-packed, full-day event.
September 6
Five Things You Need to Know about Harassment Investigations (Charity Village)
What if your organization is faced with a workplace harassment complaint? Having a solid harassment investigation process is vital — or you and your organization run the risk of being sued. Our free webinar, Five Things You Need to Know About Harassment Investigations, outlines everything you need to know to ensure your harassment investigation process meets current requirements. Important Note: While registration is open to all, attendance is limited to the first 1,000 people to sign onto the live session. We suggest signing on five minutes early to have the best chance of getting on the live session. If for any reason you aren't able to connect to the live session, rest assured you'll get the full recording by email the following day.
Free Tools to Create High Performing Nonprofit Content In Minutes (Nonprofit Marketing Academy)
In our next leadership webinar, we will show you how to expose the content marketing strategies of successful nonprofits. Then we will demonstrate what free technology is available to help you manage and create high performing content.
Make Do Share: Sustainable STEM Programming for Youth (Indiana State Library)
Join us to learn about STEM and "making" in libraries featuring the Make Do Share curriculum that has been tried and tested in a rural library system in Washington State. Make Do Share was made by libraries for libraries and includes helpful tips to build your confidence while supporting 21st century learners. We will explore ways to incorporate STEM skills into existing programs and how to become a non-expert leader in your community's STEM learning ecology.
Culture Matters: How to Create a Fulfilling Workplace and Empower Employees in your Fundraising Efforts (Donor Search)
Crouch and Associates will teach, whether in a profit-based or mission-based setting, the art of workplace bliss by a licensed developmental psychologist. Most organizations spend way too much time and resources focusing on the outcome -- the money (either from donors or through revenue). But if you take care of the culture (and we'd argue authentic leaders do it best), the net result is more money. Most orgs have it backwards!
Live Webinar with Fountas & Pinnell: Levels Are a Teacher's Tool, NOT a Child's Label (Education Week)
Join literacy leaders Irene C. Fountas and Gay Su Pinnell as together we untangle common misconceptions around text levels and explore practical tips for nurturing student agency and communicating progress.
September 7
School Library Resources at the Wyoming State Library (Wyoming State Library)
Join Paige Bredenkamp, School Library Consultant at the Wyoming State Library, on an updated tour of the resources that are freely available to all K-12 librarians and staff in Wyoming. This is a chance to see what the state library has available in terms of professional learning communities, tools for program support, free money for you and your library, and more!
Nonprofit Radio Month, Episode 1: Foundations as a Tool for Collective Power (GrantSpace)
Gather new insights on how, in times of turbulence, foundations and nonprofits can leverage their work and their voices as a tool for collective power. Learn more about the types of results that are currently being achieved by organizations, and potential roles that philanthropy can take on going forward. (Part 1 of 4 webinars presented in September).
September 11
Diversifying Your Book Club by Selection and Membership (Indiana State Library)
Are you tired of reading the same books for your book clubs? Are you hoping to reach new audiences? Join Tiffani Carter, the manager of the West Indianapolis Branch Library for some tips and best practices to consider when choosing your book club selections and recruiting new participants.
Leadership through Convincing & Influencing Part 1 (Utah State Library)
This exciting 2-part webinar is designed to provide realistic strategies that can be immediately used in any encounter in which you want others to agree with you or support your decisions. It will strengthen your confidence and ability to lead, to cultivate win-win solutions to problems, to negotiate effectively when necessary, and to implement change with less resistance from staff and colleagues.
Autistics in the Library: How Libraries Can More Effectively Serve Patrons and Employees on the Spectrum (Massachusetts Library System)
As the autistic population continues to grow and become more visible across the lifespan, it's important that libraries of all types know how to effectively serve patrons on the autism spectrum, foster a neurodiverse profession by encouraging autistics to consider librarianship as a career, and successfully employ them as staff. This webinar will provide attendees with a mix of practical strategies and relevant anecdotes from an autistic librarian. Attendees will be encouraged to ask questions and share any helpful insights they may have on the topic.
Becoming a Socially-Conscious Library (Washington State Library)
As our society becomes more socially aware, libraries (staff, boards and administrations) and our public are finding themselves caught in the middle of the discussion, interest and debate. This session intends to articulate what it means to be a socially-conscious library, issues libraries face in doing-so and charting a path to full engagement as a socially-conscious library.
The Accidental Law Librarian (State Library of North Carolina)
As the law touches more and more of our daily lives while lawyers price their services out of the average person's range, the public increasingly turns to libraries for guidance. This presentation will cover the basics of legal research, how to interpret legal questions, and where to send patrons for answers.
Reads for the Reluctant: Tips and Tools to Help Engage Every Potential Reader (Booklist)
It can be a difficult task to find the right book for a struggling or disconnected reader, but we're here to help. During this webinar you'll hear from representatives of Books on Tape/Listening Library, Macmillan Youth, and Lorimer Press, as well as from Allie Stevens, coordinator of this year's Quick Picks for Reluctant Readers committee. They'll offer you a variety of resources, including hi/lo titles and audiobooks, that will give you the tools you need to meet your reluctant readers where they're at.
Disasters Happen! Prepare During National Preparedness Month (Federal Depository Library Program)
Every September, National Preparedness Month reminds us to take time to prepare for disasters. This year's theme is "Disasters Happen. Prepare Now. Learn How." Tune into this webinar to see an overview of health information resources on preparedness topics, and learn more about making sure your library has plans to serve patrons when disasters occur.
The Latest Must-Have Graphic Novels for Fall (Library Journal)
From manga to memoir, graphic novels offer engaging and diverse stories for readers of all ages. Join moderator Tammy Ivins along with a panel of insiders who will share some of the hottest graphic novels hitting the shelves this season.
Motivating Your Staff: Strategies for Supervisors (InfoPeople)
Would you like to learn new methods of encouraging and inspiring motivation in your staff? Understanding what motivation is and how it works, is a critical management and leadership skill. Find out how in this one hour webinar.
Mapping the Historic West End: Using Digital Resources to tell the Story of an African American Community (Lyrasis)
This class will show archivists and others interested in community history the results of a year-long effort to tell the story of an historic African American community in Charlotte through a digital mapping project. The class will show how other libraries, museums, community groups, or individuals can organize as well as create digital resources about their neighborhoods in a similar fashion.
September 12
NCompass Live: Book vs. Movie: The Ultimate Showdown! (Nebraska Library Commission)
It's the never-ending battle. Which was better - the book or the movie? Or the TV show. NLC staff will debate this hot button issue and discuss if we thought the book or the screen adaptation was better (it can happen!). Join us as we try to answer the age-old question - Is the book always better than the movie?
Podcast Playground - Part 2 - Programming with Kids Podcasts (Association for Library Services to Children)
Come play in our Podcast Playground where we'll listen, explore, and play with the evolving world of kids podcasting. In Part 2, we'll play with how podcasts can connect with library collections, as well as share ideas for incorporating kids podcasts into programming to inspire curiosity and learning.
MARCH with Andrew Aydin and Nate Powell (Programming Librarian)
Join Andrew Aydin and Nate Powell, co-author and illustrator of the acclaimed graphic novel series March, for a discussion about the Civil Rights Movement and their experience telling Congressman John Lewis's story.
How to Make Event Volunteers Love You (Charity How To)
During this free 45 minute live webinar with A.J. Steinberg you are going to learn how to create a volunteer experience that makes your event volunteers love your organization so they come back and help year-after-year and make your life easier.
How to Use Segmentation to Reveal Your Best Legacy Donors (Network for Good)
This presentation will show you why legacy giving is vital to your organization; the benefits of legacy giving to both the organization and donor and how to query your list to uncover your best prospects for legacy giving.
Hidden Gems (U.S. Census Bureau)
Come learn about the different types of unique and less visible data at the Census Bureau and how this information can be valuable to you.  Understand practical ways to use our data through real life experiences, learn about available resources, and how to compare and contrast the different types of available data.
DorobekINSIDER LIVE: Tools, Tech and Tips to Improve Gov Productivity (GovLoop)
Join Christopher Dorobek and his panel of experts on Wednesday as they examine the technology, tools and strategies that public servants are adopting to increase productivity.
How to Use Design Thinking to Innovate Faster, Better and More Effectively (American Management Association)
Whether you're talking about cars, toothbrushes, office space or even the creation of an organization's culture … Design Thinking gives you the tools to innovate, faster and better, in a customer-centric approach. In this "must attend" session, you'll discover why Design Thinking has become the innovation method of choice across forward thinking industries and how best-in-class companies are applying it across their organizations.
Using the DOE Data Explorer to Find DOE-Funded Research Data (Federal Depository Library Program)
This webinar will introduce the DOE Data Explorer (DDE), OSTI's search tool enabling users to locate and access research data resulting from DOE research and development activities.
Empower Your Students to Be Digital Leaders on Social Media (edWeb)
To become responsible and fluent users of social media technology, students need real-world opportunities to practice. In this edWebinar, Heather Callihan of Northwest Public Schools in Nebraska will show you how.
September 13
Developing a Strategic Plan for Volunteer Engagement (VolunteerMatch)
Join us as we talk about the fundamentals for creating a strategic plan for volunteer engagement for your organizations. This webinar will include components that should be included as well as ideas for working with organization leaders to include strategic goals for volunteer engagement in your organization's overall strategic plan.
Help! I'm an Accidental Government Information Librarian presents … The Current Population Survey: Methodology and Content
From its original purpose in providing national employment data, to data on voting patterns and internet usage, the Current Population Survey offers terrific breadth and depth of statistics about the U.S.  This presentation by members of the CPS staff at the Census Bureau will go in-depth on the topics included and the methodology used to collect the data for the Bureau of Labor Statistics, the main sponsor of the survey.
The Great Divide: Bridging intergenerational gaps to fully engage your volunteers (Charity Village)
This workshop will consider how to successfully implement volunteer succession planning by bridging the gap between millennial and boomer volunteers. By investigating and implementing innovative methods of engagement, your organization can facilitate the transfer of knowledge and experience between the leaders of today and the leaders of tomorrow.
Building Trust to Skyrocket Fundraising Results (Bloomerang)
Want to build and strengthen trust with your donors quickly? Struggle to get client stories from your program staff? Are your board members reluctant to introduce you to others? Tammy Zonker will teach you the fundamental process of building trust and watch your relationships and fundraising results soar.
Cultural Competence and Responsiveness (YALSA)
Join this free monthly webinar from YALSA. The September topic is on cultural competence and responsiveness.
Fall for These Must-Haves for Every Elementary to YA Reader (Booklist)
Entice the inquisitive minds of every reader with informative and engaging titles! Whether they're interested in animal life, STEM resources, coding, biographies, arts and crafts, or YA and middle-grade fiction, readers of all levels will walk away feeling both enlightened and entertained.
Dietary Supplement Label Database: Advanced Search and Data Download (National Network of Libraries of Medicine)
DSLD provides ready access to label information for dietary supplements marketed in the United States. The content of this class is relevant for those working in consumer health information services.
Evaluating Collections Care Information Resources (Connecting to Collections)
How do you find good information on the care of collections? A lot of materials are available, ranging from printed books and articles to online resources and DVDs, but not all of it is reliable or valid. This webinar will help you learn to separate wheat from chaff when looking for guidance on better collections care.
How to Effectively Teach Social-Emotional Skills to Children Who Exhibit Challenging Behavior (Early Childhood Investigations)
In this webinar we will review why it is essential to develop or adopt a comprehensive social-emotional learning curriculum and discuss practical strategies that teachers can use to proactively teach children necessary social-emotional skills. We will also review how to promote social-emotional learning in the heat of the moment and throughout the day during typical classroom activities.
Reframing the Story: Investment in Black Men And Boys is Vital to Whole Community Health (GrantSpace)
In this webinar, speakers will come together to discuss the importance of redirecting philanthropic investments for justice-oriented collective action and impact, and how that translates in the real world. You will also have the opportunity to learn about the seven elements of the paid-in-full investment strategy, and how to apply this approach to your work, as a grantmaker, nonprofit, government, or community-based entity. Finally, they will also talk about why investing in black men and boys is a key component of justice-oriented collective action, and vital to whole community health.
LinkedIn Marketing Concepts for Nonprofit Professionals (Donor Search)
You: One person making a difference: appear the best you can on LinkedIn: approachable, active as you achieve your personal career milestones. Us: The power of the organization's message on LinkedIn: well-coordinated, inspiring, successful; its image to the business community: on-point, concise, everyone in the organization reflecting the mission in their own personal profiles. Them: All people who have not yet contributed to your cause but are available to you to research, selectively market to; when inspired by your cause, they offer their expertise, time, and money. Are the three compatible? Yes, if you use the smart LinkedIn concepts. Cohesive? This will take work, but it is attainable. You must feed and cultivate it continually. Collaborative? Ah, the best of all worlds, all of us rowing the boat in the same direction.
Getting Started with Information Outreach in Your Community: An Introduction (National Network of Libraries of Medicine)
This class will provide a background in cultural competence and outreach skills as librarians make outreach efforts to underserved, underrepresented minority populations in their community. The goal of this course is to offer concrete ideas to enable librarians to initiate outreach programs with these populations.
September 14
Mentor Programs That Retain and Engage Employees (Training Magazine Network)
Join Libby Powers, as she discusses how to build a strong mentor program that will help you achieve your goals of increasing employee retention and engagement. Retaining and engaging employees are two goals that every organization is striving to achieve. Studies have shown that having engaged employees can drastically improve your bottom line, and a high level of retention is a key indicator that your company is filled with satisfied employees.
What's Next for RDA and the 3R Project? (American Libraries Live)
Join us for a discussion with representatives from the RSC, the North American RDA Committee, and ALA Publishing, as they address the community feedback to the beta site, changes coming in September and beyond, and how the North American community can contribute to the continuing enhancement of RDA.
September 17
Fall Mystery Releases Unveiled (Library Journal)
Mystery lovers, wait no more! Join Library Journal for this free one-hour webcast, and get a sneak preview of the latest titles in this pulse-pounding genre. You'll hear from HarperCollins, Houghton Mifflin Harcourt and Severn House, all sure to tease terrific new books to match up with your mystery fans.
September 18
Is Your Workforce Ready for the Future? (Training Industry)
Organizations are changing from hierarchical structures to flat systems of team members collaborating on projects. Digitalization is also changing the paradigm. Modern organizations require individuals to have new job roles, new responsibilities and, thus, new skill sets to perform successfully now and deliver in the future.
Playing by the Rules: Creating an Effective Volunteer Handbook (VolunteerMatch)
Learn how to create a living document that can help both paid and volunteer staff be better informed and know what is expected of them. A good Volunteer Handbook can also help you better identify and deal with challenging volunteers. Whether you're just starting to create a Handbook or if you're looking for best practices on information to include, this webinar will evaluate the Handbook you have and help you create a stronger framework for your volunteer engagement program.
Leadership through Convincing & Influencing Part 2 (Utah State Library)
This exciting 2-part webinar is designed to provide realistic strategies that can be immediately used in any encounter in which you want others to agree with you or support your decisions. It will strengthen your confidence and ability to lead, to cultivate win-win solutions to problems, to negotiate effectively when necessary, and to implement change with less resistance from staff and colleagues.
Supporting Healthy Racial Identity Development for All Children (Association for Library Service to Children)
While most white educators would never describe themselves as being prejudiced, studies show that unconscious (implicit) bias is alive and well in educational settings. How can white educators, including librarians in school and public libraries, learn to not only notice their bias, but also act in ways that will promote and support racial equity? Join us for this important, and sometimes uncomfortable, conversation on how to address white racial bias and discrimination to create healthy, equitable learning environments.
Pave the Way for a Successful #GivingTuesday (Firespring)
Join Dana Ostomel, founder of Deposit a Gift and Firespring's leading authority on crowdfunding, to learn the 10 most important components to creating an empathetic, engaged and responsive community that is ready to help you knock it out of the park.
How to Write Compelling Fundraising Letters (Blackbaud)
Many schools still send fundraising letters to parents and alumni via snail mail but have no way to know whether the letters are effective. In this webinar, you'll learn how to write fundraising letters that will compel parents and alumni to take action and donate to your school. This webinar should also be relevant to libraries.
Happily-Ever-After Guaranteed (Booklist)
Keep your romance fans and all readers seeking satisfying love stories happy with forthcoming titles presented by Macmillan Adult, HarperCollins, and Baker Publishing. Romance Writers of America will also join host Donna Seaman, Editor, Adult Books, Booklist.
Negotiate with Confidence (Texas State Library & Archives Commission)
Does the idea of negotiating contracts sound intimidating? Are you uncomfortable with the thought that you have the knowledge and power to negotiate for what you want? You negotiate daily in situations you may not even realize are negotiations, at stores, restaurants and with your family and friends. Learn how to use the skills you have and use them in your business. Learn to negotiate with confidence.
Revitalizing Library Volunteer Engagement (WebJunction)
Library volunteerism is evolving. Gone are the days of looking for tasks to keep your volunteers busy. Libraries are now enlisting high impact volunteers who are bringing unique skills and expertise to enhance the library's mission. Join us to learn how you can harness the power of skilled volunteers in your community and hear success stories of innovative volunteer engagement in libraries of all sizes and budgets.
Tools for Giving Season: Leveraging Facebook for Your Nonprofit (GuideStar)
Join us to get tips and tricks from experts at Facebook, GuideStar, and the ASPCA. Learn how to apply Facebook's fundraising tools and best practices to #GivingTuesday, and how to sustain your fundraising momentum throughout the year.
Behind the Scenes: Ensuring Flawless Virtual Events (InSync Training)
The virtual classroom now represents a common and critical component of modern learning. Corporate training now uses these web-based platforms as frequently as the face-to-face environment. What goes into making sure virtual events work time after time? Find out in this one hour webinar.
Supercharge Your Collection with New Fall Nonfiction (School Library Journal)
What's missing from your collection? New and engaging nonfiction! From learning about forest babies to exploring STEAM career opportunities -- and everything in between -- these fun and informational series and titles are sure to inspire your curious young readers. Join publishing insiders for an array of nonfiction to deck out your shelves this fall!
Transform Your Lesson Plans with TeachersFirst and SAMR (TeachersFirst)
Learn to infuse tech into your lessons by using the SAMR Model along with resources on the TeachersFirst website to create rich digital learning experiences. Learn how to transform your lesson plans by applying the SAMR Model in conjunction with resources available on the TeachersFirst website.
September 19
Accessible Library Customer Service (National Network of Libraries of Medicine)
Gain knowledge and tools to provide accessible customer service in your library by joining us for this one-hour webinar! This presentation will give an overview of disability including appropriate terminology, creating an accessible environment, and evaluating current practices for way-finding, emergency preparedness, and web resources.
Nutrition 101: Eat and Drink Your Way Through Government Resources on Good Nutrition (Federal Depository Library Program)
This webinar will cover sites such as myplate.gov, nutrition.gov, and other websites which provide help and advice for healthy eating.
September 20
Bookflix for public libraries, school and home! (Wyoming State Library)
A literacy resource for grades PreK-3 that pairs classic fictional video storybooks with related eBooks. Animation, audio and interactive games are designed to reinforce core reading skills. Bookflix has a brand new look, better searching, new book pairs, and more!  (They have eliminated the need for Flash) Join Chris Van Burgh for a look at this terrific resource!
Look Before You Leap: What You Need to Know Before You Write That Grant (TechSoup)
Jumping into grant writing without an understanding of the process and obligations can be a costly mistake for many nonprofit organizations. During this webinar, Alice Ruhnke, Founder and Owner of The Grant Advantage, will discuss common misconceptions in the grant seeking process, requirements most funders expect nonprofit organizations will fulfill, and how to move from simply being eligible to apply to creating strong, competitive applications. During the 90-minutes, participants will not only gain knowledge, but also receive resources to help them in their grant seeking journey.
Getting Unstuck: The Secret Life of Procrastinators (Colorado State Library)
Do you believe you work best under pressure? Do you avoid tasks and deliberately look for distractions? Are you late for appointments? Have a hard time completing projects?  If you struggle with any of these you may be a procrastinator. Join this session to explore why we procrastinate and how we can stop.
The Power of Blogging & Thought Leadership for Nonprofits (Firespring)
Most nonprofits that have tried to blog have failed miserably. In this session, we will share the collective wisdom we've gleaned from dozens of nonprofit organizations that have stumbled upon the magic formula for becoming thought leaders in their community.
Ditching Dewey – How to Adopt Bookstore Style Organization (Texas State Library & Archives Commission)
The Keller Public Library stopped using the Dewey Decimal System in favor of bookstore style organization in January 2017. Library Services Manager Rae Cheney will tell you why they got rid of Dewey, give step-by-step instructions for making the change at your library, and share the results after making the switch (spoiler alert: it's been great!). She will also cover ways to blend bookstore style organization with Dewey if you aren't quite ready to call it quits. This information is applicable to all library types and there will be plenty of time for questions and answers to help you figure out how to make subject classification work for your institution.
September 24
No Fear Coding: How to Start a Coding Club and Why It Matters (School Library Journal)
Librarian Allyssa Loya shares her story of failures and successes in launching a coding club in her elementary school. This webinar will boost your confidence, arm you with the basics of coding, and give you resources for teaching computational thinking without even needing to touch a computer!
September 25
Bozarthzone! Better Than Bullet Points (InSync Training)
Effective e-learning involves much more than just putting PowerPoint shows on the Web. In this session, we'll explore solid ideas for transforming bullet-based content into compelling, engaging, interactive online learning programs.
Fundraising 101: Fundraising Metrics - How Do You Measure Up? (Charity How To)
The measurement of key performance indicators in fundraising has become a best practice, and you don't want your organization to fall behind. Be a data-driven organization, know your fundraising health, and measure the work you do every day. If you have a spreadsheet and can do simple math, you can use fundraising metrics to improve your operations and help your organization grow.
7 Steps to a Written Fundraising Plan (Firespring)
In this session, you'll learn how to follow 7 simple steps to put together a written plan for raising the money you need in the coming year without constantly selling something or begging online. We'll cover goal setting, action plans and ways to keep your plan on track, plus you'll get some worksheets and checklists that will make the process easy.
Leadership Skills Toolkit-Tips, Techniques, & Resources for Library and Information Professionals (Indiana State Library)
What skills do you need to be a leader in your organization?  Based on the highly successful webinar series, The Day in the Life of a Leader, and decades of experience in teaching, consulting and leading. Drs. Cheryl Stenstrom and Sue Alman will discuss the leadership traits most in demand for library and information professionals.  Among other issues they will address the need to be an effective communicator, strategist, and risk-taker.  Join us for a lively interactive discussion
Managing Your Digital Archive (Texas State Library & Archives Commission)
This webinar empowers the audience to care for their personal digital archives, specifically photos, by giving them best practices, tools, and resources that assist with selection, organization, and preservation of digital files.
Accessible Makerspaces (American Association of School Librarians)
As makerspaces continue to grow in popularity in library settings are we as librarians ensuring accessibility for all students and library patrons? Do we look at our spaces, activities, outcomes and consider inclusion of all students? Join Heather Moorefield-Lang for a rich discussion in makerspaces, accessibility, and inclusion.
Social Media Literacy: Purposeful Practice in Every Classroom (TeachersFirst)
Develop social media savvy digital citizens with simple, carefully-crafted and focused activities that support all content areas in grades 2-12. Participants will recognize the cycle of information gathering, processing, and posting; followed by vetting ideas and voice amplification as both a professional use of social media and an experience that learners should have.
September 26
Service Enterprise Initiative: Helping A Thousand Points of Light Shine Even Brighter (VolunteerMatch)
Join us as we reveal what Points of Light has learned over nearly ten years of implementing the Service Enterprise Initiative to help organizations develop the systems and cultures needed to strategically integrate volunteers throughout their operations and effectively engage volunteers.
Introduction to Proposal Writing (GrantSpace)
This class will provide you with an overview of how to write a standard project proposal to a foundation.
Wonder-Filled Early Childhood Environments: Engaging All Children in Learning (Early Childhood Investigations)
In this webinar we'll discuss both the basics of high quality early childhood environments-what is essential in any setting for a given age group–and the hula hoops­ the things that make the setting just right for the children, and teachers, who live and learn in it.
Accessibility in Mobile Devices: Updates from the Field (ablenet)
In this session, participants will be provided with a short refresher on accessibility features offered on iOS12, Google Chrome, and Android-based devices. The majority of the session will focus on application: Participants will be provided with scenarios for applying accessibility tools for a variety of purposes including personal and professional productivity.
ClinicalTrials.gov (National Network of Libraries of Medicine)
The purpose of this NNLM Resource Picks presentation is to familiarize participants with ClinicalTrials.gov, a National of Library of Medicine database that provides patients, their family members, health care professionals, researchers, and the public with easy access to information on publicly and privately supported clinical studies on a wide range of diseases and conditions. This presentation will help you learn how to navigate the site and understand the nuances and limitations of information available on ClinicalTrials.gov.
Get Real! Augmented, Virtual, and Other Realities in the Classroom (edWeb)
Join this webinar for a discussion about how to integrate augmented, virtual and mixed reality into any classroom. Immersive technology does not have to be complicated or expensive, and it can be used across grade levels and disciplines. Please join the conversation featuring replicable lessons, assessment ideas, and strategies to enlist support from learning community stakeholders.
September 27
No Money, No Mission: Cost Control in the Childcare Business (Early Childhood Investigations)
Join HINGE Founder and financial guru Kathy Ligon for an interactive webinar discussing healthy spending tactics for your childcare business. Kathy will cover current trends and challenges within the childcare industry as well as share her coveted benchmarking tool—demonstrating what the average financially healthy school looks like in numbers.
Literacy and Community-Building for Adults with Intellectual Disabilities (WebJunction)
You will learn how Next Chapter Book Club (NCBC) helps libraries build community and promote literacy while supporting the educational and social growth of adults with intellectual and developmental disabilities. NCBC emphasizes inclusion and the joy of reading aloud with friends and is flexible enough to be adapted to the needs and budget of nearly any library. With more than 300 chapters, NCBC is the largest community book club of its kind in the world. Find out how your library can reach out to connect with an underserved population, promoting community inclusion, independence, and productivity for individuals with intellectual disabilities and their families.
September 28
I'm Charged: How to Become a Student-Centered Learning Ambassador (Alliance for Excellent Education/Future Ready Schools)
In this webinar, representatives from Meriden School District will share how they are using the "I'm Charged" initiative to support personalized professional learning for teachers while also leading a digital transition to meaningfully integrate technology into the classroom.
People - Difficult or Different? (Effectiveness Institute)
In this interactive and engaging Webinar, you will discover why "different" does not have to mean "difficult." Then you will learn the magic of making slight adjustments in your awareness and behavior that will have a significant impact on your ability to "click" with customers and co-workers.