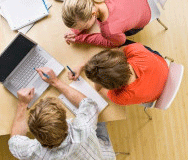 As we head towards the end of the year, and begin to set goals for the next, consider areas of learning that might fill your knowledge gaps. Webinars are a great way to both test the waters on topics of interest or they can help you dive deeper if you're ready for more. This list of 81 free webinars and day-long online events covering 18 categories was collected by the Wyoming State Library. It's updated monthly on the Free Training page, where you can also view the offerings by category.

For additional training, check out the WebJunction Catalog, free and open to library staff and volunteers everywhere.
Day-Long Online Events in November
November 3
Library Con Live! (Library Journal)
We're excited to offer a day-long celebration of fandom-beloved stories and characters, from mind-bending speculative fiction to innovative comics and graphic novels. You'll also learn from librarians and industry insiders on how to plan and host your own Comic Con-style event. 
November 7
Explore "Making" and Transform Your Students Into Imaginative Creators (Simple K-12)
Join presenters as they discuss ways to incorporate "making" into the learning environment. 

Full List of Events
November 1
10 Quick Tips to Super Charge Your Next Appeal Letter (Productive Fundraising)
Join fundraising master trainer, Chad Barger, CFRE, to learn 10 quick tips that you can use to super charge your upcoming year end appeal. The tips will focus on both getting your donors to open your appeal and to respond to it.
Grow Your Own Leaders: Nurturing Leadership and Management Skills for Staff at Every Level (Library Journal)
This session will discuss mentorship, networking and ethics through the lens of library industry best practices as well as other industries' best practices. Leadership shouldn't be limited to a few. Our work calls for leaders at every level, with all kinds of distinctive personalities and skills. This is the heart of 21st century librarianship.
How public libraries communicate: An interactive research review (OCLC)
Hear how public libraries connect with their communities based on findings published in "US Public Libraries: Marketing and Communications Landscape", a new report from OCLC. This interactive 30-minute session delves into what the report confirmed, surprising discoveries, and trends to watch. Peggy Gallagher, OCLC Market Analysis Manager and  Jenny Johnson, OCLC Marketing Executive Director will recap the findings from their unique perspective as contributors to the report. Attendees will also have the opportunity to see the results of their peers in interactive polls throughout the webinar.
Maximize Your Giving Tuesday Fundraising & Engagement (TechSoup)
To help you get the most out of Giving Tuesday, this Webinar will discuss picking a campaign theme, focusing on your audiences, getting the timing right, inspiring millennials, making it viral, using video, harnessing social media and making your campaign multichannel.
Meet the Funders: Capital Funding (GrantSpace)
Come meet three funders who make a concerted effort to provide grants for capital expenses, and find out why they give, and how you can identify and secure potential capital funding prospects for your own fundraising efforts.
Free Online U.S. Citizenship Course (Infopeople)
Join presenters Andrea Willis and Katy Azevedo as they give a tour of the USA Learns Citizenship course, while you learn about ways that your organization can utilize the website to help immigrants prepare for their citizenship test.
November 2
Write and Cite "Chicago Style": Helping Students and Patrons Understand The Chicago Manual of Style and Turabian (American Library Association)
In this special free event, ALA Publishing and the University of Chicago Press will discuss using The Chicago Manual of Style for citation building and more.
Go-To Graphic Novels (Booklist)
Blending sweeping illustrations and powerful narratives, graphic novels offer fast-paced entertainment and educational opportunities for readers of all ages—and continue to be a high-circulating section in libraries everywhere. In this free, hour-long webinar, representatives from DC Comics, Diamond Book Distributors, and Oni Press will showcase forthcoming children's, middle-grade, and YA graphic novel releases.
Making Difficult Conversations Easy (Effectiveness Institute)
Do you shy away from conflict? In organizations across the world conflict is avoided. Expectations go unmet, values are violated, and overall under-performance exists because people do not know how to effectively resolve issues without resorting to the use of power. This one-hour session introduces you to concepts that enable you to begin to "integrate conflict" - to walk into it and effectively handle it - rather than avoid it.
November 3
Library Con Live! (Library Journal)
We're excited to offer a day-long celebration of fandom-beloved stories and characters, from mind-bending speculative fiction to innovative comics and graphic novels. You'll also learn from librarians and industry insiders on how to plan and host your own Comic Con-style event.

November 5
From Desktop to the Cloud: Why Organizations Are Converting (TechSoup)
On-prem vs. Cloud? What solution is right for your organization? In this 30-minute webinar, we will focus on current desktop and the factors leading to increased Cloud Adoption over the next several years. We will also review why nonprofits need to be thinking about their digital transformation now.
Small But Mighty Library Management and Innovation (WebJunction)
Innovating. Meeting community needs. Managing the daily business of running a library. It can feel as though there aren't enough hours in the day to do it all. But there are powerful models like the Millvale Community Library which is acting as an agent of change in the community without sacrificing their core role as an information resource. This small but mighty library addresses their community's food desert, uses clean energy, offers a tool-lending library, and more—while operating in a financially sustainable way. Learn how they do it, and how you can, too!
Developing Future-Ready Students Through Coding (edWeb)
Today's elementary school students will be entering a future workforce comprised mostly of jobs that don't currently exist. How do we prepare them for this uncertainty? In this edWebinar, join Marcos Navas, Technology Facilitator from Union City Public Schools in New Jersey, to learn how you can prepare your students for their future.
November 6
Build a Better World With Kindness and Gratitude (Washington State Library)
Both kindness and gratitude are important ingredients to a happy life as well as essential to building strong professional and personal relationships. During this course, participants will: 1) Learn practical strategies to cultivate more positivity in yourself, your relationships, and teams by harnessing the power of kindness and gratitude, 2) Delve into what it means to practice "kind communication" and how this can improve your relationships, and 3) Contemplate what a massive study of successful teams undertaken by Google teaches us about team dynamics.
Bozarthzone! Show Your Work: The New Knowledge Management (InSync Training)
As training practitioners, we spend a great deal of time talking about how people learn, how to help people learn, and how to use that learning to help organizations improve. But "learning" often looks like doing, and talking with others about what we're doing. This is frequently how we learn and how we help others learn. In this session, we'll look at what to narrate as well as how and when
Caring for the Mind: Providing Mental Health Information (National Network of Libraries of Medicine)
In this class, participants will learn how to effectively provide mental health information using the best free electronic resources as well as best approaches for handling interactions with emotional patrons.
The Countdown Is On: A Procrastinator's Guide to #GivingTuesday (GuideStar)
The planning and execution of a successful #GivingTuesday awareness campaign can be daunting, especially if you are just getting started. But don't worry, we've gathered experts from #GivingTuesday and Project Healing Waters Fly Fishing, Inc.  to share their experiences and help you make the most of the next few weeks to ensure your success.
Picture This! Books for the Youngest (Booklist)
Picture books entertain, enlighten, and educate young children. Join representatives from Baker & Taylor, Beaming Books, Houghton Mifflin Harcourt, Penguin Random House Canada, and Simon & Schuster as they present new books that kids will love.
The Countdown Is On: A Procrastinator's Guide to #GivingTuesday (GuideStar)
Join us Tuesday, November 6 at 1pm ET for a crash course in executing a #GivingTuesday campaign on a tight timeline.
Enhancing Your Intelligence Agency Information Resource IQ: PT. 4 - National Geospatial Intelligence Agency, National Intelligence University, and National Reconnaissance Office (Federal Depository Library Program)
Attendees should gain an enhanced understanding of the publicly-accessible information resources produced by the National Geospatial Intelligence Agency, National Intelligence University, and National Reconnaissance Office and how these agencies carry out their policymaking activities.
Missionizing Your Year-End Fundraising Events (Bloomerang)
Join Terry Axelrod, founder of Benevon, who will lead you through a step-by-step process for "missionizing" each of your events and designing a sustainable system of events that furthers your engagement of individual donors and grows major gifts.
Is Your Library's Website Living Its Best Life? (Texas State Library and Archives Commission)
This is an introductory overview of the importance of the library's website -- your virtual branch -- that busts common myths and misconceptions about your library's online presence. We'll cover the 25 most common website problems and how to fix them.
Life Hacks with Google Forms (Technology & Innovation in Education)
Join Bailey Kowalski to learn about how Google Forms can change your life! Using them will save you time, give you data and more. Use forms for everything from gathering information about your learners to formative assessment. They allow for a variety of options, including self-graded quizzes with automatic feedback. Sign-up for this fast-paced session to learn all the Google Forms life hacks and come up with some of your own!
November 7

Explore "Making" and Transform Your Students Into Imaginative Creators (Simple K-12)
Join presenters as they discuss ways to incorporate "making" into the learning environment.
Letters About Literature: Read. Be Inspired. Write Back. (Nebraska Library Commission)
This session will provide helpful information and resources for teachers and librarians interested in the Letters About Literature competition. It will also cover the new online submission process and be an excellent opportunity to ask questions about the entire competition process.
Help! I'm an Accidental Government Information Librarian presents ... Presidential Research Resource (North Carolina Library Association)
This talk will discuss digital and archival resources for Presidential Research with librarians and archivists from the Miller Center, the Fred W. Smith National Library for the Study of George Washington and Seton Hall University.
The New Workplace Demands Versatile Communication Skills (Training Industry)
Recruiters rank communication as one of the most desired, yet hardest to find, skills, according to surveys from LinkedIn and Bloomberg. This interactive webinar provides you with insights on: How social intelligence became the new workplace currency; Why we communicate well with some people and struggle working with others; The "platinum rule" for building stronger relationships: versatility; and Four steps for increasing your interpersonal effectiveness.
How to Create a Year-End Marketing Plan to Engage Donors (Network for Good)
During this one-hour webinar presented by Heidi Webb, CFRE, you will learn the key tipping points that will help supercharge your year-end fundraising efforts.
Your Capital Campaign: Are You Ready? (DonorSearch)
Do you need to grow your programs or your endowment (who doesn't)? Many nonprofit leaders facing these challenges are not prepared for the rigors of a capital campaign that can provide the funding. This one-hour webinar will help you analyze and prepare the 6 Key Ingredients for Capital Campaign success: Case for Support, Dollar Goal, Donors, Steering Committee, Systems, Timing.
Everything You Wanted to Know about the CSK Award (But Didn't Know to Ask) (Association for Library Service to Children)
You know the Coretta Scott King Medal-winning books. You read them every year when the awards are announced. But how are the awards chosen? How do members of the jury go from reading picture books to young adult novels? And what is the difference between the CSK Book Jury and the CSK Committee? Get answers to these questions and many more with former CSK Jury members Kacie Armstrong and Alan Bailey.
The "Fake News" Problem: Tips, Tricks, & Tools to Use Both in and out of the Classroom (American Association of School Librarians)
Living in a Post-Truth world can be tough, especially for anyone consuming news and information online. This webinar will frame the issue of "Fake News" in a manageable way, and provide you with tips, tricks, and tools you can use immediately, both in and out of the classroom. In a neutral & non-partisan manner, presenter Kelsey Bogan will explore the "Fake News" Problem; from defining the term "Fake News," to its real world impact, and including several practical strategies for dealing with it.
November 8
The Introverted Leader: Building on Your Quiet Strength (American Management Association)
Introverts ARE leaders. This inspirational and practical web event will demonstrate how introverts can use their quiet strengths to conquer leadership challenges. Extroverts and "ambiverts"—those whose personality type is between an introvert and extrovert—will also learn how to expand their leadership skills.
Public Library Administration and Innovation for the 21st Century (Booklist)
Public libraries have historically faced challenges as viable units in local government. This webinar will present a framework for future library services, focusing on effective public sector skills, strategic planning, leadership, organizational and service innovation, information technology, readers, and the full range of library constituents.
Library Marketing 1.0: How to successfully market your library without getting another degree (Colorado State Library)
Join us for an overview of marketing basics for libraries. Learn about your library brand, basic marketing components, and merchandising tips to create a thrifty, simple, and effective marketing system for your library. This webinar is perfect for accidental marketers; no previous experience is necessary!
Identify, Discover, Decide with Imagery and GIS (GovLoop)
Join us to learn how easy it is to take your own or other remotely sensed data to create smart maps that will keep you and your organization informed and prepared.
Award winning toys, games, music and books that bridge the classroom to the playroom (Early Childhood Investigations)
Join us as the Parents' Choice Foundation®, the perennial standard-bearer for best-in-class play-based products, will present a current selection of the President's favorites from Parents' Choice Award® winning children's toys and media.
Cybertraps for Librarians (Texas State Library and Archives Commission)
The world of online privacy is complex and ever-changing. However our patrons need sensible advice NOW as they move forward interacting in an online world. Rural Technologist and Librarian Jessamyn West will outline a simple program libraries can use to help patrons navigate the tricky world of online privacy, trying to help people make better, not perfect, privacy choices that work for their real lives.
What Works on Giving Tuesday? Answers from 2017's Website Analytics (Cause Smart Digital)
Prepare your strategy for this year's Giving Tuesday with insight from last year's Giving Tuesday nonprofit website analytics. Digital skills trainer and Google Analytics expert Yesenia Sotelo will review which marketing efforts drove the most website traffic on Giving Tuesday, and how that traffic performed.
Exemplary Practices using 'Girls STEAM Ahead with NASA' Free Resources (National Girls' Collaborative Project)
This webinar will explore the free NASA resources, along with accompanying exemplary practices. There will be time for Q&A with NASA's Universe of Learning team to best support your program efforts with the Girls STEAM Ahead with NASA materials.
Digital Citizenship for Tweens and Teens (School Library Journal)
Gain insight into the latest trends and tools related to digital citizenship and cyberbullying. Experts will share information on targeted initiatives for tweens and high schoolers, as well as insight into the latest research on preventing and addressing cyberbullying. Learn strategies for fostering student citizenship and a supportive school climate to positively impact student behavior in the digital realm.
Database tutorial: U.S. History In Context and Native American Heritage Month (Wyoming State Library)
Gale pays tribute to their important contributions, histories, and unique challenges both past and present with Native American content featured directly on the homepage of US History In Context for the entire month of November. After registering, you will receive a confirmation email containing information about joining the webinar.
November 9
What Do the Midterms Mean for Your Library? (American Libraries Live)
What will the upcoming midterm elections mean for your library and community? Join us for a free 60-minute webinar on Friday, November 9 at 11:30 a.m. ET where we'll provide an overview of key results from the 2018 elections and explore their implications. ALA's Washington Office will dig into how the outcomes could affect engagement from library advocates and how ALA's upcoming advocacy plans will align.
November 13
Connections Summit: Day One (SirsiDynix)
Open to all libraries and staff, our first day will feature David Lee King and will be followed by other thought leaders, industry experts, and library success stories and videos.
The Data We Don't Collect: How It Drives Funding Decisions By People Who Don't Use the Library (Colorado State Library)
We know from both the 2008 and 2018 iterations of "From Awareness to Funding" that the library user status of the voter does not matter on Election Day. Funding decisions for libraries are often made by voters with little-to-no familiarity with the library, or by elected officials who are themselves non-users. Join EveryLibrary executive director John Chrastka for an overview of the "From Awareness…" findings and participate in a discussion of how concerned library data professionals could cooperatively begin to fill in these missing data pieces.
Leadership Styles & Impact on Your Nonprofit (Firespring)
The latest nonprofit leadership research shows how specific leadership styles impact nonprofit outcomes. And it reveals the most common style of leadership in nonprofits right now.
Storytelling on Steroids With VideoScribe (InSync Training)
Research has shown that our brains wilt when we are experiencing death by PowerPoint or other static presentation of content. It's tough to learn with a wilted brain. VideoScribe lets a story unfold before your learners' eyes, improving learning retention by as much as 15%!
How to Captivate and Engage Constituents with Your Website (Firespring)
Does your website captivate and engage people or is it merely an online brochure with a few photos and mission statement? In this session, we will share more than a decade of focus group research that reveals: The 5 elements of an engaging website; The one thing every nonprofit should be thinking about, but isn't; Real-world examples of nonprofit organizations that have mastered their online presence.
Cybersecurity, SL and RL (San Jose State University iSchool)
When considering cybersecurity, the technology that enables Second Life can be thought of as a chain of related systems, starting with your personal computer and working through various software and network layers that enable presence, communications, and amazing capabilities in a rich virtual world space.  This presentation walks through each link in that chain and considers some reasonable measures for security, safety, and privacy along the way.  Also covered are larger cybersecurity issues like cyberkinetics, digital currencies, and human-computer interaction.
November 14
Help Us Combat the World's Most Dangerous Animal with an App! (National Network of Libraries of Medicine)
Mosquitoes are the world's most dangerous animal, and there is something we can all do to reduce the threat of mosquito-transmitted disease in our communities. Join us to find out why mosquitoes are so dangerous and to learn how NASA Earth-observing satellite data is being used in an effort to predict, monitor, and respond to vector-borne disease around the world.
A Good Night's Rest: Government Resources Can Teach You About Adequate Sleep Habits (Federal Depository Library Program)
This webinar will present information on Government resources about what sleep is and how to get enough of it. Also covered will be insomnia, benefits and detriments of sleep medications, problems and conditions related to sleep, and sleep requirements for differing ages.
3 Instagram Tips Successful Nonprofits Use to Raise Awareness and Win Supporters (Wild Apricot)
If you want to attract a larger audience of members, donors, fans and followers, please join our webinar on November 14 with digital marketing expert and social media specialist Lilach Bullock. Lilach will show you how some nonprofits are using Instagram to reach the young and socially-conscious generation, ensuring their organizations continue to grow well into the future.
Introduction to Proposal Writing (GrantSpace)
This class will provide you with an overview of how to write a standard project proposal to a foundation.
Big Programs, Little Budget: Forging Community Partnerships in a Small Town (Programming Librarian)
Drawing on her experience as director of the Meservey Public Library, Chelsea Price will share ideas for hosting "big" programs on a small budget and discuss how partnerships can be an invaluable resource for programming.
Leadership in Youth Services, Part 1: Leading Outside Your Organization (Association for Library Service to Children)
This is one of a three-part Leadership in Youth Services webinar series brought to you by the ALSC Managing Children's Services Committee. How can you obtain leadership experience in an entry or mid-level library position so that you can move forward in the leadership pipeline? Perhaps your administration can't (or won't) provide the support you need to advance. This webinar will explore how to add tools to your leadership toolbelt - in and outside of the library - without breaking the bank.
Understanding Teens 101 (Wyoming State Library)
Join Catherine Boddie and Bridget Kiely for a crash-course on understanding teen behavior and strategies for applying your know-how so all staff can offer the best teen services at your library. We'll touch on everything from adolescent neuroscience to behavioral issues. Whether you're a teen expert or teen averse attend for some useful takeaways for your day to day work in the library.
Collaboration Impacts Students' Learning (edWeb)
In this edWebinar, Michelle Luhtala, Library Department Chair at New Canaan High School, CT, will share tools that promote collaboration among educators. Participants will explore how to demonstrate that collaboration is happening, that it is effective, and that it favorably impacts student learning.
November 15
How to make open access work for everyone: Closing the information inequity gap (OCLC)
A 30-minute webinar about the challenges and benefits of providing students with open-access content and how OCLC's research and partnerships lead to the development of effective solutions for the library cooperative.
Getting Your Donor Management Data In Order for 2019 (Idealware)
You have a donor management system, but how do you get the most out of it while maintaining it for optimal efficiency? Join us to learn about donor data best practices, including customizing your system to your organization's needs, cleaning data, defining data standards and coding, and the importance of training staff to enter and extract data efficiently.
Moving Your Workload to the Cloud? What are the Right Tools for the Job? (GovLoop)
Join us online to learn how governments can successfully assess, plan and automate cloud transformation on time and on budget, and fast forward your data center consolidation or cloud migration.
Libraries Connecting You to Coverage (Public Library Association)
As part of its ongoing work to support the public library's role in creating healthy communities, PLA is offering new resources for libraries to help more Americans participate in the Open Enrollment period of the Affordable Care Act. This free webinar will help public library staff plan for how they can promote the deadlines, educate their communities, find certified enrollment assistance, and support patrons' efforts to enroll successfully. Learn how two very different public libraries are using free resources to offer essential guidance to their communities.
Onboard or Overboard! Increasing Employee Retention and Productivity (Training Magazine Network)
Employees are going overboard, leaving companies at a faster pace than ever before. You work so hard to recruit the right talent and yet 1/3 of employees quit their jobs in just the first six months! One major factor in this is lack of great onboarding.  Companies fail to realize the need to reinforce the "buying decision" – yes, onboarding is a key time for new associates to determine if they made the right choice or not.
Encore Career Search Strategies: Help Your Patrons Find Their Way to Meaningful Work (Infopeople)
We can help older patrons compete successfully for jobs by steering them toward resources that match their needs, and by helping them find (economical) ways to develop new job search skill. This webinar will give you information and resources to help patrons bridge the gap in knowledge and skills.
Fighting Fake News: How to Outsmart Trolls and Troublemakers (edWeb)
In this edWebinar, teachers will learn a practical approach to helping students avoid one of the major pitfalls of today's digital media: falling for fake information.
November 16
Looking to the Cloud: Using Google's G Suite at Your Library (Indiana State Library)
Learn how Google's G Suite web-based software can bring simplicity, flexibility, and collaboration to your library through Gmail, Docs, Sheets, Slides, and Drive.  We'll also cover how to sign up for Google for Nonprofits, which brings this platform to your library for free.
The University of Michigan Ebook Collection: An investment in open source, community accountable infrastructure (Lyrasis)
LYRASIS is hosting a webinar to provide our members an opportunity to learn more about the University of Michigan Ebook Collection, a comprehensive collection of the University of Michigan Press's scholarly ebooks for sale to libraries. The collection is fully accessible on Fulcrum, a leading community-developed, open source platform for digital scholarship developed with support from the Andrew W. Mellon Foundation. Please join us to learn how your investment in this newly available content supports the sustainability of open source, community accountable infrastructure.
Marketing on a Small Budget (Indiana State Library)
Libraries are busy places. From programming to services, we want people to know about everything. The challenge? We often have very limited (if any) marketing budgets. See examples of what has worked and where your time is best spent. You do not want to miss this great presentation, so sign up to attend today!
November 19
Technology Competencies & How to Exceed Them (Geared towards all levels of staff) (Indiana State Library)
Explore available opportunities for continuing education, peruse useful sites for keeping up with technology, and develop a plan for taking charge of your own learning.  Topics covered will include planning for learning, time management, and state and national resources.  Ample time will be given for participants to search for relevant training and education opportunities that fit their individual needs.
November 20
Online Tools that Help Nonprofits Learn, Listen & Engage (Firespring)
Learn how to make technology your friend. In his most revealing session, Jay takes you behind the curtain to show, in real-time, which tools he uses to manage his online presence and why.
Bozarthzone! Holiday Stressbusters (InSync Training)
What should be a season of love and joy often turns instead to tiring weeks of overspending, overindulging, disappointment and STRESS! Join facilitator Jane Bozarth for a look at common causes of holiday stress and ways to combat them.
November 22
Using Storytelling to Boost Your Nonprofit's Communications (Charity Village)
Do you struggle with storytelling? Need help getting a handle on planning, developing and sharing your nonprofit's stories? In this webinar, we'll look at how you can approach storytelling in a focused and strategic way. We'll review steps that will help you to develop content that is compelling and that supports your organization's mission and goals.
November 26
Addressing Latino Health and Wellness Disparities Through Virtual Community Health and Wellness Workshops (National Network of Libraries of Medicine)
This session will provide attendees with background information about the Latino community both in the United States and in Minnesota. An overview of current demographics and health issues will be covered. The presenters will then describe how they designed, implemented, and evaluated the virtual health and wellness workshop series*, covering mental health and wellness topics, targeting the Latino community in rural Minnesota towns.
Info2Go! EOR and E-rate – Are you ready for 2019? (Idaho Commission for Libraries)
Get ready for the next round of EOR and E-rate. What can you expect for 2019? What can you do to be prepared? Get all the details here.
November 27
Graphs, Charts, and Data Visualization – All Three in Your Next PowerPoint Presentation (Training Magazine Network)
PowerPoint graphs and charts are an excellent way to show information visually, allowing an audience to see the trend or result straight away. Graphs are a common component to most presentations, but they aren't always used correctly. An effective graph can show a trend, support your message, explain a situation, and much more besides. Data visualization takes things further, to convey complex concepts in an elegant and relatable way. In this webinar we explain how to use and create PowerPoint graphs and charts effectively. We show the common mistakes people make and how to avoid them. Then teach you how to create live and non-live graphs, charts, and other data visualizations that will help engage your audience and get your message across.
Looking at Plastics: An Introduction to Caring for Plastics (Connecting to Collections)
Plastics are everywhere – they are an inescapable part of our lives both at home and in our collections. Plastics present a deceptive promise of permanence yet we know from experience that their preservation is not an easy task. Learn how to monitor and mitigate problems that may arise from the deterioration of plastics in your collection.
It's Not Just About the Likes: Getting Strategic with Your Library's Social Media (Texas State Library and Archives Commission)
You know how to use social media tools like Facebook, Twitter, and Instagram, but how do you get followers to go beyond liking posts to sharing or even showing up for the programs or resources you're promoting? Being strategic with your posts is an important first step. In this webinar you'll learn strategies for social media engagement for libraries of all sizes, but with a focus on libraries without dedicated communications staff.
November 28
Understanding Grief After an Overdose Death (National Network of Libraries of Medicine)
This webinar focuses on the dynamics of grief after a death caused by substance use. It also covers the stigma, stress, and trauma that can come with grief after a death from substance use -- and it considers issues that begin to influence survivors' experience of grief and loss long before a death occurs, such as struggling with a loved one's addiction and the demands of caring for a chronically ill person.
Relationships in Early Education: It's Basic! (Early Childhood Investigations)
This powerful webinar, by Luis Hernandez will offer insights and strategies to help early childhood educators build and enrich their relationships with the children, parents, and other staff members in their organizations.
How to Write More Effective Email and Web Content (Infopeople)
In this webinar, we'll offer specific guidelines that will help you communicate more effectively in an age where people read most of your content on a screen. We'll look at before and after examples, and attendees will get a list of resources for learning more.
November 29
10 Strategies for Success with Digital Fundraising (GrantSpace)
In this webinar, we will learn how to make your website donor-ready, improve your donation pages, choose the right donor platform, create powerful email fundraising campaigns, promote monthly giving, use social media techniques to grow your email list, and invest in digital advertising to raise money online. We will also address organizational readiness and capacity as a factor in your success.
IdentityTheft.gov: Your One-Stop Resource to Help People Recover from Identity Theft (Federal Depository Library Program)
Come learn more about IdentityTheft.gov, the Federal Government's free, one-stop resource to help people fix problems caused by identity theft.
Librarian Evolution: Libraries Thrive When We Change (WebJunction and OCLC)
Charles Darwin said, "It is not the strongest of the species that survive, nor the most intelligent, but the one most responsive to change." It has never been a better time to be a librarian—especially when we recognize and act on our power to help people in our communities build better lives through learning and literacy. To do that, our identity, our education, our organizations, and our work is changing. Learn how library staff are becoming change agents to help Topeka and Shawnee County Public Library, the 2016 Gale/LJ Library of the Year, become an essential asset in its community.