Programming Idea: Community + Quilt = CommuniQuilt
Jazmin Idakaar
/
11 April 2017
Jazmin Idakaar is the Programs & Community Outreach Librarian at the East Boston Branch of the Boston Public Library.
The Beginning of an Idea
When the Boston Creates initiative launched in 2015, it sparked the germ of an idea. What kind of art would bring people together? What could we create to last? What kinds of stories could we tell? Armed with a 1968 Singer sewing machine, an obsession with fabric, and a grant application, one librarian set out to get her coworkers and community together to create a quilt.
The Grant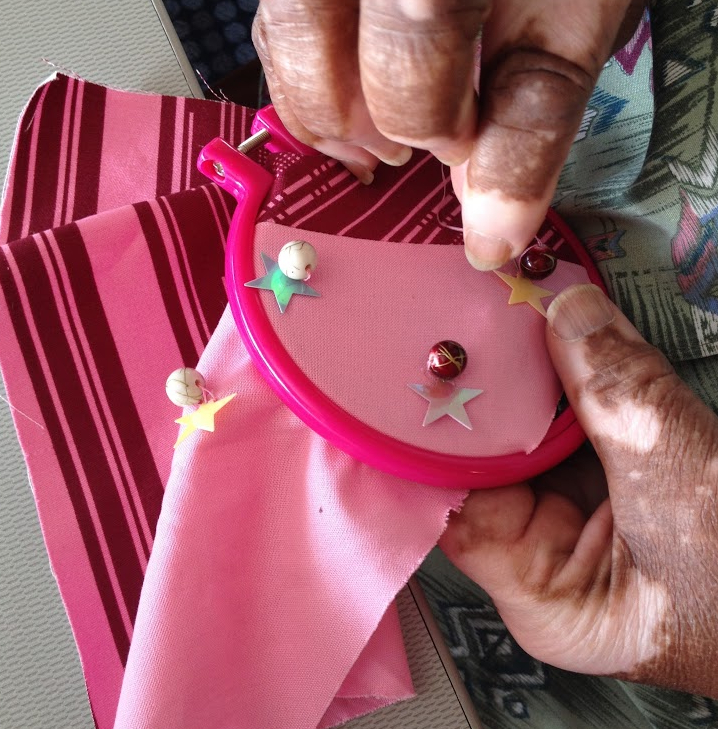 In 2014 and 2015, the Boston Public Library (BPL)and Saquish Foundation offered librarians the chance to apply for special grant funding for programs serving older adults. While many grant recipients focused solely on adults 55 and up, at the Mattapan Branch, I teamed up with Teen Librarian Caren Rosales and we broadened our scope to create intergenerational programming that would bring elders and teens together. Our first collaboration in 2014 was an oral history project. While there was a lot of interest, record-breaking snowfall that year had a serious impact on our program schedule and reach. The CommuniQuilt, our second collaboration, proved to be much more fruitful thanks to smart marketing, abundant refreshments, and a blessedly mild winter.
Getting the Word Out
Aside from flyers and sharing our events with our regular patrons, we wanted to draw in as many participants as we could. Sending in our flyer to a local magazine, Boston Seniority, turned out to be a great move. Not only did we get seniors in from the neighborhood that I'd never seen before, it also generated interest elsewhere in the city. Two other BPL branches contacted me to ask about the particulars and were investigating implementing it with their patrons. We also made flyers, posted to social media, and added our events to local online calendars.
We scheduled a quilting kickoff event, a closing celebration, weekly crafting sessions, and an ArtWeek Boston event focused on quilting and social justice.
Fabric and Bobbins and Fusible Web… Oh My!
As soon as we got the news that our grant application was successful, we ordered a few books to help support our project participants. Titles included: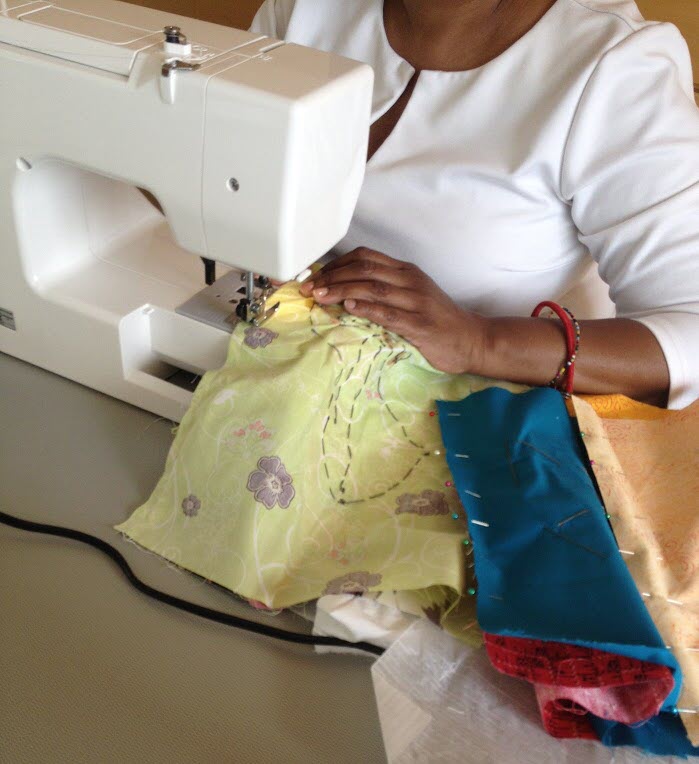 We really lucked out with an amazingly generous donation of fabric from a local fabric shop. I'd emailed them to ask if they had any fabric they'd be willing to donate. As it turns out, they were changing owners and locations, so they gave us more than 50 full and partial bolts of fabric! Though we were prepared to make a go of it with my old Singer machine, our management team purchased six sewing machines for our system and loaned three to our branch.
We received $1,000 in funding to purchase materials.
$400 went to two E-textile Basics Lab Packs from SparkFun. Teens used these to illuminate letters that spelled out "Mattapan" across the top of the quilt.
About $400 went to pre-cut cotton squares, embroidery floss, thread, hoops, fabric glue, fabric markers and paint, brushes, rotary cutters and scissors, and other crafting supplies. A 20% off store coupon helped maximize our materials purchasing power.
Almost $200 went towards non-perishable snacks for each quilting session and for our launch party and closing celebration. We offered weekly snacks of granola bars, Biscoff cookies and tea/coffee for seniors, and chips and fruit gummies for our teens.
Quilting in the Real (Library) World
We initiated the program through offering weekly Monday afternoon sessions for quilting that seniors and teens could attend, and Caren ran additional teens-only sessions to give teens time to create at their own pace. In practice, sometimes we had seniors only and teens would pop in and then dash out of joint quilting time, so the age groups didn't have as much contact throughout as we'd hoped.
In theory, fabric spray paint seemed fun, but in practice it was too challenging to have patrons safely do on their own in our community room. We ended up using it for the sky in the center square, but otherwise it went unused. Fabric markers and fabric paint were better options for our space and our participants.
Our senior quilters created over 50 quilt squares and our teens made several squares, as well as the word "Mattapan" across the top using the LilyPad Arduino kits. Our library assistants, branch manager, and security guards also contributed squares. As the quilt grew, we needed a few more squares to make it complete, so we pulled in the creative talents of our youngest patrons in the children's room.
Though we started out with a square template, patron creativity often exceeded the bounds of the smaller squares. As our program progressed and we prepared to assemble the quilt, we reached out to a master quilter from a local African American quilting guild, Sisters in Stitches, and she came to help. With her assistance, we were able to join together squares of many sizes and textures to create a cohesive whole that we were able to display at our final celebration.
Program Evaluation
We considered the program successful with our solid weekly attendance numbers, dedicated attendees, and the number of completed quilt squares (almost 90!), but overall we evaluated it by how much joy it brought to members of our community. This project brought in new patrons, brought together members of the community that had never met before, and created lasting friendships between our seniors. Teens, who initially were very skeptical of the overall picture, learned new skills and were delighted to point out their contribution to a quilt. Our teen group was an even split between boys and girls, which was surprising in the best way. During our quilt reveal party, more than 50 patrons from all generations came together to enjoy food, mingle, and show off their hard work. The quilt now hangs right up front at the branch for visitors to see.
Creating Your Own CommuniQuilt
If the sky's the limit with your budget, a grant, or a generous friends group, you can easily replicate or expand upon the program we offered our patrons at our branch. If budgets are tighter, you can still have a successful quilting program with some creative thinking.
Companies like JoAnn Fabric will offer a community donation program that may help you acquire materials at no cost.
Checking in with local fabric shops may be another option for acquiring materials at a discount or for soliciting donations.
Post to your local Freecycle list or Craigslist page, or put out the call in your own network.
Thrift shops can often be a source for older sewing machines and cheap fabric, but make sure that it's worth the discounted price.
Repurpose and upcycle things like cotton or flannel sheets, old clothing, and fabric scraps you might have at home, left over after a program, or from items left in the lost and found if no one has claimed them.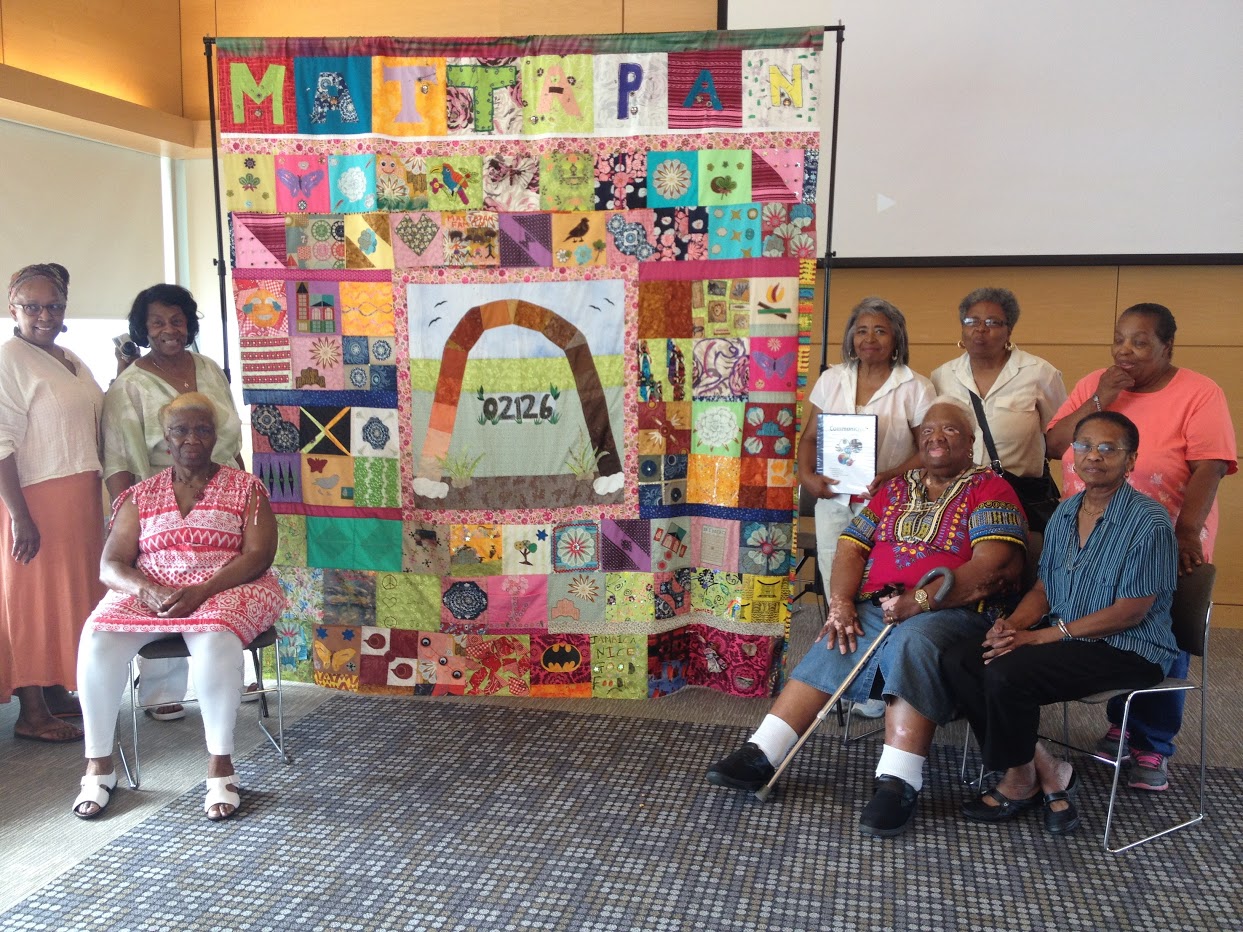 If you're working with youth, with adults with dexterity issues, or you're on a tight schedule, fabric glue and fusible web are lifesavers and will allow you to create a lovely display quilt. If the goal is to create quilts to donate or use at home, sewing will result in a much more durable quilt.
If you pursue a CommuniQuilt program in your library, let us know in the comments!
All images provided courtesy of the Boston Public Library.