The Fairfield (CT) Public Library Means Business
Last Modified: 21 March 2012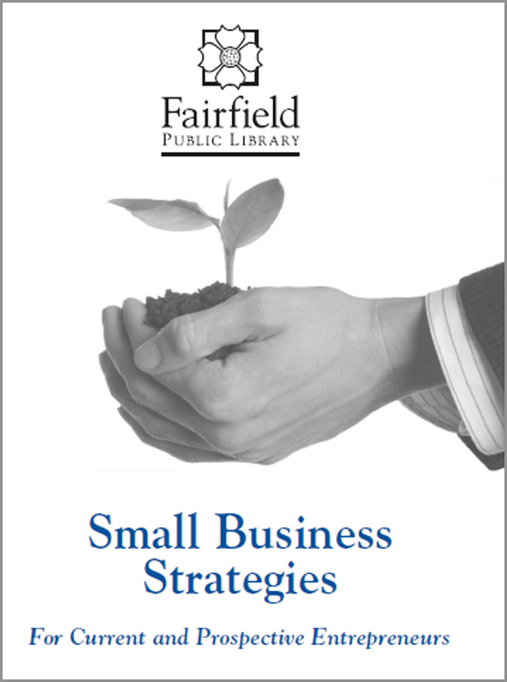 After building a successful program for job seekers at the Fairfield Public Library, Judy Sparzo focused the spotlight of her innovative energy on how her library could support small business and entrepreneurs in the community. Sparzo understands the pivotal role that libraries can play in fostering local economic growth through providing information and programs that will help existing businesses thrive and new ones get off the ground. She was able to apply many of her strategies and skills that had built the jobs services toward this new direction.
Know Your Community
Fairfield CT has a high percentage of highly skilled, white collar professionals who were surprised to find themselves suddenly jobless as the economy plummeted. Sparzo recognized that this demographic was ripe to become their own bosses. She wanted to transition them to thinking about starting their own businesses. She also guessed that there were small community business people who were foundering in the recession but did not know they could find help at the library.
Format, Speakers, Topics—the Seeds of Small Business Strategies
If you've got a successful formula, why not see if it applies to other efforts? That's exactly what Sparzo did. She started with the format for the job seekers workshops and consulted her stable of speakers and Linkedin contacts for people who could speak to small business interests. Although she majored in business as an undergrad, Sparzo readily admits, "I'm not a small business expert," so she turned to the local office of SCORE, a national organization that bills itself as "America's premier source of free and confidential small business advice for entrepreneurs." In that first connection, the SCORE representative brainstormed some starter topics, which became the basis of the first workshop series. He also recommended a host of speakers, all of whom had already been vetted by their organization for quality.
As the series evolved, other sources for speakers emerged. Local community colleges and universities often have courses in entrepreneurship, with professors who make excellent program presenters.
In fact, most communities are rich with potential presenters, including non-profit and government organizations, who may welcome the benefit of a public forum and a fresh audience. However, it is critical to establish firm guidelines for speakers in the business community. Sparzo makes it clear in her initial conversations that this is an educational opportunity and not a hard sell. They are welcome to talk about their expertise and to display company brochures and business cards, but as soon as the presentation starts to sound like a sales pitch, they are missing the mark. Sparzo stresses that this is a giveback to the community. In the case of one website designer whose topic was social marketing, the goodwill she generated with the audience did result in a subsequent business transaction.
With brochures printed (which was the only outlay of funds for the program), The Small Business Strategies series was ready to roll (see attached program flyers). The timing of the program schedule was carefully selected to reach the intended audience. The 7 PM weekday evening start time has worked well for most small business people, where a Saturday morning program would exclude too many current business owners. Word-of-mouth marketing was deployed and one Fairfield librarian hand-delivered brochures to many local businesses, talking personally to the owners in the process.
After two seasons of Small Business Strategies programs, the hot topics (those with the highest attendance) have been:
Creating a Business Plan
Email Marketing
Using Linkedin to promote your business
Online Marketing with social media
Search Engine Optimization.
(See the attached brochures for the complete listing of topics and speakers.)
Partners and Promotion
By the third season of the Small Business Strategies series, that early contact with SCORE evolved into a partnership, formally declared on the Spring 2011 brochure. The local representatives soon realized that the Fairfield Public Library Small Business Strategies series was drawing audiences as large or larger than the SCORE-organized events in the community, and wanted to reach out to those potential new small business clients. The SCORE chapter promotes the library's programs through their newsletter and listserv, both of which have a substantial subscriber base. Sparzo had to inform them that it was against library policy to reciprocate by sharing participant information, but she did agree to hand out co-branded SCORE /Library feedback form at the sessions. SCORE has also created videos of the workshop sessions, providing the library with a CD that gives patrons ongoing access to the learning.
Once the Small Business Strategies was rolling, it became easier to find other interested partners. Sparzo's value proposition goes something like this:
"We have offered 11 presentations for small business owners since fall 2010 that have reached a combined audience of 500 current and prospective entrepreneurs. We have established a partnership with SCORE of Greater Bridgeport, and they provide us with cross-promotion to their email list of several thousand clients. We also do our own extensive PR for each speaker, distributing press releases to over 20 online, print, radio and television media contacts."
A Business Collection
The workshop series is backed up by a solid collection of business resources. The Fairfield Public Library is fortunate to have a basic set of books, periodicals and databases to provide important information for local entrepreneurs. All of the promotional brochures for the Small Business Strategies series include a list of these key resources, which provide a good collection development list for other libraries looking to enhance their resources. (See attached brochures.)
These three databases top the list for usefulness:
Reference USA: an online directory of over 14 million U.S. businesses that can be sorted by geography, size, and type of business
Business and Company Resource Center: Company profiles, industry rankings, products and brands, stock prices, investment reports, industry statistics
Dunn's Million Dollar Database: Premier directory of all U.S. public and private companies with sales of at least $1 million or at least 20 employees. Excellent source for biographies of company officers
Most of the reference staff are not trained specifically as business librarians but they are experienced and confident in their strong reference skills and their ability to locate requested information.
Sparzo made a connection with her local State Representative's office, which elicited a visit from their Constituent Services staff to see what the library was doing for the unemployed. This became a great source of referrals for all areas, including continuing education, social services, foreclosure assistance, and more. The Constituent Services staff were happy to make email introductions, one of which led to a contact with the CT Department of Labor Career Resources, which resulted in another partnership in support of the Jobs 2011 program.
All libraries need to share their value proposition with stakeholders in the community. Sparzo found that Fairfield's elected officials were excited to be able to announce that the library was working to help job seekers and small businesses, and would promote those much-needed programs to the press and the public.
Open for More Business
Sustaining the community business strategies is a priority for Sparzo. She had the foresight to record all of the past Small Business Strategies programs and make them continually available as podcasts on the Fairfield Library site. There is also a Business Partnerships effort led by Fairfield Public Library's Town Librarian, Karen Ronald, designed to promote ongoing, mutually beneficial relationships with local businesses. The Get Carded & Get Connected promotion appeals specifically to the small business community.
The Small Business Strategies workshop topics are by no means exhausted. A question on the exit surveys asks for ideas for future topics. The following are likely to appear in the fall 2011 lineup:
Loans and fundraising
Networking Events for business owners
How-to's on using Facebook and Twitter for businesses
Marketing and Advertising Your Business
This work is licensed under a &nbspCreative Commons Attribution 3.0 United States License