Competency Index for the Library Field 2014
Last Modified: 19 March 2015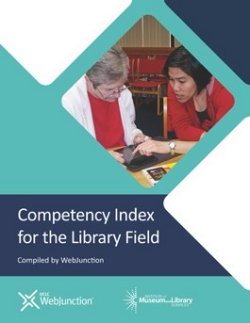 The Competency Index for the Library Field is a valuable resource for libraries, helping staff identify and obtain the knowledge, skills and support needed to power relevant and vibrant libraries. Developed with the input and guidance of library staff and library consultants, the Index was originally published in 2009, and was updated in 2014 to address the ever-increasing economic, social, and educational demands of local communities. These dramatic changes have impacted the skills library staff need to develop to serve those needs.  
Three elements in particular have been emphasized throughout the Competency Index: 21st century skills, accountability, and community engagement.
The Index is intended to be widely shared and adapted by a variety of libraries to meet their individual needs - we know that this customization can be essential to creating the right tools to guide a library. Please download the PDF (3.3 MB) as a whole or the Word version for remixing as you see fit.
Competencies continue to be a work-in-progress. Please tell us how you're using them in your work. Use the comments area below or send feedback to info (at) webjunction.org.
See also Spanish Translation of Competency Index.
[Note: the original 2009 edition can be accessed via the OCLC Library.]
This work is licensed under a &nbspCreative Commons Attribution 3.0 United States License