Best Practices - Web Conferencing Participants
Last Modified: 15 May 2017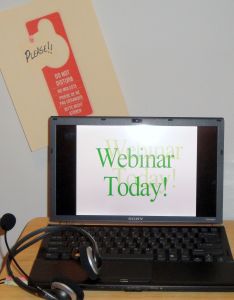 Get Ready:
Technology:
 If it is your first time using an online conference system, get ready EARLY! Start at least 30 minutes ahead of your event unless you need assistance from your IT staff - then start earlier. Get your computer ready by running any wizards and/or downloading any plugins needed to join the event. 

Give yourself the gift of a headset with microphone. This will create an intimate listening environment for you - blocking background sound and helping you to focus. It will also eliminate echoing and background noise when you speak during the event. Note: not all events will allow participants to speak during the session, often the participants are muted to reduce background noise.

Test your audio equipment (speakers or headset) and microphone before the event to be sure it is working properly. See the audio troubleshooting tips in our best practices guide for participants to get some ideas for testing if you are having problems.

Your space: Get your desk ready for the event - clear a space and get a note pad ready for taking notes. Turn off your IM and e-mail to avoid distraction. Let your workmates know you will be unavailable and post a do not disturb sign to remind them. Check your computer monitor to be sure it is set for comfort.

Get Set:
Make a commitment to the event, be prepared to participate and to be engaged.
If the option is available, don't forget to talk. Get used to using both the microphone and text chat to interact with the other participants.

Be aware of online meeting etiquette:
Login in at least 15 minutes early and be ready to go at the session start time.
Login with your full name. 
Orient yourself to conference environment. What can you do to customize to make it the best experience for you? Know what your choices for chatting, window sizing, etc. are.
Introduce yourself in the chat area - you can also include your geographical location and even your organization's name.
Orient yourself to the conference environment. What can you customize to make the session the best experience for you?  (Minimize chat, resize content window. etc.)
Be patient waiting for a response to your chat messages.
If talking is available for participants, raise your hand to let the presenter know you want to say something.
If you are not called on by the presenter, identify yourself before you begin speaking.
If you leave the room during the session - using the appropriate emoticon to let everyone know or type "Away" in the chat area.
If you are using a telephone for your audio, remember to mute yourself when you are not speaking.
If your control key is used to toggle the microphone on and off, don't use it unless you want to talk. Repeated use of the control key for other purposes can confuse the moderator because it will look like you are trying to talk.
Go:
Zone In - Engage in the session.
Reach Out - Use the available tools to network and connect with other participants.
Participate and Share - Your questions might lead to answers that others are seeking. Your experiences and ideas might be just the spark that others need to get them going.

Audio Troubleshooting Tips:
If you are having trouble hearing or being heard, here are some things to check:

1.  Make sure the jacks for your speakers/headset and microphone are plugged into the correct ports. The connection ports and the plugs should have matching icons (and sometimes color) which should match the icons on the jacks.
2.  Make sure that the jacks are completely inserted into the ports. It is easy to connect them part way so give it an extra, gentle push.

3.  If you are using a headset with built-in microphone you may have a volume control in the cord that connects your headset to the computer. Check the control to be sure the mute switch is turned off and the volume is turned up.

4.  Check your computer sound settings to be sure your sound and/or your microphone are not muted or set at very low volume.

Want some practice?
Sign up for this free webinar provided by InSyncTraining:  Learn How to Learn Online
This work is licensed under a &nbspCreative Commons Attribution 3.0 United States License