Health Happens in Libraries
Health Happens in Libraries is a program that magnifies the role of public libraries as key contributors to community health. By supporting public library staff with resources to respond confidently to patron requests for health information, and tools to form intentional partnerships with local community health experts, Health Happens in Libraries enhances public library capacity to advance health and wellness priorities in the communities they serve.
The Health Happens in Libraries team has engaged state and public libraries, as well as consumer health experts, to explore the context of meaningful health and wellness outreach and education in communities. These partnerships inform the development of customized resources and promising practices for state and public libraries nationwide to utilize in related patron services. Resources will be posted here as they are developed.
Media Kit
Communications Guide
Public libraries are powerful contributors to the health and vitality of the communities they serve. As trusted neighborhood institutions, libraries across the United States continue to evolve to address the changing needs of their patrons and the neighborhoods where they operate. Today, public libraries are finding new and innovative ways to provide resources to communities.
Health Happens in Libraries supports the role of libraries as direct contributors to community health, a broad term that encompasses everything from providing health outreach and education services, to improving health literacy, to advancing measurable gains in public health priorities.
This Communications Guide is designed for public library staff to use as they consider their own contributions to community health efforts and seek to engage target audiences in their work. Access the Communications Guide to begin prioritizing your community health outreach today!
Style Guide
Developed on the premise that the place where we gather to share information and resources can contribute in meaningful ways to the health and vitality of communities, the Health Happens in Libraries brand image is a powerful tool you can use to customize your library's community health outreach and communication materials.
The pin-drop iconography was originally designed to support the Health Happens Here initiatives of The California Endowment. Proven to be both eye-catching and adaptable, the imagery was adopted for Health Happens in Libraries to magnify the role of public libraries as key contributors to community health. Developed to be shared, the imagery can demonstrate collective action when public libraries and partners across the nation share a look and name for their community health initiatives.
Public library partners are invited to use the Health Happens in Libraries image and usage guidelines to highlight the programs, resources and events available at their institutions. Additionally, libraries may share the Health Happens in Libraries brand with their community health partners to reinforce the unified message that libraries are places where health activities, resources and engagement are supported.
Typography

Color Palette

Brand Architecture
To download logos you may right-click the images below and choose "Save As." You may also download the complete logo image kit which includes all the versions below as well as many others, including vector images.

Full Logo: Two Color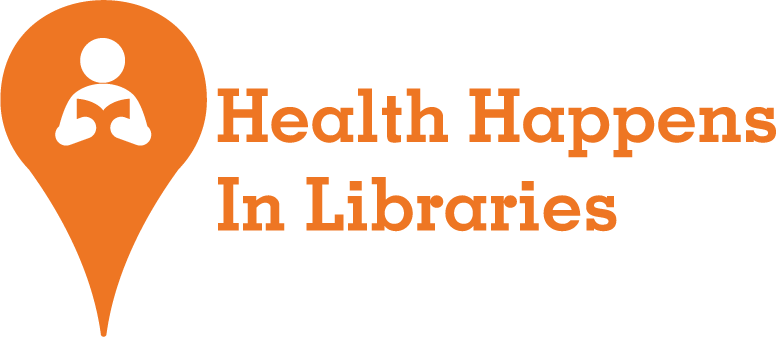 Full Logo: One Color
Partial Logo: Pins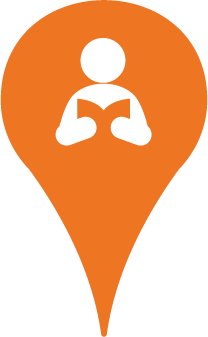 Display Rules
Exclusion Zone

Graphic elements should be avoided within gray box. The exclusion area consists of the dimensions of the lowercase "l".
Minimum Display

To maintain consistency and ensure readability, the logo should adhere to minimum display restrictions (1.25" wide).
Logo Usage Restrictions
Proper use of the logo means no modifications or distortions. For visibility and brand integrity, it is necessary to maintain consistent use. Always use the original digital files available at WebJunction.org.
Examples of restrictions include:
Don't change the color of the logo.
Don't rearrange the elements of the logo.
Don't resize certain elements of the logo.
Don't rotate or distort the logo.
Don't add drop shadows to the logo or stylize in any way.
Imagery Usage Recommendations
The Health Happens in Libraries brand identity can be reinforced with the right photography.
Here are some suggestions for photo selection:
Select compelling and engaging photographs.
Show healthy activities in real-world environments.
Use high-quality photos for maximum impact.
Use of open sky, low-angle camera work or asymmetrical composition allow large resting areas for logo placement.
Additionally, the drop pin symbol references the "anchoring" imagery used in mapping software and can be used in a similar fashion.
Acknowledgment of The California Endowment for Brand Creation
The Health Happens in Libraries imagery is an extension of the Health Happens Here campaign developed by The California Endowment. This imagery has been offered for wide distribution and use through The California Endowment's vision and generosity. Library partners are asked to limit use of this imagery to community health-related services and programming.