WebJunction 2015
The Year Past and the Year Ahead
Ahniwa Ferrari
/
03 February 2015
As we turn the page on another year (plus a month), we at WebJunction would like to take an opportunity to share some of our successes in 2014 and some of the things we're looking forward to in 2015.
Webinars and Self-Paced Courses in 2014
More than 6,000 library staff attended WebJunction's interactive webinars in 2014. Since we moved our archives into the new WebJunction Catalog, we've been incredibly pleased with the response. Over 8,000 library staff have signed up for accounts and among them have completed nearly 5,000 self-paced courses and webinar archives.
While all of our webinars and courses are worth checking out, here are 10 of the most popular from 2014:
Extreme Customer Service, Every Time - Commitment to great customer service goes beyond "service with a smile." It is a commitment to truly engage and communicate with patrons and to find ways to extend the experience above and beyond their expectations. Building on the success of the Darien Library, whose reputation is known internationally for providing "extreme customer service," presenter Gretchen Caserotti will provide you with practical and actionable ideas that can help your library, whether small or large, commit to excellent customer service.
Top Ten Skills for Teaching Tech to Patrons - Opportunities to provide training occur every time you help someone with a technology related question, whether it's one-on-one assistance or in a classroom environment. Making the most of the "teachable moment" involves the right combination of training skills, techniques, and tactics. Technology training is successful when a library patron learns something new and is able to apply it to their life. You don't need to be a tech expert to learn the practical skills for successful technology training.
eReader Detective: Solving the Case for your Library Patrons - Asking the right questions, tracking  clues, and following paths of inquiry are part of the process to support your eReading patrons. With all the combination of eReader devices, file formats, and eContent providers, how can we possibly be prepared for each encounter?
Introduction to Cataloging for Non-Catalogers - This course, aimed at library staff new to cataloging, provides an introduction to the purpose, importance and varieties catalogs. It also provides the learner with a basic orientation to standard cataloging activities.
Basic Web-Based Reference - Web-based, or virtual reference has rapidly become a standard patron service offered by many public libraries. It uses the tools of the internet to extend traditional reference service to the point of need, bringing the service to patron rather than requiring the patron to come in to the library.
Dealing with Angry Patrons - This course is designed to help you improve your skills in dealing effectively with angry customers. It outlines a two-step method for responding to anger, by teaching the staff member to first deal with the patron's feelings, then deal with the person's problem. It includes practice with realistic patron encounters.
Accompanying the Young Reader: Helping the Reader Choose Appropriate Books - This course is designed for teachers, librarians, and parents who are helping beginning readers choose books to read. As professionals we can fine tune this process before it begins, eliminate much of the frustration, and offer the learner appropriate choices that will get them into actually READING books while they still want to, and not after they're too tired to even care anymore!
Having Fun at Work Again - Don't let the pressures of working at the library bring you or your staff down. People want a work environment that is challenging, encourages trial and error, and makes them feel that they matter. It's time to make the workplace exciting again, all throughout the library's culture.
Building a Positive Social Media Presence - Over 70% of adults are now using a social networking site of some kind, and these online interactions can have real-life implications. This course provides guidelines for what should and should not be shared online, how to build social capital and how to put your best foot forward when using social media.
What Would Walt Do? Quality Customer Service for Libraries - Looking for some magic to improve customer service in your library? The Disney Institute on Quality Service has set high standards for creating a quality customer experience and their ideas can be applied at your library.
Making the News in 2014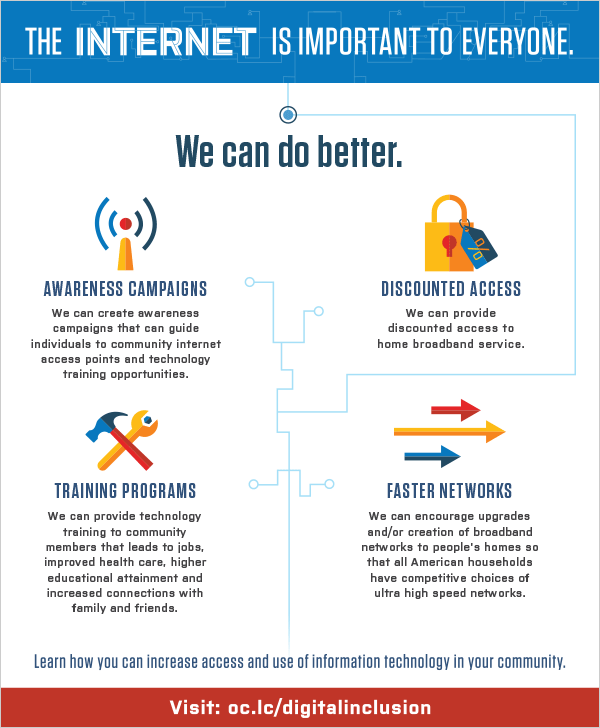 While WebJunction's priority content focus has been and will continue to be learning resources (seriously, go check out our amazing catalog!), in 2014 we continued our efforts to provide interesting and original news stories around library topics. Our news stories were viewed more than 88,000 times in 2014. Here are some of the most popular stories:
The Internet is Important to Everyone - Angela Siefer's excellent Digital Inclusion infographic was the most popular news item on WebJunction in 2014, and deservedly so. It's available in a number of versions to be remixed and re-used by all. #1 for two years in a row, now!
iFought the iPads (and iWon): iPad Displays for Children at Rapid City Public Libraries – Sally-Adrina Taylor shares some great tips from RCPL on iPad mounting, use, and great apps for kids in the library.
Board in the Library, Part One: An Introduction to Designer Board Games – This article, the first in an epic six-part series from John Pappas, provides a great introduction for any library interested in collecting and circulation board games or providing board game programming in their library. And don't miss the upcoming webinar!
Library Spaces that Keep Customers Coming Back – Library space-planning was a big topic in 2014. Megan Knapp covers a lot of good resources in this short article for staff looking to learn more about designing a more inviting library space.
Pew Internet: Advocacy Tools for Librarians - The Pew Research Center's Internet & American Life Project has produced a series of reports presenting new research on library services, trends in reading habits and patron needs in the digital age. This three-year research program is funded by the Bill & Melinda Gates Foundation and informed by an advisory group, focus groups and surveys of library users, non-users, and librarians.
Sustaining Communities, Sustaining Ourselves - When the services and space of the library meet the needs of the community, the library will help to sustain that community and the community, in turn, will sustain the library.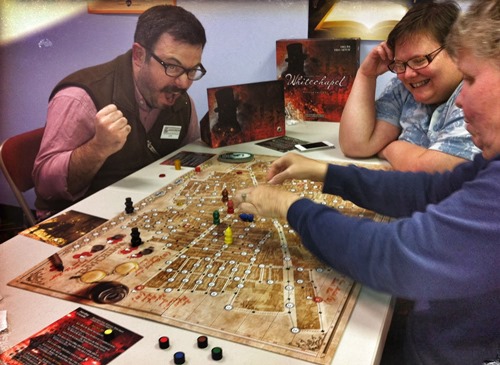 Delivering Extreme Customer Service from the Inside Out - Fostering a culture of extreme customer service is one of the most important long-term investments a library can make, and costs almost nothing. The returns, meanwhile, are valuable beyond measure.
You Shall Not Pass! iPad Passcode Problems and Other Insights – Don't miss Sally-Adrina's follow-up on her wildly popular article highlighting iPad use among young library users. Here she covers some lessons learned and updates suggestions from her previous article.
Beyond the Desk: Resources for Innovative Reference Services – Level up your reference skills and gain access to some great tools in this reference resources round-up.
Readers Advisory: Fresh Approach, Same Great Service – Check out Liz's great article recapping our webinar session with the RA superstars at the Seattle Public Library.
2015: More Learning, More Sharing
At WebJunction we never stop learning, and we love serving the community of lifelong learners that make up the core of library staff. Many of our best stories in 2014 were shared with us by library staff working in the field.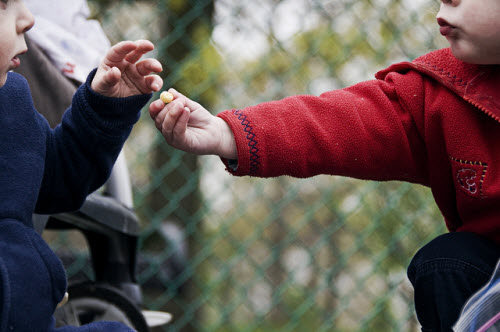 John Pappas shared his board game expertise. Sally-Adrina Taylor shared her experiences with iPads in the library. San José Public Library shared a great story about their new summer reading app and many, many other library staff had great information, lessons, and resources to pass along.
If you or your library are participating in an interesting program and you want to share it with other libraries, please consider getting in touch. We love highlighting library stories! Find out more at our Share Your Story page or use our form to get in touch.
Onward and Upward
Thank you for helping to make 2014 one of the best years for library learning ever.
Now, let's make 2015 even better.