Library Spaces that Keep Customers Coming Back
Megan Knapp
/
08 January 2014
[Photo credit (Image 1): Don Bayley/iStock/Thinkstock.]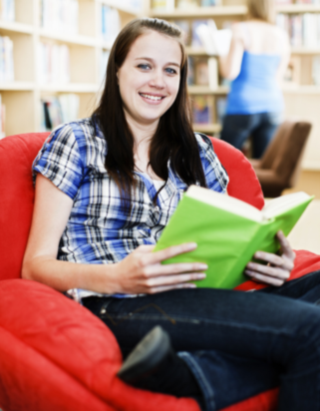 Our surroundings have a profound effect on us. Color, light, shapes… seemingly small details can help us tune into our environment deeply, or make us shut down entirely. We know at an intuitive level that well-designed spaces not only make for better business, they inspire and encourage us to engage with our world and achieve our goals. Even beyond what we sense, as a recent article on learning spaces noted: "…environmental psychology literature details the extent to which physical settings, including the height of ceilings, the colour of walls, levels of natural light, views from windows and temperature can have a dramatic impact on everything from motivation to energy levels." As libraries look to address 21st century customer needs, rethinking and reshaping indoor and outdoor spaces can create welcoming, fun, and comfortable environments that keep customers visiting time and again.
Different environments will call for different approaches or techniques, but there are some key concepts essential to creating any customer-centered space. In her Library Journal Library by Design article, 10 Steps to a Better Library Interior: Tips That Don't Have To Cost a Lot, accomplished interior designer Tracy Lesneski highlights many design fundamentals that anyone can apply, without breaking the bank. In the webinar Flexible Spaces—Flexible Futures, Dri Ralph (who recently helped lead the King County Library System in Washington State through an extensive bond project, including the renovation and/or building of 30 libraries) will share highlights around design choices, ideas for flexible use of space, and tips for engaging the community in the planning and design process. WebJunction has a number of other resources and on-demand webinars on the subject of space planning as well.
Be sure to check out the 46-page guide, Transforming Library Spaces for Community Engagement.

Consider these other trends in library design and service delivery:
Out with the old. Repurposing existing space is often a cost-effective way to design great environments tailored to customer needs. Some libraries are even taking this to the next level, and taking over old retail locations.


A breath of fresh air. Are indoor projects out of the question right now? How about making a community space outside of the library? Expert organizations like the Project for Public Spaces provide a wealth of resources to re-imagine what's just beyond the walls, and design an inviting environment for the whole community. Many libraries are making creative use of space as community gardens and gathering places.


All the comforts. Some libraries are making checkout a breeze as well, with drive-up windows for customers. This service (and design feature) provides patrons with a convenient way to gather materials, without struggling for limited parking or leaving the comfort of the car in extreme weather. As a bonus, it might also help to increase online traffic, as some libraries suggest that customers reserve their materials ahead of time through the library website.
For additional inspiration heading into a new design project, visit the American Libraries Magazine design showcase for a number of examples of engaging library spaces.
Whether you are building a new library, renovating space within an existing structure, or simply rethinking your personal work area, we hope that this month's focus on space planning will provide many ideas and tools to help you get the job done. Happy New Year to you all, and happy space planning!
[Photo credit (Image 2): Andersen Ross/Blend Images/Thinkstock.]