December Poll Results: Library Websites
Jennifer Peterson
/
30 December 2015
In anticipation of our January 2016 webinar, Enhancing Your Library's Web Presence with WordPress, WebJunction's December poll reached out to Crossroads readers to understand a bit more about your library's website, who manages it, your plans for updates or a redesign and three things you'd like to change most.

There were 33 responses collected. Thank you to those who provide the following information.
Who manages/updates your library's website?
Of those who responded, in 94% of the libraries, library staff manage and update their websites. In some cases this may be the library director, but in general, library websites are most often maintained by library staff. None of the libraries that responded have sites managed by volunteers. One of the libraries mentioned that a vendor handles the design and WordPress platform, but staff update all of the content. And one additional library indicated that a contractor manages and updates their library's website. And two of the libraries indicated that city/county IT staff manage the library's website.
Would your library like to redesign or update your website?
Nearly half of the respondents plan to update their library's website in 2016. Another 21% would like to redesign or update their site, but indicated they either don't have the time or are limited to the county IT department's restrictions and requirements. And the remaining third of the respondents are satisfied with their library's website at this time.
What would you change?
And the final question explores the changes that libraries would make to their sites if they could wave a magic wand. All of the options received votes, but those with the most responses address usability, the overall look and feel, an e-commerce function so patrons can pay fines online, and more integration of images and video. Many of those who responded with 'other' indicate that they would improve their events calendar and the registration process for programs. A few others specifically noted improving the mobile version of their website.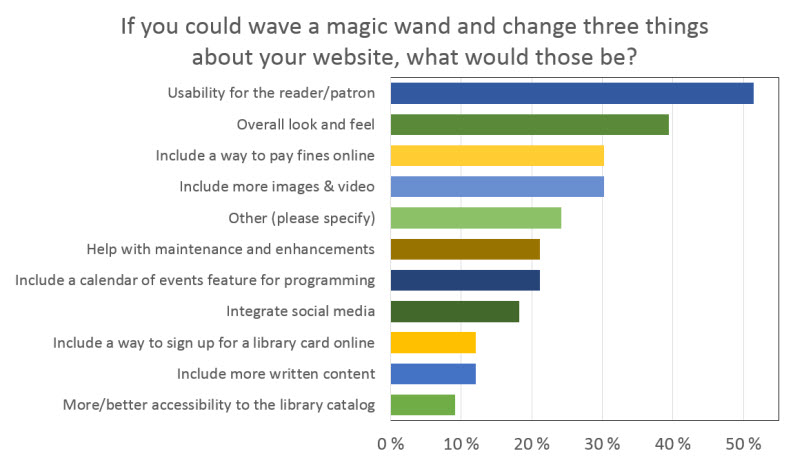 View the recording of the webinar to learn about Enhancing Your Library's Web Presence with WordPress. Presenters Sara Wright and Elizabeth Lawrence from the Berthoud Community Library District in Colorado provided practical steps for creating, maintaining and enhancing your website without technical expertise. Learn how the right WordPress template and plugins can help you provide your community with an informative and nimble website.