What We Learned from You: Satisfaction Survey Results
WebJunction
/
01 September 2021
This summer, we asked WebJunction learners to complete a satisfaction survey to help us better understand how WebJunction is meeting your needs, what you need going forward, and where we could improve.
Over 1,900 members of the WebJunction community—which includes anyone who took a course in the WebJunction Course Catalog, attended a webinar, or subscribes to our newsletter—took the time to provide feedback, and for that we are very grateful! Knowing what's working and what could be improved helps us immensely to adjust and make your WebJunction experience even better.
After analyzing the results, we wanted to share a few of the survey findings with our community. 
What do learners value most about WebJunction?
The top three things users value about WebJunction have remained consistent over the years. These include:
That WebJunction is free of charge
Ability to watch a webinar or take a course when it fits your schedule (no travel time or costs)
Access to library-specific self-paced courses and webinar recordings
The ability to watch a webinar or take a course when it fits your schedule jumped from 55% of respondents in the previous survey, to 65% this year – undoubtedly fueled by the COVID-19 pandemic and the limitations on travel and in-person events. Starting in March 2020, as many libraries closed their doors to reduce the spread of COVID in the community, an unprecedented number of learners came to WebJunction to take self-paced courses and participate in webinars as we all navigated the myriad changes. Staff members, managers and library directors all saw increased opportunities for online learning. Our ability to seamlessly respond to this increased demand is made possible thanks to the commitment of OCLC and 30 state library agencies who provide cooperative support.  
What would learners change about their WebJunction experience?
Like many of you, we are interested in and look for, ways to learn and improve. To help better understand how we could do this to benefit our users, we asked an open-ended question about the areas we should focus on for improvement. The major themes that emerged were:
Updating older content 
Addressing technical issues with logging in (passwords, etc.)
Improving findability of content
More content
When it comes to updating older content, we're not unlike a library - we need to weed our collection! We'll be look at opportunities to both remove outdated content and update it with newer, timely replacements. With regards to adding "more content," we asked a related question about the topics people would like to see on WebJunction. The top content requests include library technology, the advancement of equity, diversity and inclusion, customer service and programming:

How do you apply what you learn through WebJunction to your work? How does WebJunction help you? 
We also asked respondents to share in their own words how they apply what they learn through WebJunction to their work, or how WebJunction helps. This is a particularly valuable part of the survey for the WebJunction team because it allows us to hear about the impacts from learners directly. Over 900 comments were submitted - here are a few highlights:

"WebJunction has provided a variety of relevant topics that have enhanced my work experiences. Our library director encourages us to share ideas we have learned with her, and staff share webinars we have enjoyed, so that we become a community of learners."
"I am a solo librarian. I do everything in my library. This makes everything I learn through WebJunction that much more useful. And online courses that I can fit into my schedule are so very convenient."
"Trainings are a great way for me to learn about what other libraries are doing and national programming resources to expand what we offer our patrons! The recorded trainings are invaluable to work with our tightly stretched staffing issues."
"I have used information, resources, and skills that I learned in the Supercharged Storytime series to enhance my weekly preschool storytime by incorporating more early literacy practices and tips for parents."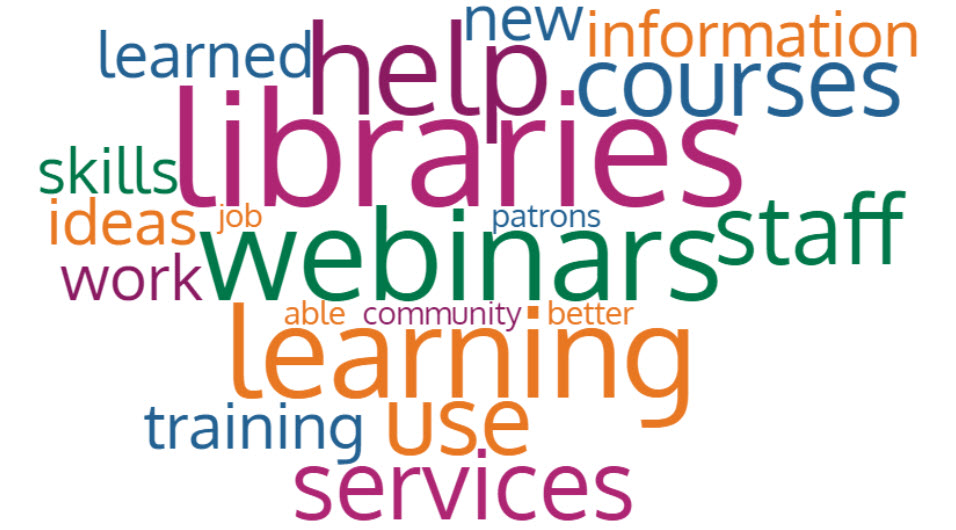 We're already getting to work!
We've already started to look at ways to incorporate this feedback into our work. The best way to stay up-to-date on the latest WebJunction webinars, courses and resources is to subscribe to our e-newsletter, Crossroads, and make sure to let your colleagues know about the free twice-monthly emails too!
You can also follow us on Facebook and Twitter for news and announcements.