Reaching out to learn about the Spanish-speaking population at Columbus Met
Last Modified: 21 March 2012

Columbus Metropolitan Library reaches out to learn more about their Spanish-speaking population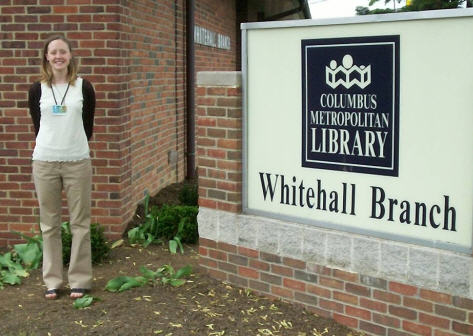 Katie Cunningham is a Spanish Language Program Specialist at Columbus Metropolitan Library and a Graduate Assistant at the Kent State University School of Library and Information Science. Cunningham is the 2008 winner of the WebJunction Diversity Fair Scholarship for best outreach activity from a Spanish Language Outreach workshop participant. She describes an outreach project she conducted for Columbus Metropolitan Library in the summer of 2007 in order to learn more about the Spanish-speaking community in Columbus, Ohio.
Please describe your community.
The Columbus Metropolitan Library (CML) serves Ohio's capital city through a main library and 20 branches. Our city is becoming increasingly diverse. We have large, emerging communities of Hispanic and Somali immigrants. Prior to our outreach project, most of what we knew about our Hispanic community was demographic. We knew that as of 2005, 12.1% of the Columbus population speaks a language other than English at home. 31% of that group speaks Spanish as their primary language. We knew that the Spanish-speakers in Columbus tend to live in specific communities: there is a large community on the west side (Hilltop area), the east side (Whitehall area), and the north side (Northern Lights area). We knew that there are two Spanish newspapers in Columbus, Fronteras and La Voz Hispana. We also knew that over 4,000 children under the age of 5 in Franklin County are Hispanic in origin. We had responded to this demographic information by forming some partnerships which allowed us to provide services for Spanish-speakers, such as free English classes in three of our branches. What we knew less about, however, was how the Spanish-speaking community networks to share information, how they use the library (if at all), and what types of services they look to the library to provide.
How did your Outreach Program for Spanish-speakers get started?
After attending a WebJunction Spanish Language Outreach training, I worked with my supervisor to develop an outreach plan. The purpose of this outreach project was to learn more about the Spanish-speaking community in Columbus. My summer responsibilities were delegated so that I could focus on this project specifically for the 8 weeks of CML's summer reading club. After investigating how other libraries have engaged in outreach to their Spanish-speaking population, we determined that I would:
Locate branches with a large number of Spanish-speaking residents in their service area and no bilingual staff
Visit targeted branches to provide customer service and Spanish read-alouds for children once a week
Identify locations in each branch service area where Spanish-speakers congregate and/or share information and then visit those locations in order to promote library services and begin developing partnerships
Spend one day per week on the bookmobile as it visited apartment complexes with large numbers of Spanish-speaking residents
Track the numbers and types of interactions I had with Spanish-speakers in each location
We selected three branches to target; two were on the north side of Columbus (Karl Road and Northern Lights) and one was on the east side (Whitehall). We targeted these branches due to the large numbers of Spanish-speaking residents in their service areas and lack of bilingual staff. At the end of the eight weeks of this outreach project, my findings were written and delivered to library administration. We learned a great deal about our Spanish-speaking population through this outreach project. Some of my findings included:

There is a real need for bilingual staff in the targeted branches. Whitehall had the greatest need.
Spanish-speaking customers were present in the library more during the evening hours than the daytime hours.
The most common question I was asked by Spanish-speaking customers was for information regarding how they could learn English (area classes, books, computer programs, etc.).
I identified a number of organizations, businesses, etc. in each service area with whom we may be able to partner to promote the library, such as several churches offering Spanish services, health clinics and businesses.
How did you gain the support of your library administration to provide outreach to Spanish-speakers?
My supervisor and I wrote a proposal of this project for our administration which included: a literature review of what other libraries are doing to reach out to their Spanish-speaking community; demographic information regarding the Hispanic community in Columbus; and a detailed description of our outreach plan, including our goals and a timeline for completion. CML administration approved and was supportive of the project.
Where did you get materials for the program?
I used Spanish picture books already owned by the library for my read-aloud programs. Our Community Relations and Development department created a Spanish flier with my picture to advertise the read-alouds. I used this flier and other documents previously created in Spanish to promote the library when I visited outside organizations. I created a document which I used to track the numbers of interactions I had with Spanish-speakers in each location.
How many classes or activities per month do you offer in your library?
Some of the classes CML offers to Spanish-speakers got their start before this outreach project was conducted. For example, CML had already developed a partnership with the Columbus Literacy Council to offer free English classes in three of our branches. 44 sessions of ESOL classes are taught per month. We also have two bilingual staff members working in a west side (Hilltop) branch who offer Spanish computer training. 12 computer trainings are offered per month.
With the creation of two Spanish Language Program Specialist positions, CML now also offers 12 bilingual family storytimes and 44 sessions of homework help with bilingual staff per month.
How does your library partner with your Hispanic community?
We have formed some partnerships within the Hispanic community based on information we learned through this outreach project, such as:
One apartment complex with a large number of Spanish-speaking residents agreed to distribute information about the library in Spanish in their new move-in packets. They also welcomed the library to attend a Community Day celebration at the complex to sign residents up for library cards. This is a strategy I plan to pursue with apartment complexes in other service areas this summer.
I was able to form a partnership with an east side (Whitehall) area ESL teacher during the summer, which has continued. In addition to sharing information about the library with her students, we worked together to arrange a library orientation and tour for the families of ESL students in the school district. Also, several Spanish-speaking staff members were present at this year's Kindergarten registration in the school district to promote the library and entertain children with read-alouds while parents filled out paperwork.
The Community Relations and Development department has developed a relationship with Fronteras, the local Spanish language newspaper. There are weekly spots advertising the library's services in Spanish and an article has been written about our bilingual storytimes.
Two new Spanish Language Program Specialist positions were created following the completion of this outreach project. These staff members provide homework help, Spanish customer service, and bilingual family storytimes once a week at three branches.

In what ways do your outreach activities benefit the Hispanic/Latino participants?
At this point, we have taken an interest in learning more about our Spanish-speaking community and we have the support of our administration to act upon what we learn in order to provide better service to Spanish-speakers. We have not collected data to truly analyze how this benefits the Spanish-speaking community in Columbus. However, we can comment on some observations. By forming partnerships with organizations already serving Spanish-speakers, we can increase awareness of the services we have to offer. By placing bilingual staff in branches with a need, Spanish-speakers are able to receive higher quality customer service. Bilingual storytimes provide a comfortable place for children of different cultures to interact, in which they hear their own language spoken and are exposed to a new one. These programs also model techniques parents can use to encourage pre-literacy development in their native language.
We have plans to continue to improve our services to Spanish-speaking families in the future. We have hired more bilingual staff since the completion of this outreach project, and recruiting more bilingual staff is a specific item on our 2008 Tactical Plan. Spanish Language Program Specialists are currently training to be able to offer Spanish Ready to Read workshops for parents, which teach parents techniques they can engage in with their children to develop important pre-literacy skills.