Libraries Get Reel
Connecting to Community with Short Videos
WebJunction
/
07 March 2023
The Milwaukee Public Library has been making headlines for their creative TikTok posts that have reached millions of people. After opening their account in summer 2022, it didn't take long for their posts to start going viral. And everyone gets in on the fun! The videos are created entirely by library staff who work in roles outside of marketing and are shot on an iPhone, using items and resources the library already has. This post compares modern and retro library resources. Another wildly popular post featured an homage to Stephen King's work on his 75th birthday.
While there are pros and cons to using any social media platform, many libraries are choosing to expand their reach via short-form video apps, taking advantage of the opportunity to reach a wider audience and a younger demographic. Some of the most popular platforms include TikTok, Instagram and Facebook Reels, along with YouTube Shorts.
TikTok is currently one of the most popular social media apps, and although there is debate about the future of this app on the political stage, its impact on young people is clear. In this Today Show segment about Milwaukee Public Library, staff members Derek Reilly and Eileen Force Cahill shared examples of messages they have received about the positive influence libraries have made in people's lives.
If your library is just getting started with this format, check out some of the resources shared in the highlight box at the end of this article. Once you're ready to start filming, you can use some of these content ideas and examples for inspiration.
Book recommendations and reviews: This is one of the most popular ways libraries and other book influencers are using short video apps. Videos feature themes such as "top five" lists, categories (new releases, young adult fiction, popular manga) and themes for special events and commemorative months. Brenna shared a favorite sci-fi read as part of Calgary Public Library's #Read110Challenge, which encourages people to read for 110 hours this winter to celebrate the library's 110th birthday. Stockton-San Joaquin County Public Library highlighted 10 graphic novels by Indigenous authors to help readers learn about Canadian history.
Bookface Friday: This is another fun trend that is popular across several social media platforms. Users stage a photo or video of themselves posed with a book in such a way that the cover image aligns with their body, outfit, or other elements in the image setting. Here are some examples from Smithtown Library and Evergreen Park Public Library. 
Sharing resources: Short videos can offer a quick and catchy way to share resources with library users. Abby, a librarian, demonstrated one of her favorite resources for logging her reading goals and lists for the year. 
Helping people learn about collection development: How do libraries decide which books and resources to keep in their collections, and when to remove them? In Why Library Weeding Is Important, Kelsey Bogan, a library media specialist at Great Valley High School helped viewers understand why it's important to weed collections, and gave examples of why a book might be removed from a collection.  
Promote library card signup: Another way libraries are using TikTok is to talk about the perks and pleasures of being a library card holder. Librarian Mychal shared a fun example of his own library card collection in a viral post.
Library help content: Offering help content in a variety of mediums can help reach more people with different preferred learning styles. Pima County Library shows users how to access mobile checkout.
Display ideas: Lambrick Park High School library showed off this creative display inspired by the BookTok trend. Another viral post from a librarian's account featured a book display that recommends books on themes that are similar to popular movies and TV shows.
Programming promotion: LA Public Library shared information about a citizen scientist program, inviting community members to participate. Dayton Metro Library used this medium to invite teens to their GAME ON: Escape Room Edition program.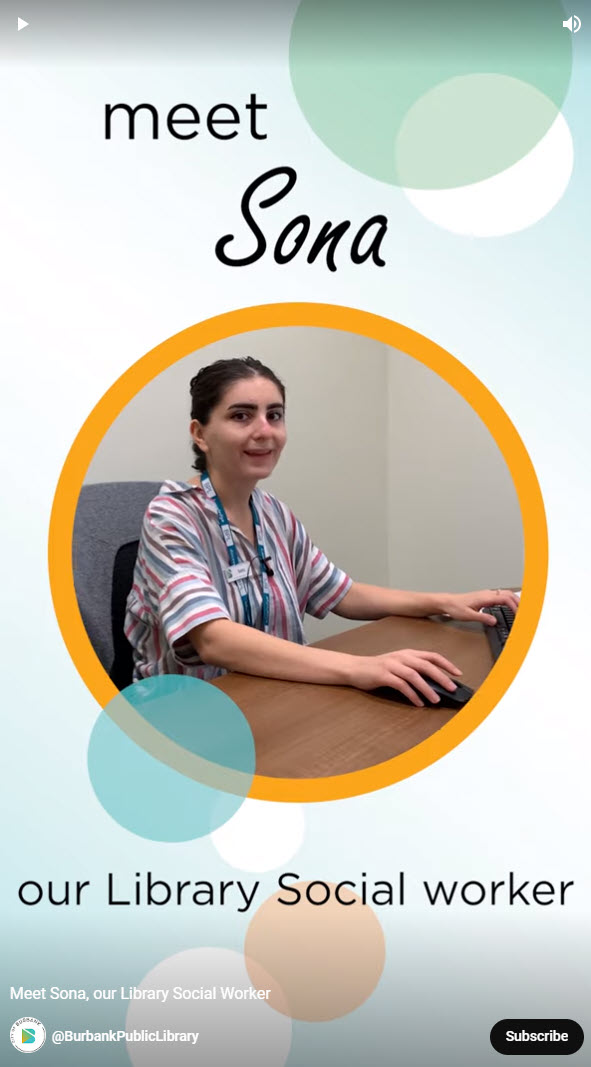 Fun, whimsical content: The internet has always loved fun content—especially cat-related content—and libraries make no exceptions. Woodland Public Library showed off their resident library cat to celebrate International Cat Day. Cincinnati Public Library showed off their dance moves in this Disco Party post. One of Glen Ellyn Public Library's most popular YouTube Shorts posts is about books that look better with googly eyes.
Promoting other resources:  Social media can help people learn about other resources libraries have to offer. Sierra Madre Public Library offered some examples about how libraries are more than just books and programs. Columbus Public Library put a silly spin on a not-so-fun subject in their viral post about tax season resources. Burbank Public Library used YouTube Shorts to introduce people to their first library social worker.
Behind-the-scenes at the library: Some libraries are giving a glimpse of what it's like to work in a library, like this fun look at what it's like to be a children's librarian from LA Public Library. Vaughan Public Library shared this peek into a librarian's enthusiastic reaction to a young patron's question on their YouTube Shorts channel.
More Resources for Inspiration
Check out these resources for inspiration as you create your own videos. Should your institution not have a TikTok or have limited access, Instagram Reels, YouTube Shorts, or creating short videos in general are great ways to showcase all the great work and promotions that libraries have. Any video shared across social platforms can garner additional reach and create impact.