Social Library, Volume 127
Jennifer Peterson
/
19 February 2019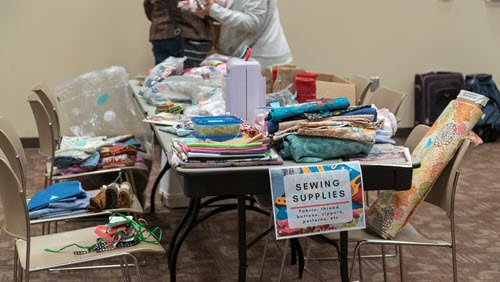 Our Social Library series continues, providing quick inspiration from five libraries we follow on Facebook. From food and scarf drives to help those in need, to a 3D printed doll and a craft supply swap, learn how libraries are hosting opportunities for communities to create and connect. If you'd like to see your library featured in an upcoming edition, please let us know via social@webjunction.org or find us on Facebook.
Pflugerville Library in Texas recently hosted a Craft Supply Swap. What a fantastic way to support recycling and to reinspire local crafters. The event listing provided guidelines for what to bring to the swap and how it worked. "You must arrive no earlier than 5:30 p.m. and no later than 6 p.m. to have your items evaluated by staff. In order to keep things moving smoothly, we will not be able to accommodate latecomers. You will receive tickets by staff based on the value of the items you bring. These tickets can be used once the swap begins." And the leftover supplies were made available after the event - first come, first serve. Check out the photos of the event!

Watertown Free Public Library in Massachusetts collected donations as part of the Watertown Community Foundation's food drive, January 28 to February 7. A post on the first day of the drive listed the most needed items. A cart was filled and refilled many times over, and the donations were divided equally between Watertown's two food pantries. Who could you partner with in your community for a food drive?

Central Rappahannock Regional Library in Virginia shared a post about this 3D printed doll (with movable joints!), created by Caroline Lee, who was trained on the 3D printer at the Fredericksburg Branch. Caroline reserved the printer to print the many parts needed and came back to the library to show the finished painted project complete with wig and outfit!