You Shall Not Pass! iPad Passcode Problems and Other Insights
Sally-Adrina Taylor
/
11 August 2014
Since my first article, iFought the iPads (and iWon), I have heard from several librarians struggling with the same issue: passcodes. At Rapid City Public Libraries we have the same issue. A child or an adult will start playing on the iPad, the person then goes into the settings and will set up a passcode of their choosing. When the next patron tries to get on the iPad, they are unable to type in the correct passcode after a number of tries the iPad becomes disabled and must be connected to a Mac computer to fix. It is a simple fix that Apple has provided their customers, but the bottom line is that this takes staff time when staff could be focused on other tasks. (This passcode is not the same as the password in the General Settings under Restrictions).
An alternative is to set up a passcode, however, if you do this then someone will need to put in the passcode to access the iPad. If you provide the passcode number to the patron, then we circle back to the patron having the ability to reset the passcode to whatever they wish. I have contacted Apple to find a solution but the only options technical support gave me was to fill out a short feedback survey or looking up a third-party application that hides apps. Looking for a third-party app in the Apple App Store did not provide a solution.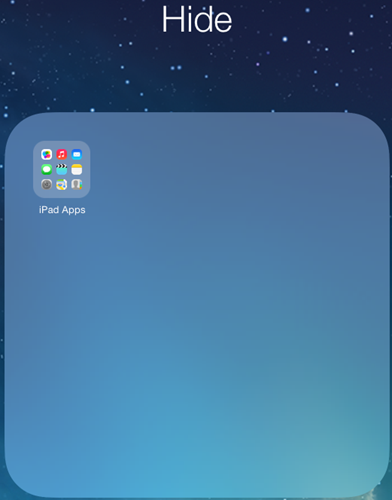 When researching online for hiding apps I did find a flaw in the iPad's operating system (iOS 7.1) that would allow people to create nesting folders (or hide a folder in a folder) and then have it disappear from the iPad. To choose this option follow the instructions written by Mike Wehner in his article, "How to completely hide any app or folder on your iPhone or iPad." This is wonderful way to hide the Settings and other stock app from Apple. It is a way to disable settings, but not without paying a price (people will still be able to do a search to find the apps). Until Apple receives more requests for a better option to password protect the entire Settings app, it may be your best option. Staff decided that since this was not a perfect solution that the library would not put iPads on display for teens.
Stands and Cord Update
A few months after my last WebJunction article was published, Rapid City Public Libraries purchased new stands. The need for this was due to pieces of the stand breaking off (inside the stand, where it would lock the iPad in place) and the fact that after a while the iPads were too hard for staff to take off the stands. I admit, even I had a hard time trying to take them off and I had the most experience. Our current stands are Archelonen and can swivel in nearly any direction. Our mini-testers have put it to the test and so far *knocks on wood* no problems. I even felt comfortable putting two apps that were previously removed back on, as the kids would like to turn the iPad like a wheel when driving. With the new Archelonen stands our only concern is keeping children from sticking objects in the dock connector (slot that charges the iPad) or breaking the dock connector when trying to push the charging cord back in.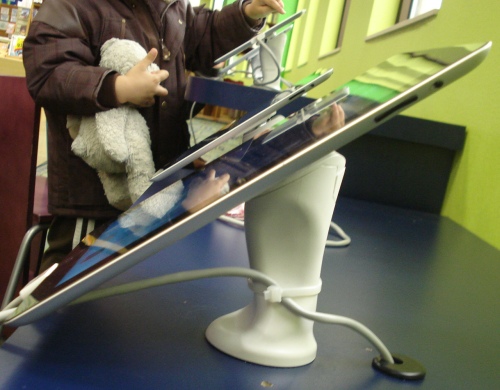 I have learned that even if the charging cord is thicker it does not mean the prongs are stronger. If you leave the cords out, do not leave them unattended. If you can, keep them hidden with a case. We have had several charging cords break the prongs, and once we found the metal prong missing and the wires were exposed. I'm not sure how the prong was taken off but I was glad staff found it before a patron could harm themself(ves). The bigger problem is that if a child breaks the internal section to the dock connector, the iPad needs to be fixed or replaced.
Apps That Are a Hit!
I have been asked this question a lot, "What games do you have on your iPads?" Below is a list of mini-tester favorites and some apps that didn't make the list.
Even babies like to pretend they are big kids and play on devices, especially when they see other children playing. The two games I have in the app dock are "Phone for Kids - All in One Activity Center for Children" by TabTale and "Fireworks! Arcade" by miSoftware. Phone for Kids is my go-to for first time little users, it contains small piano keys, painting by finger (with sparkles and audio words matching with colors), musical instruments, play phone keypad, and more. I have even seen adults play on this app, it's just good clean fun!
Barbie® I Can Be™ for iPad - Try three different careers with Barbie: pizza chef, baker, and pet vet. This app packs a lot of pink but boys can have just as much fun making a pizza, cupcakes, or helping a puppy. I have found pink puppies and extra frosted cupcakes are sure to bring smiles.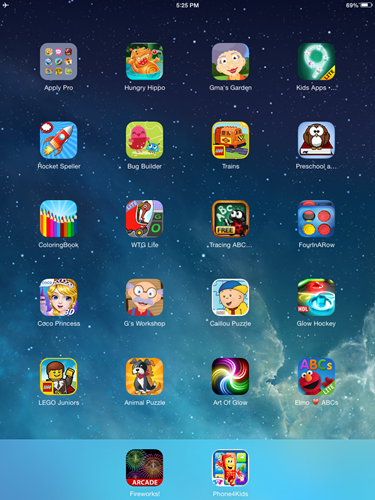 Coco Princess - Girls can spend hours trying different dress-up outfits and backgrounds and, if played long enough - to dance with a prince. I highly suggest purchasing the in-app addition, as young children can become frustrated when the game only works sometimes. A lock is shown over items that must be purchased, but for a free game it is definitely worth downloading. If your library/school does not want children taking photos of themselves, make sure this option is off.
Grandpa's Workshop/Grandma's Garden - High five Grandpa for a job well done! Learn fractions, differences, measuring, and more. When you're done helping Grandpa he will help build you a clubhouse. Or work with Grandma and learn colors, letters, matching, and more. Both offer educational videos that were filmed live by adults. Other games offered by Fairlady Media are: Grandma's Kitchen, Grandma Loves Bugs, and Grandpa In Space.
Hill Climber - Drive a vehicle up a hill, keep playing and choose different options for vehicles. Unless you have a stand that is able to move well you might not want this app.
LEGO® Junior Create & Cruise - Create your own special made vehicle and style your own minifigure. While you're "cruising" collect more coins to unlock more options for styling. I have found older siblings sitting with younger siblings, all smiling and having fun side-by-side. A must have because of no in-app purchases, no third-party ads, and no links to websites.
Words That Go LITE with Richard Scarry's Busytown Cars - A lively background that allows you to move a busytown car past the red light by hearing the sound of the letters while building words. The word is said and spelled out before the next car appears. Another good spelling game is Rocket Speller by Little Big Spellers.
Honorable mentions: Art of Glow by Natenai Ariyatrakool, Caillou House of Puzzles by Budge Studies, Four In A Row By OutOfTheBit, Glow Hockey2 HD by Natenai Ariyatrakool, Guess Who?- Freemium by Clement Marty, Hungry Hungry Hippos by Hasbro, and Sango Mini Bug Builder by Sago Sago.
Which Apps Didn't Work?
Jetpack Joyride - included a mini-game that allows children to play a slot machine to earn more points. Since this was too close to a regular slot machine, we had a parent ask us to remove it.
Subway Surfer - This game features a boy trying to outrun a police officer. It has a 12+ rating and parents feel it is more appropriate for teens. A good alternative is Ninja Kid Run.
Survey App - It was better for our library not to include the Safari App as an option (you can hide it completely by going into Settings, Restrictions, and turning off Safari). This helps keep cookie cleanup and eliminates weekly maintenance. Plus, we received more blank surveys than actual responses.
Tanagram puzzles - There are many different versions but from my personal experience, this is not a game a young child can play alone without having someone nearby to help. Creating with shapes is great, however, the rotation does not always line up correctly electronically like it would in real life.
Power up!
Since we no longer use Wi-Fi on the children's iPads (and turned down the screen brightness by taking it off "auto") I have found that the iPads have last longer and only need to be charged at night. If you have a case that allows the cord to be constantly plugged in, change the settings for "Auto-Lock" to "Never."
Tips and Tricks
Guided Access - When you are in an app you don't want to leave, click the Home button three times in a row quickly to turn on the Guided Access. This allows you to only have access for that particular app. However, since you have locked the iPad into this one app, the battery will drain faster because the iPad will not allow itself to go to sleep (even if you told it to in the settings). The good thing about this is that you can cover parts of the app so that people can't see ads or get redirected to somewhere online. An example of when we use this feature is on our Zinio iPad. Our patrons are able to look at magazines we have downloaded from our collection but they are not able to view the "Explore" or "Shop" areas.
Hiding Apps - After you have created a nesting folder and hidden the apps you should be able to do a basic search for the app (drag your finger down from the middle of the screen). If you can't find it: go into the settings app, click "General" and then click "Spotlight Search" and make sure the "Applications" tab has a check mark next to it.
Pictures - If your library/school does not want children taking photos of themselves, make sure this option is off. Some apps, like Coco Princess, allow users to take pictures. Then these images can be found and looked at by anyone else using the device.
Quick Settings - Found by swiping up from the bottom of the display, allows kids to change settings such as: volume, airplane mode, Wi-Fi, sleep, orientation lock, timer, and brightness.
Music App - If you leave the Apple ID logged in (an example would be to get updates to download), we have found that the kids can still listen to music - even after we went into the Restricted section and told the Music app not to work. You may want to consider logging off the Apple ID in the General Settings area.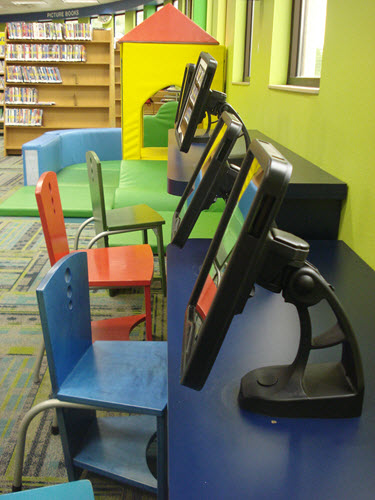 Test iPad Stands - We had to take the game Hill Climber off after a child tried to turn the iPad like a wheel and the stand broke. Mini-testers are strongly encouraged to test stands before purchasing a whole set to test structural integrity.
Timers - One of our staff members thought of an idea to make children take turns when playing Wii games in the library - using a kitchen timer. Since it worked so well, staff decided to try it on the iPads. We set the timer for 15 minutes and when it buzzes, the next group of kids can get on. Generally this practice works because the children using the iPads want another turn and some kids are nice enough to offer their spot. Although there is a timer in the settings (found in the quick settings), if you have already restricted the volume this timer will not be loud enough to hear.
This article is talking about working with iPads operating on the iOS 7.1.2. The iOS 8 system is due to launch this fall (but is compatible with all iPads and iPad Mini from iPad2 to newer).
Further Help