How to Provide Tools for Change with a Community Health Fair
Renée Masters, Information Services/Outreach Librarian
/
31 May 2016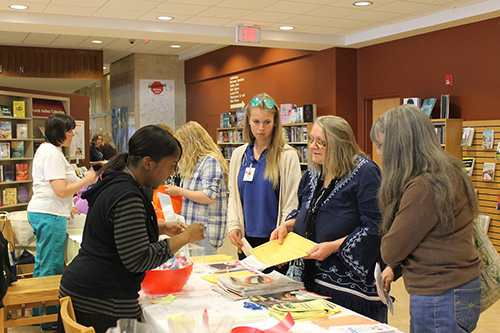 Buffalo & Erie County's Central Library (NY) serves one of the most economically challenged communities in the nation. With poverty comes health challenges of every kind ranging from managing chronic illnesses like diabetes, heart disease and asthma to dealing with food deserts, lead exposure and violence. Having a health fair is just one way of bringing health and wellness information and services to our community in a non-threatening, enjoyable way. Central library is fortunate to have the space and capacity to handle a large event and is situated in a location convenient to public transportation.
We hosted our first large-scale health fair last spring (March 2015) with a Women's health focus in honor of Women's History Month. While it was quite successful, we did identify some areas in need of improvement. The fair in 2015 included many exhibitors who represented illness-related organizations (ovarian cancer, Alzheimer's Association). We felt the overall message was one of raising awareness as opposed to providing tools for change. This year a new theme, Positive Steps, was chosen. The intention was to help attendees find actionable steps they could take that would move them toward better health. Providing opportunities for active participation was also a goal we felt would enhance the overall experience and make it memorable.
Last year we sent out a mass request for exhibitors, not knowing who might want to participate, and booking tables on a first-come, first served basis. This led to us turning away some organizations that we would have liked to include and an overly heavy presence of elder care providers. Our strategy for this year was to identify domains we wanted to highlight and set targets for the number of tables allocated for each. These domains were prevention, physical activity, nutrition, social/emotional health and health literacy. We also felt that we wanted to target local government agencies and smaller grassroots organizations for participation. Not only would we get information and programs more specific to our community, we would be giving small groups an opportunity to shine.  
This year we welcomed back organizations like the Family Justice Center, Taoist Tai Chi Society, the county health department and Catholic Health System, provider of free health screening that includes cholesterol, BMI and oxygenation to name a few.
New this year was Trocaire College's Nutrition and Dietetics department. This group provided nutrition information and demonstrated how to make delicious and nutritionally sound meals economically. They distributed crockpot sloppy joe sliders made from ground turkey and lentils along with a green salad and fresh fruit. This was a big hit with fairgoers. We also hosted GoBike Buffalo, a local organization whose mission is to "create healthy, environmentally sustainable, community friendly transportation options in the City of Buffalo." This group connected with fairgoers by inviting them to blend their own fruit smoothie using the "fender blender," a stationary bicycle fitted with a pedal-powered blender on the back fender.
Other newcomers included the Massachusetts Avenue Project, a grassroots organization promoting urban farming and the eradication of urban food deserts, Buffalo Speedskating club, Erie County Parks and Recreation Department, Lake Shore Behavioral Health, and Mindgardens, among others.
Three speakers were featured this year. Kelly Marie shared a message of hope and healing for survivors of sexual assault and mental illness. Greg Bodekor provided insight into the health benefits of mindfulness and meditation. Lastly, our county health commissioner provided a keynote talk on opioid addiction in our community, history, statistics and prevention strategies we all can use.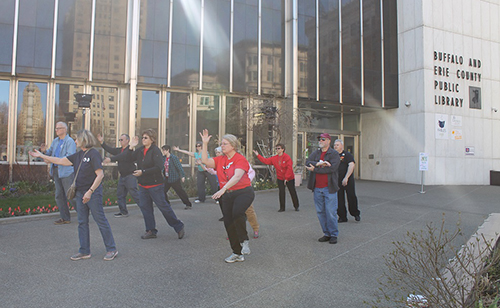 We took our program outside for the first time, kicking off the day with a Tai Chi set on our entry plaza and ending with a guided fitness walk through downtown.
Hustle for Health offered fairgoers the opportunity to participate in easy line dancing for fitness, however participation was low. The Health Information Challenge proved popular again this year. Staffed by volunteer medical librarians, fairgoers were asked to find answers to questions designed to acquaint them with some of the many features of MedlinePlus.gov. All who completed a quiz were entered into a drawing to win a Fitbit Zip. The booth was able to introduce MedlinePlus to 30 individuals who had never visited the site before.
Attendance this year was again estimated to be around 300. Anecdotally, the greatest increase in attendance may have been from within. We saw many of our staff members ranging from cataloging and processing departments to maintenance participating in and enjoying the fair.
We did find that exercise participation programs did not draw the fairgoers we had hoped for. Anecdotally, when asked why they were not interested, visitors remarked that they didn't want to miss a speaker, they weren't dressed for workout or they just weren't interested. Next year we plan on retaining the interactive elements and the focus on inviting action-based organizations with community ties.
For libraries that might not have the infrastructure to handle a large-scale fair, you might start with hosting theme days. Invite a small number of agencies around a theme like nutrition, caring for the caregiver and the like. Make sure at least one exhibitor offers health screening, food samples or a service of some kind. Folks need more than the offer of a brochure to get them out of the house and into your library. Use this opportunity to highlight any of your print or media holdings like cookbooks, fitness videos or databases.
The last piece of advice to share is keep in touch with the organizations that seem to click. Make use of their network of associates to open up new possibilities. Be sure to thank them personally and publicly for their participation. And don't just say, "See you next year," keep in regular contact. Sharing insights and potential partnerships on an ongoing basis can be invaluable.
For more information on how to start impactful health-related programming at your library, check out the many resources on the WebJunction health topic area. Find examples of health literacy programs, webinars, and a variety of resources and guides to help you get a start at your library.