The Role of Community Libraries in Nepal Earthquake Relief
Sara Litke, READ Global
/
26 June 2015
On April 25 2015, when the first 7.8 magnitude earthquake hit Nepal, Keshab Acharya immediately sprang into action. In Chitwan District in the south of Nepal, Keshab was at a safe distance from the earthquake's epicenter, and he knew he was in a position to help.
Like many of the unsung heroes following natural disasters, Keshab does not work for an international relief agency, or as a government official. He is an ordinary, local community member – the Chairperson of Jhuwani Community Library and Resource Center.
Keshab immediately began calling his counterparts at 59 libraries (READ Centers) across the country, to assess damage and coordinate relief efforts. Power outages and damaged phone lines meant that he had to try for days on end. Keshab and other library members went to every single home in their village to collect donated food and relief funds. When they heard that a village several hours away had been badly hit and received no outside support, they organized volunteers to deliver emergency supplies.
Jhuwani Library volunteers deliver 162 packages of rice, potatoes, oil, salt, and other food to Khadga Bhanjyang village.
Keshab Acharya pictured far right.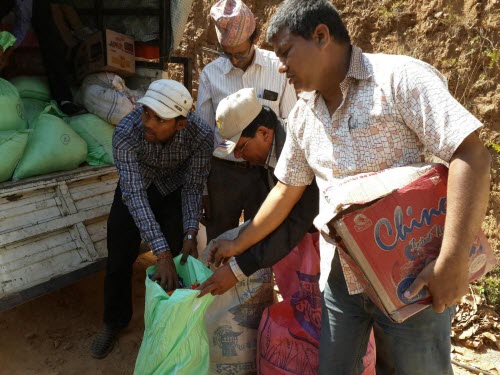 Keshab and the Jhuwani community were able to respond to the earthquake quickly because they are part of a strong network of community-owned libraries with local leadership.
Jhuwani is one of 83 READ Centers across South Asia established by the non-profit organization READ Global. READ Centers provide 1.9 million rural people with free access to critical information and trainings in literacy, livelihood skills, agriculture, women's empowerment, health, and technology. This is all done through a community-owned building that includes:
A library with 3,000 - 5,000 books in local languages
A computer room with free access to the Internet
A training hall that can be used by partner organizations and visiting medical professionals
Women's and children's sections with specialized resources
Communications and A/V equipment
READ's advantage following the earthquake has been its ability to mobilize local leadership and resources to provide direct relief independently, and also to coordinate relief efforts with other NGOs and government agencies that may not have this kind of direct access to rural communities.
The Kumari READ Center in Nuwakot district is another example of an innovative response to earthquake relief – using solar panels, children's toys, and temporary shelter.
Of the 2,100 homes in Kumari village, none remained undamaged following the earthquake. The Kumari Center sustained significant structural damage, and cannot be occupied until repairs are done, but the library staff has worked with READ to mobilize critical relief efforts: hundreds of tents, tarps, and mats for temporary shelter have been distributed to the community, as well as food, medical supplies, solar lamps, and newborn care packages.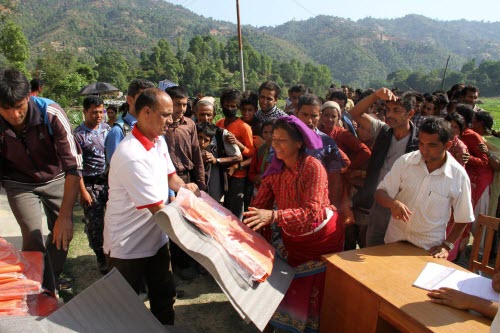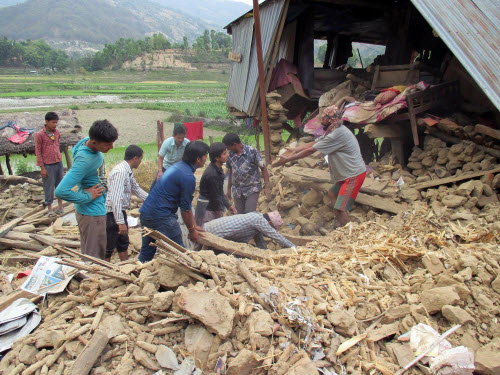 The Center's solar panels remain intact, providing the only source of electricity in the village, and allowing people to charge their mobile phones to reach family and friends – a critical lifeline in a crisis.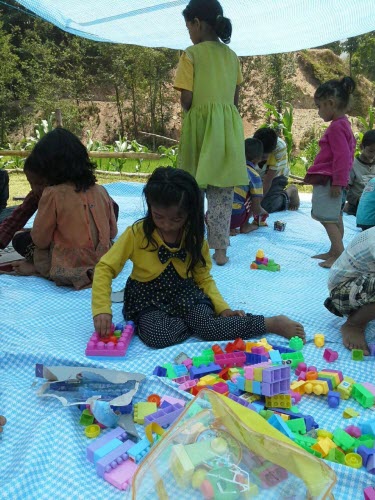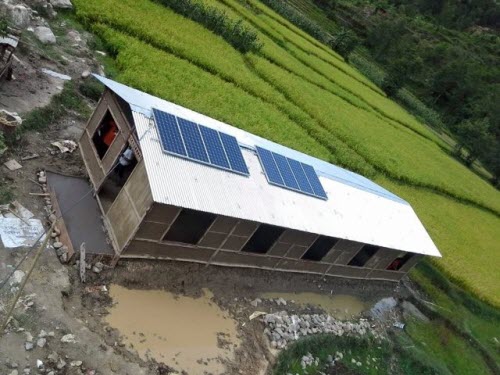 In the weeks following the earthquake, the Kumari Center set up a children's area and temporary library structure, so that the community can safely continue to learn and engage in activities to help them recover from the trauma of the earthquake.
The strength of libraries following the Nepal earthquake is not only local – it is global. READ has teamed up with the American Library Association to raise funds to repair and rebuild damaged READ Centers across Nepal.
Twenty-four READ Centers will need to be repaired, so they can continue to provide critical access to information and resources. While Centers are being rebuilt, READ will offer ongoing programs to help community members recover the loss of their homes and livelihoods. READ Centers will offer ongoing trauma counseling, as well as activities and educational resources for children whose schools have been destroyed. In the long run, Centers will provide training in sustainable income-generating activities such as sewing, weaving, beekeeping, and dairy farming, so that families can rebuild their lives.
To learn more about READ's earthquake relief and rebuilding efforts, or to donate directly, visit our blog: www.readglobal.org/blog
To help rebuild a library through the American Library Association – READ Global joint fundraiser, visit http://www.ala.org/offices/nepal-library-relief-fund