Talking About an Evolution: Digital Inclusion in Dodge City
Megan Knapp
/
16 September 2013
In the recent webinar, Building a Digital Dodge City, the team leading local efforts towards a digitally inclusive community discusses their work so far, and how keeping the community's needs central to the project has inspired new connections and ideas along the way.
Most of us have heard the term "digital inclusion," though we may all have different ideas about what it means, and how if affects those around us. As Dodge City, Kansas, set out to build a more digitally inclusive community, local leaders first had to define the phrase for their stakeholders, and more importantly, explain why the digital inclusion shift was so critical to the health and success of their community.
In the webinar, team leaders Cathy Reeves (Director, Dodge City Library), Jane Longmeyer (Public Relations Manager, City of Dodge City), and Greta Clark (Professor and Director of Multicultural Education at Dodge City Community College), along with OCLC Program Manager Angela Siefer, outline several of the early steps in Dodge City digital inclusion efforts, and review best practices that have come out of initial project activities.
It takes a great team, and a whole community. As the core team began their project following the IMLS framework for building digital inclusion, they identified potential stakeholders from key groups like government, education, business and cultural organizations. They knew it would be essential to bring together a team of individuals actively involved in the successful operation of the city, and eager to ensure a thriving community. In the early days, the process focused on getting the right people in the room, to create a ripple effect that would extend out to the whole community. It was important for the group to think of every person in the community, and the impact digital inclusion would have on individuals, and the community as a whole.
Telling the story. As the group gathered, it was necessary to clarify project goals and give the team a purpose in supporting digital inclusion. To bring the idea of digital inclusion home for those involved in the project, team leads shared information about large sections of the local population being left behind in a digital world. What this meant for stakeholders was that neighbors, family, and friends who had limited access to digital resources, or who lacked the training necessary to feel confident using technology, were unable to stay connected and informed on important issues from finances to health care services. Through training and access, digital inclusion would contribute to the ongoing development of a current and vibrant community.
Communication creates opportunities. An initial online survey helped the team gauge understanding of and access to technology locally, and as the group met and began to talk, new opportunities and ideas surfaced. Additionally, although local schools were experimenting with classes using iPads, they knew from national statistics that only 18% of Advanced Placement and National Writing Project teachers say all or almost all of their students have sufficient access to digital tools at home, possibly leaving a big gap in how useful the tool could be. As the group discussed where free access might be available, it was discovered that in addition to library technology services, local fast food restaurants like McDonald's and Dairy Queen and local hotels might provide free WiFi access; also, that the community college not only offered internet access, but use of its computer lab to community members. Through these conversations, marketing efforts began to share this type of useful information with community groups.
Webinar chat was very active, with input and questions coming in from participants around whether or not the online survey results could be considered comprehensive, if many people were without online access. The Dodge City team explained that they also used in-person meetings to gather survey data, or to conduct the surveys using library computers or iPads loaned specifically for this purpose. The team is working on a summary of online survey results and updated questions, which will be available on the WebJunction site in the coming months.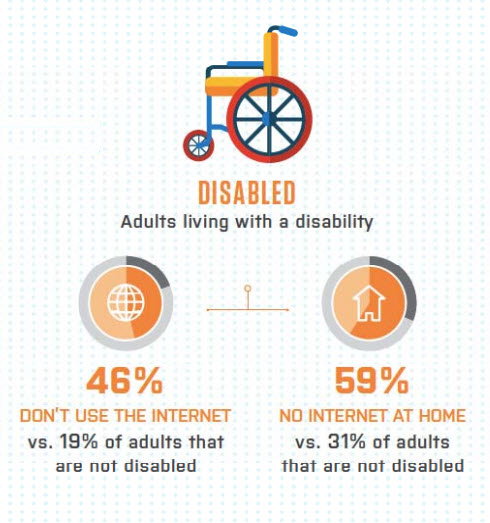 Questions from webinar participants also came up on community support, and how difficult it was to sell the idea of digital inclusion to community members, or whether or not there were any "turf wars" involved in meetings and activities. The team explained that making the digital inclusion message relevant for those involved in the project was key, and that the process was not about competition, but rather communication – that they were all working towards strengthening their community, and that all voices were welcome in this process.
Perhaps the biggest takeaway from Dodge City's work has been that digital inclusion doesn't happen overnight. Creating a digitally inclusive community is an evolution. It takes time and patience, and efforts must be continually refined and adapted to changing needs locally. The relationships and trust built early on will help weather some of the more challenging issues and times, and will allow for the many small victories that lead the community forward. Dodge City is currently in the process of creating an action plan, and they continue to focus on what success will look like for the people in their community. To learn more about their ongoing work towards a digitally inclusive community, visit the webinar page.