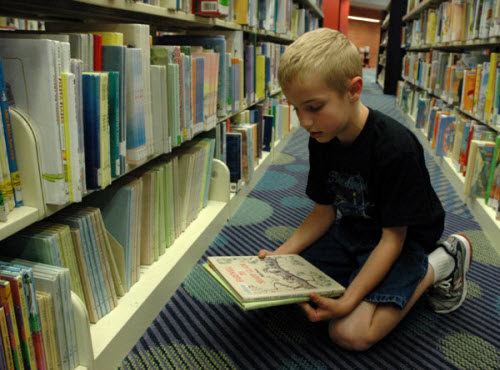 OCLC has collaborated with a number of WorldCat partners—including DOGObooks—to give librarians a free, easy way to enhance their planned summer reading programs with an online social component.
For children and young adults
DOGObooks.com, the largest website dedicated to kids' reading and book reviews by-and-for children, rewards kids, schools, and public libraries for reading and reviewing books. The four-month, online DOGObooks Summer Reading program launched in mid-May, runs through the end of September, and is a great opportunity for young readers.

With the help of its children's book publisher partners, DOGObooks has assembled an online catalog of popular titles of books for grades 3-8. By reading and posting three reviews of 25 words or more on DOGObooks, kids will receive their choice of a free book from a prize list of titles selected from the leaders in children's publishing. With more than 3,500 books available, participating children have a good chance to win at least one book. Better World Books is also awarding a 20% coupon to reviewers, plus a prize of 50 books each for the top ten schools with the most reviews. Download this PDF to explain the program to your young library visitors.
In addition to choosing their school, for the very first year, participating readers will also be able to choose their local public library. The top ten libraries in the reading challenge will each win 50 books for their collections!

Participating publishers in DOGObooks summer reading program include:

Your Summer Reading program helps stop summer reading loss
The work you do to support your readers with the Summer Reading program is a great outreach to the community. But did you know that it also makes a difference in students' reading abilities and ultimately—test scores?
MetaMetrics® offers the free "Find a Book" search tool, which helps connect readers at all levels with books appropriate for their interests and reading ability based on the popular Lexile Framework® for Reading. Popular to prevent "summer loss," or the idea of students slipping in their reading abilities, the Find a Book site directs readers to enter their Lexile measure or grade. Once they find the level-appropriate books they're interested in, they connect to libraries through WorldCat.org and check for availability.
What is summer loss?
The idea of students slipping in their reading abilities is called "summer loss." The concept is based, in part, on the research of James Sangil Kim, Ed.D., assistant professor of education at Harvard University. Dr. Kim's research suggests that while many students' reading skills diminish over the summer months away from school, students who read a minimum of eight high-interest books at their Lexile® level over the summer can achieve similar gains in reading growth as students who attend summer school.
Students can read and review on DOGObooks this summer, to earn prizes and reduce summer loss.

How your actions help
Many states have implemented a Lexile program based on Dr. Kim's research with success, including Florida, Illinois, Oklahoma and others. See a full list of summer reading programs with descriptions on the Lexile site.  And here's how one public library presented their Lexile-based program to the public.
For adults
Goodreads continues to provide library group pages as a great way for libraries to tap deeper into their local communities--and gain visibility where readers are, online. As the world's largest site for readers and book recommendations, Goodreads can help you promote your events and programs for adults this summer. Your library can create a Goodreads group and help local Goodreads members find out about all the great things you have in store for them this summer.
These two recorded webinars help libraries learn how to get started with groups on Goodreads.
Recorded November 15th, 2012. This one-hour Webinar shows you the new functionality available on Goodreads for libraries. Goodreads and OCLC staff walk you through what's possible with library group pages and take attendees' questions.
Recorded October 30, 2013. Goodreads' Patrick Brown discussed the evolution of the website and how libraries can take advantage of its incredible reach with more than 20 million very engaged readers and members. Topics included the 2013 Goodreads Choice Awards, Goodreads integration into Kindle, and more.
Top 5 ways to be where your users are

Your library works hard to connect to users, where they are, especially in the summer. And OCLC helps you reach them more easily, by partnering with notable websites and online communities to help raise your library's visibility online.
Interested in keeping your library top of mind in your community? Here are 5 free ways to make it happen this summer:
Have your own summer reading tips or a great program you'd like to share with us? Please let us know in the comments!