Success Adapted: The Story of Flat Rex
Julianne C. Moore
/
15 October 2014
Special thanks to Julianne C. Moore, Troutman Branch Manager at the Iredell County Public Library, in North Carolina for sharing this story.

I attended a webinar presented by a small town librarian (Becky Baker, in Community Connections) and she talked about ways that she was able to get the community involved in promoting the library. Local businesses would host the summer reading program (SRP) sign in the lobby promoting the library and the SRP. I thought that was a fabulous idea as I too am a branch librarian in a small town and I am always looking for ways to make the community aware of a) the fact that there is a library here and b) what the library has to offer.
I shared many of the things I learned in this webinar with the children's librarian at the main branch. We came up with a variation of what was presented. The main branch had the dinosaur SRP sign from the previous summer so we called him Flat Rex (a take off of Flat Stanley).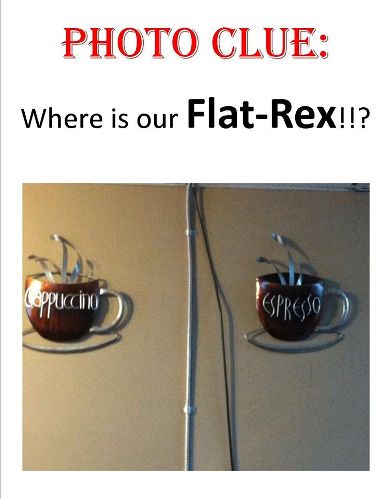 We decided to place Flat Rex in various businesses throughout the community with information about the library and summer reading posted on him. Then, we also took photo clues so that the kids could try to figure out where Flat Rex was hiding. They could stop at the children's desk or email Ms. Courtney their guess. The would earn a library coin with a correct guess that they could spend in the library store at the end of SRP.
Some of the locations that Flat Rex visited were Doodlebug's Consignment Shop, Groucho's Deli, the J. Hoyt Hayes Memorial Troutman Library, Marquee Cinema, the Department of Social Services (DSS) etc. The photo clues were placed in the library at the children's desk and on the library Facebook page. Flat Rex was successful and the children who participated really seemed to enjoy it.
Here is the caption that was posted with the photo posted at the Department of Social Services: "You guessed it! Flat-Rex has avoided his capture once AGAIN! His last location was the Marquee Cinemas and according to the staff there, he thoroughly enjoyed himself, especially in his surprise sneak-attacks upon the "Godzilla" movie-seers. :0 Wreaking havoc, he is!! Here is his latest photo clue! HELP US FIND HIM!!"