Bureau of State Library of Pennsylvania: Advancing Customized Services to Communities
Frieda McAlear and Liz Morris
/
31 July 2014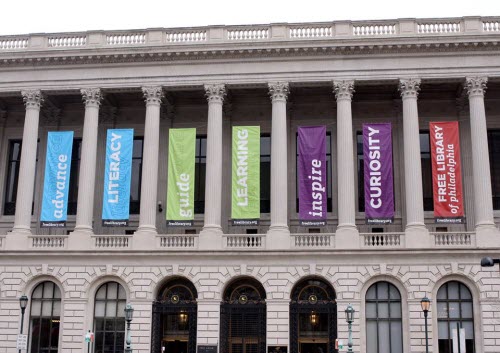 Members of the Health Happens in Libraries team met with Pennsylvania library representatives at the Bureau of State Library of Pennsylvania in June 2014 to better understand their experience of supporting libraries during the first rollout of the health insurance marketplace established as part of the Affordable Care Act (ACA). Attendees also discussed their vision for future open enrollment periods and opportunities to highlight the role of libraries as contributors to community health literacy.
State of the Commonwealth
Pennsylvania's Bureau of State Library plays a historic role in the tradition of providing free public access to information in the US. Pennsylvania's compound library network structure is comprised of 444 system members and independent libraries and includes 41 libraries which do not receive any state funding. When the federally-facilitated health insurance marketplace established as part of the ACA was launched Pennsylvania in the fall of 2013, this level of decentralization in the library network structure gave some library networks the latitude and autonomy to experiment with their programming and staffing in a way best suited to their community needs.
The Free Library of Philadelphia, for example, a city institution made up of 54 libraries, became a Certified Application Counselor Organization in the first year of the ACA marketplace rollout. By mid-December 2013, more than 35 FLP staff became CACs and were able to provide free one-on-one consultations for patrons in branches across the library's network. Although they are in the midst of deciding whether to renew their CAC designated status, the experience informed their understanding of the forms of partnerships and program interventions that would best serve Philadelphia's patron population and are moving in this partnership-focused direction for the 2015 enrollment period.
The Carnegie Library of Pittsburgh, part of a county-wide coalition around the ACA called Allegheny Activates for Health Care Access, also provided its patrons with hands-on training in using the HealthCare.gov website, FAQs, resources and access to Navigators as part of its ACA-related health programming.  According to the Centers for Medicare and Medicaid Services figures from July 2013, Allegheny County had 98,940 (8.06%) uninsured residents out of the 1.4 million uninsured in Pennsylvania. 
On the other side of the spectrum, Mifflin County in Central Pennsylvania, with the highest rate of uninsured residents (16.2%) within the state, also serves groups of historically uninsured populations, primarily Amish and Mennonite communities. Other rural Pennsylvania communities with smaller, one person libraries were also noted for having disproportionately high numbers of uninsured residents whose lack of awareness of, or concerns with administration related to governmental services would potentially preclude their participation in the federal marketplace, even at the cost of paying penalty fines. In these cases, some smaller libraries have used "healthy communities" framing in their public event messaging to alleviate some of the misperceptions and apprehensions about the marketplace within their communities.
Finding Solutions through Strategic Partnerships
Transformative initiatives for clarifying policy and programming efforts related to marketplace and health information services have emerged within the state. Carnegie Library of Pittsburgh, for example, has developed connections across the spectrum from Enroll America and United Way to support its ACA-related events and programs. The Bureau of State Library, along with PA Forward, produced a web-based guide to health insurance assistance.
PA Forward is a relatively new (2012) initiative founded to bolster support to the Commonwealth's library systems expanding partnerships between and amongst school, academic and public libraries, state agencies, private and foundation sector partners and professional associations. This coalition-based approach is focused on improving five core literacies within the state: Basic, Information, Civic and Social, Health and Financial. Leveraging private and foundation partnerships is seen as a crucial element to achieving the goals set by PA Forward; part of the media kit published on the PA Forward website cites a 5.5 factor return on investment for library funding.
Although still a very young initiative, PA Forward offers libraries opportunities to increase their offerings to patrons through collaborative efforts.  This statewide library initiative represents a partnership model that may be highly applicable to all states in the coming years.
Looking Forward
Pennsylvania libraries are already planning for the next round of marketplace enrollments and re-enrollments by examining their current training capacities and forming new partnerships to support their expanding health information services to unique populations. The Free Library of Philadelphia will continue to expand its health programming with ACA informational events aimed to answer questions about using health insurance and addressing more general concerns in the run-up to the next enrollment cycle. Health programming this summer in their library network already includes a series of health and wellness events provided by the University of Pennsylvania's School of Nursing on a diverse array of topics. As a leader in this area within the Commonwealth, they are also considering forming a consumer health library in Philadelphia.
Pittsburgh's Carnegie Library system aims to increase its reach to underserved communities, immigrant and refugee communities in particular, much of which would exceed a narrow focus on health and technology literacies and involve strengthening its existing County-level partnerships (within Allegheny Activates and the Western Pennsylvania Coalition) and developing new ones. It's eyeing closer ties to local clinics, insurance companies, schools, after school programs, food banks and shelters to close its regional insurance gap by more effectively disseminating ACA-related information about health coverage and resources.
On a broader statewide level, the Bureau of State Library emphasized the importance of a blended training approach - combining in-person and online training methods - to reach its smaller and more remote libraries. The National Network of Library of Medicine, another key player in initial enrollment efforts, provides a train-the-trainer model of developing health, wellness and insurance literacy courses and resources, and is a natural Bureau of State Library partner in enhancing its health programming capacity.
After the first wave of enrollment activities, the Bureau hopes to better understand the role that administrative literacy, or the knowledge needed to navigate and effectively use administrative systems, plays in learning to use new e-government services.
Best Practices for Success
The Pennsylvania Bureau of State Library effectively models the need to determine the right-sized approach for libraries of all sizes, capacities and proximity to urban networks. Educational partnerships, especially those with relevant university departments, were instrumental in providing patrons with health insurance and ACA marketplace information. These may have been the most proximate partners for the Bureau of State Library, which is part of the Commonwealth's Department of Education.
Thoughtful curation of ACA-related information according to the district's culture and needs was an important facet of the ACA-related activities during the initial marketplace rollout. Pennsylvania's locality-led landscape of library systems and districts elevates the "opt-in" nature of the library's history, its role of providing politically neutral information about controversial topics and its much needed traditions of literacy training to meet a spectrum of community needs.