State Library of Ohio: Leading Practices for e-Government Services
Vanessa Mason and Liz Morris
/
31 July 2014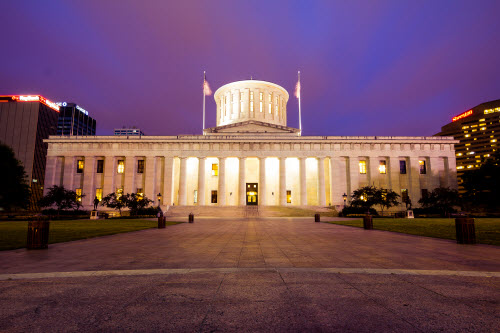 In June 2014, the Health Happens in Libraries team met with representatives from the State Library of Ohio to learn more about their experiences with supporting Ohio libraries during the initial health insurance marketplace enrollment period established as part of the Affordable Care Act (ACA), as well as their priorities for future work. State library staff provided excellent insight into ways that state libraries, public libraries, and partners can work together to support their communities in responding to shifts in e-Government services.
State of the State
According to information available from the Institute of Museum and Library Services, there are 251 public libraries in Ohio with over 700 outlets serving a wide spread of city, suburban, town and rural libraries. When the federally-facilitated health insurance marketplace established as part of the ACA was launched in Ohio in the fall of 2013, Ohio public libraries faced many of the uncertainties that accompany any major new policy initiative. Very real concerns about information accuracy, neutrality and trust, resource capacity, and partnership alignment surfaced, and were addressed with great intentionality by the State Library of Ohio.
Finding Solutions
To guide their decision-making as the marketplace launched, state library staff relied on parallels between marketplace enrollment and other e-Government services that public libraries provide such as filing taxes and voter registration. The American Library Association (ALA) Committee on Legislation (COL) has defined e-Government "as the use of technology, particularly the Internet, as a means to deliver government services and to facilitate the interaction of the public with government entities."  The State Library of Ohio created a reliable ACA information portal for public library staff, and responded to inbound inquiries with the most up-to-date information available to them.
State library staff diligently provided assistance that fit the needs and capacity of the diverse public libraries in their state. This included emphasizing ongoing use and refinement of reference and e-Government policies. State library staff provided sample reference policies and communications guidelines in order to assist public libraries to put responsive policies in place.
Strategic Partnerships
The State Library of Ohio staff also looked for their own technical assistance, and became involved early on in the Ohio Network for Health Coverage and Enrollment (ONCE), a multi-sector networking group of stakeholders involved in marketplace outreach, education and enrollment throughout the state. While the state library staff members that attended the monthly meetings of this group initially encountered suspicion due to questions about the role of a state library agency's place in enrollment strategies, over time meeting attendees not only embraced the role of libraries in supporting marketplace enrollment, but came to expect it as a natural and necessary fit. These monthly meetings helped state library staff learn from practitioners in other institutions and provided resources that librarians could take back and adapt to share with their public libraries. The staff also accessed the support of the Centers for Medicare and Medicaid Services through educational webinars, as well as community health information resources from the National Network of Libraries of Medicine, and practical strategies for supporting patron privacy and confidentiality in a new information environment from Dan Boozer, the KnowItNow Statewide Coordinator based at Cleveland Public Library.
Looking Forward
With an eye toward future marketplace enrollment periods, the State Library of Ohio has now taken a critical approach to considering the impact of their activities and sharing their vision for the future. A number of public libraries in Ohio have a history of providing health initiatives that meet the unique health needs of their communities, including partnerships with health care providers and food security programs. (The Barberton Public Library even has a community health library at their local hospital!) The emergence of ACA marketplace enrollment reinforced the intersection of health programming and e-Government services. The overall vision for the future seeks to normalize marketplace enrollment so that it may be viewed the same way that other e-Government services are in public libraries, similar to tax assistance or voter registration.
To that end, the State Library of Ohio will assist with an upcoming e-Government immersion workshop provided by the Ohio Library Council. This event is an opportunity for librarians throughout the state to gain practical instructions on the use of e-Government sites as well as how to write policies that enable, yet protect, staff when helping the public use e-Government resources.
Best Practices for Success
Peer networking and building personal connections are best practices noted for supporting colleague and partner learning about the ACA as well as other e-Government services. State library staff members engaged library staff in peer learning instruction to include role playing and working through patron engagement scenarios to actively learn how to respond to patron requests as they related to health topics or e-Government inquiries, many of which address potentially sensitive or personal subject matter. In addition, facilitating co-training opportunities between smaller public libraries and larger entities such as hospital libraries offered the promise of continued learning.
Acknowledging the instrumental role of ONCE, the staff advocated for further establishing and sustaining partnerships to extend their reach and provide additional resources. A request to the State Library of Ohio from the Social Security Administration (SSA) to partner and promote adoption of the SSA online portal is evidence of the external influence that libraries have to partner with other entities for e-Government.
The operational realities that the State Library of Ohio and other state library agencies have faced, both with ACA marketplace enrollment and as an extension of other e-Government services, are increasingly common elements of library service. The American Library Association provides an e-Government Toolkit with comprehensive guidance for policy development for services and privacy. The next marketplace enrollment period provides an opportunity for state and public libraries to continue to integrate the responsive e-Government services that have seen put into practice so proactively at the State Library of Ohio.