Space to Share, Listen, Learn
Liz Morris
/
28 April 2016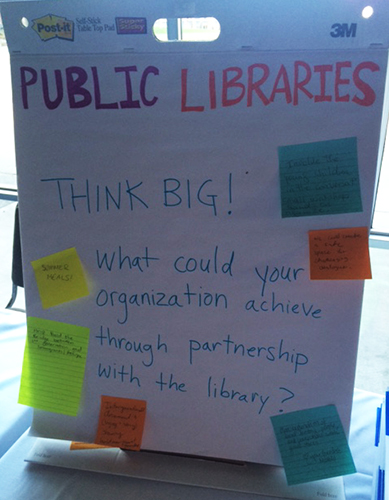 One of my favorite things about going to conferences is learning from the experiences and perspectives of others. Because people go to conferences to connect, there is such a strong sense of trust and commitment to relationship building. This authenticity is the perfect antidote to the artificial expectations that we often set for ourselves to be perfectly competent and confident in all things. When people share their lived experiences, either personally or professionally, and don't gloss over the hard stuff, I personally become emboldened to appreciate the imperfections on my own path. But first, I have to listen.
The national Citizen University conference held recently in Seattle incorporated authentic dialogue on incredibly complex topics, including politics, immigration reform, and race and social justice, among others. My colleagues have written elsewhere about the important and ambitious purpose of the conference, as well as the amazing learning that was provided regarding racial justice. For my part, I wanted to highlight two great organizations that attended, and which inspire authentic dialogue in innovative ways.
The Mikva Challenge "develops youth to be informed, empowered, and active citizens and community leaders. We do this by engaging youth in action civics, an authentic and transformative learning process built on youth voice and youth expertise."
Throughout the conference, youth leaders with the Mikva Challenge stood on a soapbox on the stage, and bravely connected personal experiences to calls for action in areas such as gang violence, poverty, transphobia, and fear of deportation (as summarized by my colleague Jennifer Peterson). To share such deeply personal experiences in front of a room of strangers requires the strength, humility and conviction that I am so hopeful to see in our emerging youth leaders (many of whom are coming to YOUR libraries every day!)
I was particularly struck by a young woman who, knowing that she was going to be emotional during her presentation, had the courage to ask the audience for support in the form of snaps as she told her story. Every time her voice wavered, the crescendo of snaps in that room was accompanied by palpable good will, and through our snaps, we said to her "we hear you, and we are here with you." I didn't want her to stop talking, because to sit in a space that full of fellow feeling was a rare experience and true privilege.
Another organization that got me thinking was the Millennial Action Project (MAP), which "activates young policymakers to lead a new era of collaboration." MAP facilitates active collaboration between millennial policymakers and legislators at the national and state levels to create a culture of cooperation in our political system, led by young leaders. Imagine that—our elected officials working together across partisan divides, with genuine intent to hear and learn from the perspectives of one another!
What the Mikva Challenge and MAP surfaced for me was the power of conviction and the equal importance of listening to truly hear others. As autonomous individuals with unique thoughts, feelings and opinions, the former is usually pretty easy to tap into, but the latter requires ongoing, active practice and intentionality. The inclusive and democratic spirit of public libraries allows us to create spaces for sharing, listening and learning in our own communities every day. How lucky we are.