Small Libraries, Big Thinking
Jenny Powell
/
17 June 2014
Have you ever wondered if your library possesses all it takes to be nominated as the Best Small Library in America, Library Journal's annual award co-sponsored by the Bill & Melinda Gates Foundation? Described by Meredith Schwartz, Senior Editor, News and Features, Library Journal, this prestigious award, now in its tenth year, will again honor the public library that most profoundly demonstrates outstanding service to a small and rural population of 25,000 or less.

While that figure may seem quite large to many, Mary Beth Stenger, Director of Southern Area Public Library in Lost Creek, WV and the 2013 winner, understands that even in her small town of less than 600 residents, her library is a vital community asset. Stenger, in tandem with Amy Dodson, Director of Pine River Library in Bayfield, CO (population 8,749) and winner of the 2014 award, candidly shared their journeys to win this distinguished title in the June 5th webinar.

In late 2012, Stenger and her only staffer, a part-timer who often worked opposite shifts, drew up a cohesive narrative that focused on showcasing their efforts in programming, technology, and becoming a safe afterschool hangout for the local youth. In her two years since becoming the library director, library programming increased dramatically by 888% from 28 to over 227 programs, many of which Stenger conducted herself. Most importantly, they emphasized that the types of programming and community outreach they are doing, can easily be mirrored by any library – small or large. Some of their notable highlights include yearly patron visits went from 3,000 to over 8,000 as they strived to make the library more welcome. Stenger explained, "Our tech presence for such a small venue, was one of the eye-popping facts according to one of the judges," and she shared a list of improvements including the addition of a wi-fi cafe with a donated Keurig coffee maker from a local doctor's office, grants to supply the simple addition of a table to house the public computers, updating their web page and social media presence, along with and staff computer training, and partnering with community organizations. "This is what brings people in the door," she explained.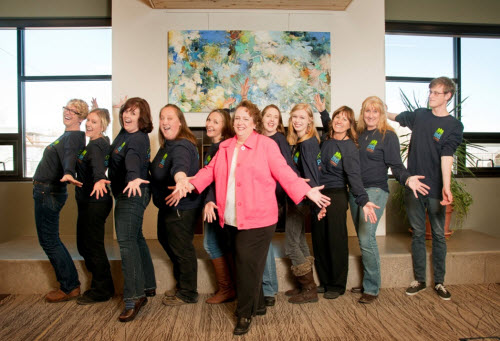 Employing a much different strategy to win the 2014 award, Dodson, and her staff focused less on their statistics and placed more emphases on redefining and evaluating successes. "We are very different in some really key ways --- we take a lot of risks. We will do things that other libraries might be too afraid to do. For instance, if we decide to have a teen program late at night because the library is closed, but it's the best time to have it, we'll still have it." Dodson went on to explain that her library thinks outside of the constraints while conducting activities offsite, at night, on days they are closed and it doesn't stop them from trying something different. "Success is really about the content of the program or of the project, or of the service that we are giving. It's not necessarily about numbers anymore. It's still important that people are using our services, but we care a lot more about the content, and what people are getting from the program, than about how many people walked through the door," she remarked.

No matter what style of strategy you adopt to effectively tell your library story, nomination criteria is based on a variety of key factors including your use of creativity in developing programs and services that can easily be replicated by other libraries.  You might also consider how your library is supporting the community and whether the community is supporting the library. "The important part is to show that the library and the community are working together --- that they are perceived as interdependent. It is essential too, to provide evidence of the library's role as a community center," reminded Schwartz.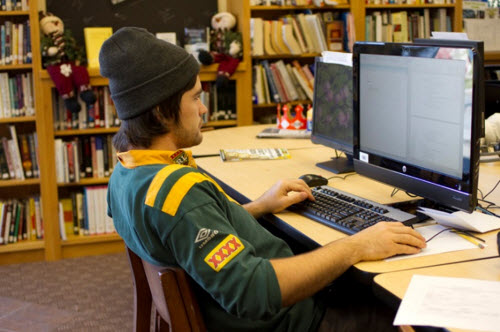 Schwartz also adds, "Innovations in technology, supporting public access, crossing the digital divide, getting people comfortable with the uses of technology for their own lives that may not have had an opportunity to do that, is another big factor."

Both winners eagerly shared their personal tips and Dodson pointed out that it can be helpful to have a really good marketing person review your application whether it is someone in your community, a friend, board member or just a neighbor down your street, who has marketing and PR experience. She went on to explain planning ahead (or not), proof reading, ensuring that your library meets all the requirements, talking to other applicants and winners, and mentally preparing yourself for the results are important elements to the application process.

Stenger's tips include compiling statistics and asking for help, selling your best points and keying in on a few winning ideas, highlighting your partnerships and community support and she went on to add, "make the judges cry," noting the passion that goes into this work. Stenger encouraged, "If we can do it here at Southern Area Library, you can do it for your library. All the limitations that make small libraries challenging – not enough money, not enough space, not enough staff, --those all apply to our library".

This year, in addition to the cash prize of $20K, the winning library will be included in a feature story in the February '15 issue of Library Journal, and awarded membership and travel costs for two library representative to the bi-annual Public Library Association (PLA) conference and gala reception. Additionally, two finalists will each be awarded $10K, receive a special mention in the feature article and also be provided with membership and travel to PLA.


The deadline for submission is September 10, 2014, which comes earlier than previous years. Candidates are encouraged to bring draft entries with them to the ARSL conference in early September and Library Journal staffers will be on hand to review and provide preliminary feedback. Schwartz noted, "We try to make the entry to this award as welcoming as possible."

For both recent winners of the Best Small Library in America award, the outcomes have provided new avenues to engage with their patrons, community members, peer libraries and elected and appointed officials.  While Dodson reports it is a great time to rebrand yourselves noting they came up with a new slogan 'Think big at the best small library' and have it on bumper stickers and t-shirts to promote themselves, Stenger notes, "Whether your library gets this national recognition or not, I can guarantee you that if you create a vision and follow through, your library will be best small library for your community and that's what it's really all about."
Don't miss the webinar archive page for a full video archive, chat transcript, slide handouts, and more great materials.