Scout: A Community Self-Directed Learning Project
Elizabeth Iaukea
/
27 June 2016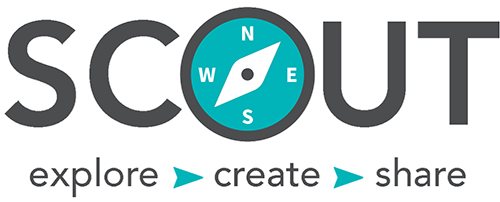 Pierce County Library in Washington State recognized that its customers welcome learning opportunities not only in school and work settings, but also at play. Games-based learning is a way to bridge the world of formal and important informal learning that takes into account learner experiences in a variety of social settings. In December of 2012, Pierce County Library System (PCLS) was awarded a grant from the Paul G. Allen Family Foundation to create an Interactive Discovery Platform (IDP). Pierce County Library developed Scout, an online interactive platform to support patrons to discover the library's services and virtual resources. Scout players completed activities, earned badges and shared their experiences with other like-minded readers.
Grant funds gave the library the opportunity to engage readers in an online community of readers and learners. Specifically, the funds were used to create an online interactive platform that highlights library and external resources and services to participants who will be engaged and rewarded for participating in a variety of activities.
Additional funding from an IMLS Sparks! Ignition Grant for Libraries, allowed PCLS to take its new staff-designed and staff- and vendor-developed IDP to the next level by adding a Rewards Module. The rewards module was identified as the catalyst to engaging a larger community of readers and learners using technology to facilitate the discovery of knowledge.
The IDP introduced customers to different aspects, services and opportunities available to them from the library system through incentivized gameplay. The library's goal was to drive specific behaviors (such as use of reader advisory tools, signing up for library cards or database searching) that would create excitement and interest around the services the library has to offer. The IDP would provide a new and exciting way to deliver fun and unique learning experiences and will fully integrate with, and strengthen, traditional library offerings.
Scout, with the Rewards Module, provided opportunities to win gift cards to local restaurants and cooking supply stores, book stores, home improvement and craft stores, and museums, with a grand prize drawing for iPads. The Pierce County Library Foundation supported the purchase of incentives and prizes. Although the focus during the grant period was on adult readers, the library's existing Teen Summer Online Challenge migrated to the new platform in 2015.
Results & Conclusions
Prizes do not necessarily drive participation in the Scout program. The audience drawn to the online gaming aspect of learning would participate with or without the incentives. The number of participants did not increase due to the addition of rewards. Also noted was the inventory of prizes was difficult to maintain in an online environment. In-platform prizes (badges) are easier to maintain.
Small teams are more effective. As they added more and more stakeholders into the mix, the platform became more and more complicated, trying to fulfill many goals and agendas. As things became more complicated it made the platform very difficult to maintain without much benefit to the user.
Do not make an adult-only website. PCLS discovered even in the testing that users wanted to do this with their kids.
Focus more on making the platform exist inside of something people are already going to, such as Facebook or Twitter. Directing customers to another site for activities added one more piece competing for people's time. Streamlining the customer's experience, so that we were a part of something they already do, would have made much more sense.
Increase time for user testing. Increase the amount of time allotted prior to design finalization.
Next Steps
While they more than doubled the goal of 1,000 participants, the library ultimately decided that there wasn't enough use to justify the amount of staff investment needed to support the activities.
A platform like Scout requires new content on a fairly regular basis and that is incredibly time consuming. It would be a great investment if it resulted in more output, but with just over 2,000 participants in a county of 500,000, PCLS ultimately decided it wasn't a good resource investment. Additionally, while a good majority of people continued to use the platform, the usage was not on a very regular basis, meaning they didn't use it daily or even weekly.
PCLS is looking at ways to deploy the product that are different from their original thoughts. Possibly as a way of on-boarding staff and at time-limited annual events, such as Summer Reading – PC Reads Teen Summer Challenge and at the annual Card Campaign.
This case study is part of a set of WebJunction resources on self-directed learning.