Revisiting the Book Lady of New Orleans
Mantra Roy
/
22 September 2014
We all serve our communities by providing access to books and other resources in our libraries. Many of us struggle with tight budgets and talented but highly overworked staff. Some of us deal with similar situations under adverse circumstances, and, in response, some reach out to affected areas with their books on bicycles. One such is the Book Lady of New Orleans, Laurence Copel.
Copel moved to New Orleans from New York in 2010. She witnessed first-hand the need for books among the youth in the Ninth Ward, an area severely flooded and hard-hit by storm surges during hurricane Katrina in 2005. She turned her own home into a library with 5,300 books, all the time surviving on just $350 a week. When children and parents in distant places could not access her own local library, she took to the road. Turning her bicycle into a mini-bookmobile, she reached doorsteps to deliver books and to encourage reading and literacy.
Copel has not been without her own challenges: burglary and bad weather destroyed many books meant for children. But her indomitable spirit and affection for the children of the Ninth Ward are greater forces in her life than crimes and bad weather.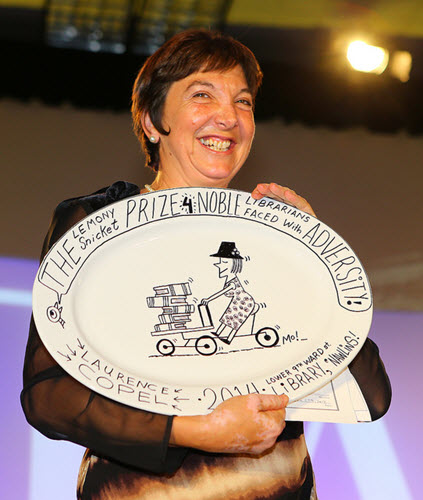 Rallying up her younger friends, the children of the Ninth Ward, Copel organized parades through the town, complete with bands and floats, to distribute books. These events not only promoted literacy and spread joy, but also raised awareness about her service and her library. In order to pay for the permits and police escorts during the parades, Copel sold homemade soaps and raffle tickets.
In recognition of her selfless commitment to her community in spite of continuing adverse circumstances, David Handler, better known by his pen name, Lemony Snicket, awarded Ms. Copel the very first Lemony Snicket Prize for Noble Librarians Faced With Adversity during the ALA Conference in June 2014. Copel received a cash prize of $3,000 which will surely serve her commitment well.
Noble librarians like Laurence Copel are an inspiration to all of us. Recognizing their accomplishments and impacts helps demonstrate what each one of us does in our respective ways and circumstances. Neither crime, nor weather, nor a nearly nonexistent budget could deter her from taking books to those who needed them, children who, in many cases, may not have had any other access to reading materials.
Thank you, Laurence Copel, and all librarians who relentlessly serve their communities by overcoming all kinds of adversity.