Research in Context: Making an Impact in Library Communities
Kendra Morgan
/
27 March 2015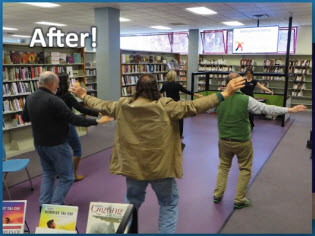 At the 2015 ALA Midwinter conference in Chicago, Chrystie Hill, Director of OCLC's Community Relations, shared insights on how her team (including WebJunction), seeks to translate the knowledge, evidence and models available to public libraries, and put them into practice so that libraries can more effectively make an impact in the communities they serve.
As part of the presentation, Chrystie shared details about three projects that have been developed and delivered by OCLC's Community Relations team.
Outside the Box – an innovative program that brings people together for free, fun entertainment events in their local community using a placemaking process.
Transforming Library Spaces for Community Engagement – addressing the challenges that libraries face as they expand their focus from collections to creation. How physical spaces are being transformed in ways that enhance community engagement in the digital age.
Supercharged Storytimes – the pilot project, which was funded by the Institute of Museum and Library Services, introduced library staff in five states to a new early learning model for storytimes that was researched and developed at the University of Washington. Note: WebJunction is updating and expanding its successful Supercharged Storytimes pilot project. Learn about the new project, Supercharged Storytimes for All.
These programs have a common thread of seeking to empower library staff to engage with and serve their communities; it's challenging and exciting work that the entire team is proud to be a part of. At the end of her presentation, Chrystie shared this final thought about the power of public libraries to spark change in individuals
The programs that I have the honor and the pleasure of working on at OCLC are first based on this belief, that this moment of change, of enhancement or betterment, that is the purpose of a library and that the effort and the resources that we put into creating that moment, becomes an opportunity for all of us.
And there is so much opportunity! The stories Chrystie presented were just a few examples, and through news stories, articles and webinars, WebJunction helps to increase awareness about impactful programs and services being offered by libraries. If you have a story about how your library seeks to make an impact in your community, please share it with WebJunction. These stories and examples help us all strengthen the role of libraries and the communities we serve.
You can watch the video on YouTube or view it below.