Re-Envisioning Public Libraries: Action Guide Now Available
Kendra Morgan
/
01 February 2016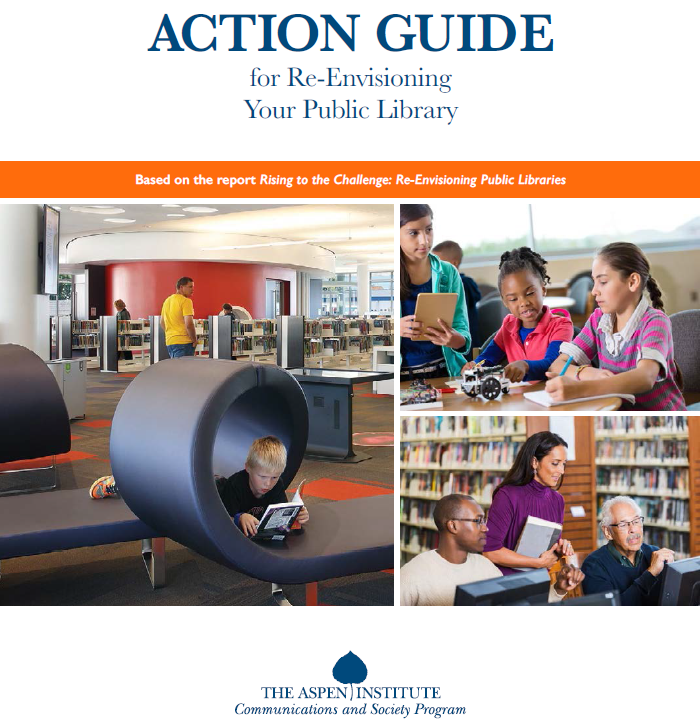 The Aspen Institute has released an Action Guide for libraries to accompany the 2014 report, Rising to the Challenge: Re-envisioning Public Libraries. In a recent Infopeople webinar, Susan Hildreth an Aspen Fellow, shared highlights from the report and the new Action Guide. The guide includes worksheets and exercises that can be used to facilitate important conversations and planning around the future of libraries. These resources were piloted by libraries around the United States in communities with a population size ranging from 1,900 to 1,100,000.
The report and guide are freely available, and the Infopeople webinar can help to familiarize you with the goals of the work. One of the strategies that Susan emphasized, which comes from the report, is that "to be successful, public libraries need to align their people, place and platform assets and create services that support local community goals." And at WebJunction, we're all about helping you do that! We have a deep collection of resources that can supplement the Action Guide. Here are just few:
The Library as Place
Jobs and Economic Development – supporting a 21st century workforce
The Library as a Civic Resource – sustaining the civic health of a community
Health Happens in Libraries – resources to help you connect with the community and their health needs, including case studies, planning tools and great ideas
The Library as a Literacy Champion
The Aspen Institute's work to support the development of these resources has been fantastic, and we hope to hear about more libraries who pilot the planning process and begin to think about re-envisioning the future.