Putting the "e" in eHealth
Lake County Public Library Provides ACA Technology Training for Patrons
Liz Morris
/
02 December 2013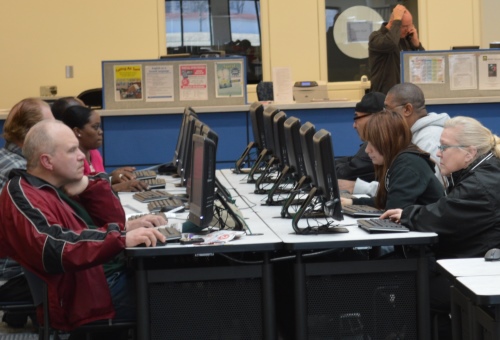 Technology is a central feature of the Affordable Care Act (ACA). Individuals and families are encouraged to utilize the online health insurance marketplace to apply for coverage, assess options, and enroll. This assumes a level of familiarity with and access to online services that libraries have a well-documented history of supporting patrons with. The first several weeks of the ACA open enrollment period have been marked by diverse successes and challenges with online enrollment platforms at the national and state level. As the technical requirements for ACA engagement continue to evolve, libraries are in a unique position to advance their role as trusted community technology service providers.
A review of ACA resources provided by the Lake County Public Library (LCPL) in Merrillville, Indiana highlights the ways libraries can prepare their patrons for success in the health insurance marketplace. In addition to providing general information sessions and comprehensive ACA resources for patrons, the library also provides computer classes on email essentials and the online application process. Debbie Rzepczynski is the Library Skills Trainer for LCPL, and intends to offer these services for the duration of the open enrollment period, which runs through March 31, 2014.
Debbie incorporates a systems perspective into her work, ensuring that the resources she develops and provides can reach as broad an audience as possible. In addition to sharing resources with all branch libraries, she connected directly with the professional development office at the Indiana State Library in order to be able to offer one (1) Library Education Unit to professional library staff for ACA related training. While local libraries provide web-based information and training for staff and patrons regarding ACA, state libraries like Indiana State Library are also utilizing technology such as webinars to provide ACA support for public libraries. The Library ACA Resources section available through the Health Happens in Libraries section of WebJunction continues to grow as a result of state and public library efforts. If you have web-based ACA or other health literacy resources to share, please let us know!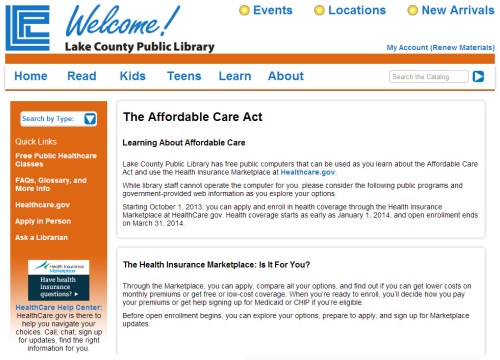 With past experience as a webmaster and social media librarian, Debbie is creatively using all the tools available to her to spread the word about the technology and ACA learning opportunities for patrons, including library Facebook and Twitter accounts. As the single trainer for a system with over 200 staff members and 200,000 community members, this is no small task! Despite the significant time and effort involved in educating herself, her colleagues, and their patrons about the Affordable Care Act, Debbie is empowered by the fact that, "People are so hopeful and thankful for the information that we've given them, that it makes my job immensely fulfilling!"  
As the open enrollment period continues and new tools and resources around eHealth emerge, the Health Happens in Libraries project team is excited to learn more about the efforts of libraries like Lake County Public Library, and the dedication of the library staff, like Debbie, who move those efforts forward. Debbie recently presented in a WebJunction webinar regarding her library's efforts to provide Affordable Care Act resources to patrons, and you can view the full archive here. Please also feel free to share your story with us and the field at any time.