Project J.O.B. Aligns Health and Economic Opportunity for Community
Gail Hedstrom, Director, Thorson Memorial Library
/
11 November 2015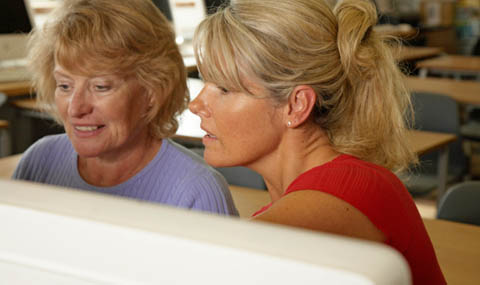 Thorson Memorial Library, in collaboration with the Grant County Child & Youth Council, embarked on a project titled J.O.B., standing for Jobs, Opportunities and Benefits. This project launched as part of the library's participation in the Public Libraries for Health program from the Blue Cross and Blue Shield of Minnesota Foundation. Project J.O.B. provided hands-on training, resources, and information to help people increase and strengthen employment skills while improving health literacy. Thorson Memorial Library is located in Elbow Lake, Minnesota, a town of approximately 1,200 people. Through Project J.O.B, we worked to serve all of Grant County, which has a population of about 6,000. Our impetus came from knowledge regarding the social determinants of health; specifically, how social and economic opportunities are directly related to health. We focused on providing information about and access to education and job opportunities. Our target audience was un- and under -employed people, or those searching for a change of employment, as well as employers. We partnered with civic organizations, agencies, economic development groups, area colleges, and businesses to increase awareness of local community resources, and act as the conduit to connect people to the resources and services already available.
Partnering directly with Minnesota Department of Employment and Economic Development, and Rural Minnesota Concentrated Employment Program to provide job education and job seeking skills, and increase awareness about available community resources, we hosted events on creating resumes, preparing for job interviews, and how to dress for work. We also held events that focused on returning to school to finish or start a degree. We partnered with Grant County Minnesota Extension to educate participants about healthy eating and provide healthy meals and snacks. Our learning events also served as opportunities to build social connections and reduce feelings of isolation. Tool kits were created providing resources that participants could take with them as they worked on increasing their skills for seeking employment.   
The library increased its collection of materials related to math, reading, communication skills, workplace ethics, resume writing, interviewing, assessment practice tests, time management, customer service, and health. We also maintained a robust kiosk of information regarding our focus of education and job skills, all providing our community members with useful and relevant information.
We felt success in the partnerships we built with other agencies, businesses, and organizations. It was not only participants whose knowledge increased about area resources, but the library staff's as well. Our increased knowledge and connections allow us to better serve our patrons going forward.  The resources, collections, and tool kits we created continue to be maintained, updated, and accessed by the public. We established great relationships with the public and increased their knowledge about ways the library can be of service to them.
The attendance at our events ranged from disappointingly small to extremely large, but most important, everyone who attended left with increased knowledge and connections.  We remain dedicated to the goals we set forth with Project J.O.B.