Pew Type-ifies Library Users with New Quiz
Ahniwa Ferrari
/
12 June 2014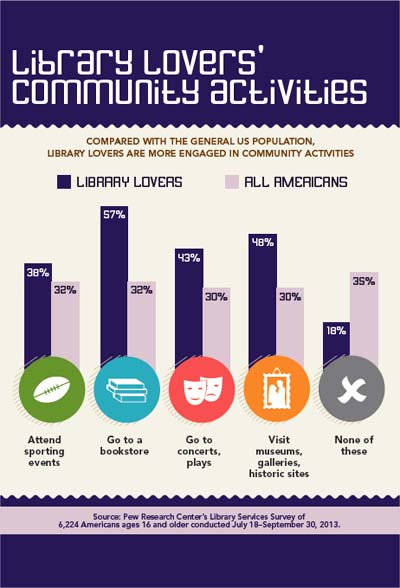 Back in March, The Internet Project at Pew Research released the results from their library engagement poll, From Distant Admirers to Library Lovers-and beyond: A typology of public library engagement in America. This week Pew has released a supplemental activity to go along with that research, allowing users to answer a condensed version of that same quiz and compare how they stack up with the general population.
Pew classes this approach as "a little new" and explains, "... we used statistical analysis to cluster individuals into groups based on their usage of, views toward, and access to libraries, in order to discover larger insights about how libraries fit into American culture. This type of work more fully embraces the idea that people's information needs and practices shape their library use as much or more than their skin color, their age, the type of community they live in, or their socioeconomic circumstances."
In addition to identifying types of library lovers, the research also points out low-engagement groups and sorts them into types as well. These include:
Not for Me: Respondents who tend to dislike public libraries and are more likely to see them as irrelevant to modern life;


Young and Restless: Young people who generally feel positively about public libraries but are relatively new to their neighborhoods and unlikely to know where their local library is located;


Rooted and Roadblocked: Older adults who generally think libraries are good for their community but may have obstacles in their lives, view libraries as somewhat difficult to use, or otherwise think that libraries are not personally relevant to them at this point in their lives.
If you haven't already, be sure to check out the report released back in March, along with the new user quiz. For now the quiz lives solely on the Pew Research site, but there are plans to create a widgetized version of the quiz that libraries would be able to put on their own websites. This would allow libraries to invite their patrons to take the quiz and then be able to retrieve the data so that they can learn more about their patrons.
For more information, check out the excellent article by Lee Rainie and Kathryn Zickuhr over at American Libraries.