Outside the Lines: A Chat with Stacie Ledden and Amber DeBerry
Mantra Roy, Stacie Ledden, and Amber DeBerry
/
05 September 2014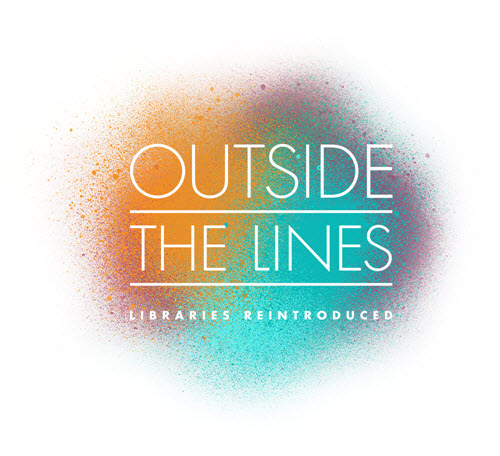 Have you felt the need to re-state the purpose and role of your library in the community? Have you wondered if patrons and community members can be re-introduced to the dynamic center of community your library has evolved into? That is exactly what Outside the Lines is poised to achieve.
Outside the Lines is a weeklong celebration from September 14 to September 20, 2014, to showcase the delights your library offers to your community members, and to reconnect your community with your innovative services and resources. 136 libraries across the United States and Canada are currently signed up to participate in this grassroots campaign by organizing events during the week to engage with their communities.
We got a chance to chat with Stacie Ledden, Communications Director of Anythink Libraries (CO), and Amber DeBerry, Associate Director of Community Relations in Douglas County Libraries (CO), who shared their story behind the campaign.
How did the idea of Outside the Lines originate?
The idea for Outside the Lines started when a group of Front Range library directors were sitting around waiting for a plane after their annual retreat in Durango, Colorado, last year. The topic of discussion was the sense of urgency they felt to shift perceptions of libraries in our communities so that people understand how libraries have changed and are more relevant than ever. From that discussion came the idea of doing a state-wide ad campaign – something smart, savvy and bold that would help us reposition libraries as centers for creativity and innovation. But as we started talking with agencies about possibly helping with some pro bono work, and thinking about the logistics of implementing a statewide campaign, we realized that we could have the snazziest ad campaign in the world, but if we didn't live up to it, it could fall flat.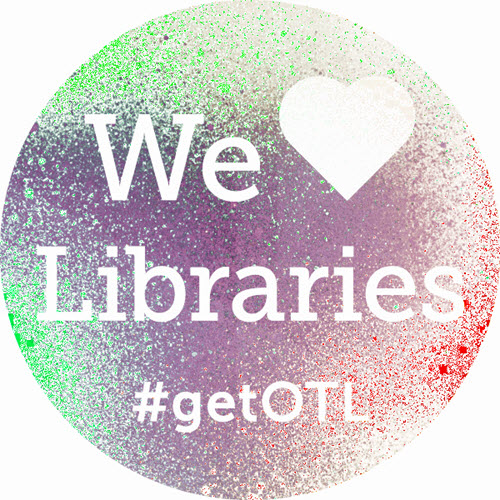 From that idea came Outside the Lines. This is an opportunity for libraries to not just tell people how libraries have changed, but to show them. Not only can we engage our communities in fun, exciting ways, but in the process, libraries learn how to share their stories in unique ways – something that's critical to the survival of libraries everywhere. And this is something that resonates not just with public libraries but school libraries, academic and special libraries as well.
Luckily, we have an incredible team of library marketers here across the Front Range who meet regularly. We decided as a group to take this on as a project and have been working together over the past year on Outside the Lines. This type of informal collaboration, I believe, is unique in libraries, and we're proud of the fact that we've been able to produce something like this together.
Was 'September' a conscious choice? Why?
September wasn't exactly a conscious choice. The conversation started with, "How long's it going to take us to make this happen?" Coincidentally, it is Library Card Sign-up Month. While that wasn't the main impetus for us choosing September, I like the idea of taking that community outreach to a whole new level as we hope to do with Outside the Lines.
On a personal level, September has become significant for us at Anythink. It will be five years on Friday, Sept. 12, since we launched the Anythink brand. Two years ago, we helped launched R-Squared – The Risk & Reward Conference in mid-September 2012. Now Outside the Lines is being held Sept. 14-20. It's a magical month for us.
What do you want to achieve?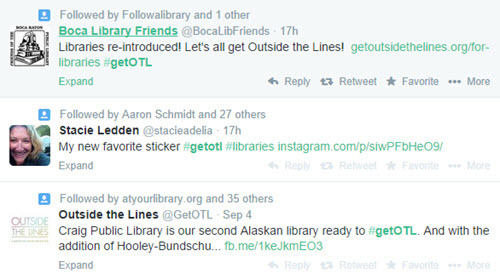 I think the outcomes we laid out when we first started still resonate, although during our initial planning we focused on Colorado and now we have a national focus. Those outcomes were to:
a) Help community members understand that libraries are changing into dynamic centers for engagement designed to help them be their best selves.
b) Libraries better understand how to market themselves, finding new and exciting ways to get the word out about the 21st century library.
c) Organizations work together to demonstrate the creativity and innovation happening in local libraries.
Describe the process in which your immediate staff members began to engage with the idea.
At Anythink, we've been in a unique position because in terms of my immediate staff (the Communications Dept at Anythink), they helped design the creative for the campaign and have been heavily involved in the launch of Outside the Lines, from designing the website to PR and planning the rollout.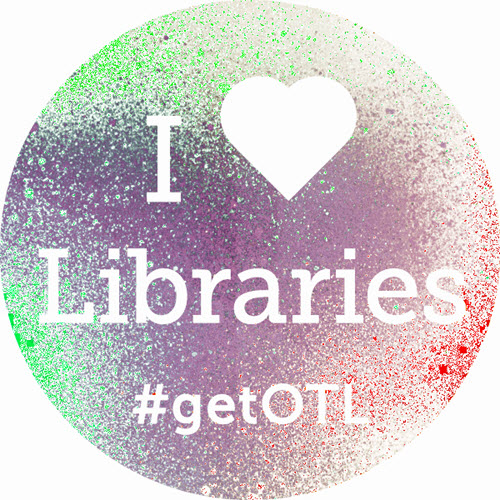 For our larger staff, we had some challenges here at Anythink. We've spent the past five years reinventing library services and helping our communities think about libraries in a whole new way. A lot of the ideas we came up with at first to celebrate Outside the Lines were things we were doing already. So we've shifted gears to focus more on evangelizing our staff and current supporters and encouraging them to share with their neighbors, families and friends how the library impacts their lives. We're engaging them in the storytelling process.
I've heard from other libraries across the country that they've done things like staff contests to generate ideas. They've formed subcommittees or rallied around current initiatives. The beauty of Outside the Lines is that beyond the criteria to participate, there aren't a lot of rules. It's scalable to your resources, your community, your own goals. I think that makes it easier to engage staff. It can also be a challenge to have something so open-ended.
At Douglas County Libraries (DCL), it was important that our staff be involved from the beginning of the planning process.
In order to engage staff, a group comprised of staff members from all DCL branches, formed a task force that met regularly over several months, to brainstorm ways to celebrate Outside the Lines in our community. Members of this group reached out to colleagues and branch teammates to gain insights, ideas, and inspiration, which would then be shared during task force meetings.
From this process, the group has created and planned several interactive community events, from a local brewery tour to hosting pop-up libraries on local hiking trails, that offer staff unique opportunities to connect with our community.
How did you start planning it as a nationwide phenomenon? How did you approach other libraries to join your campaign?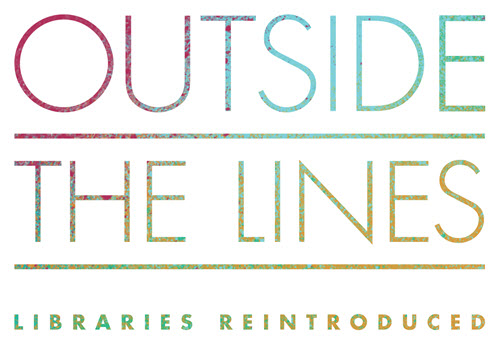 Much of the traction we've made nationally can be attributed to the R-Squared audience. We've positioned this as an R-Squared initiative and reached out to the attendees and followers of R-Squared during our initial push. Outside the Lines is really about taking what we learned at the R-Squared Conference in Telluride – creative spaces, customer curiosity, culture and abundant community – and putting those concepts into action in our local community. This is an audience of change agents who are passionate about creativity, taking risks, forging new paths, experimenting – a perfect fit for Outside the Lines.
Mostly, the growth of participation has truly been from word of mouth and social media. There's a desire to find ways to engage our communities in new ways. We're just providing a framework to do just that. Each library will make it their own, which is exciting.
Please share a story about other libraries responding to your call.
We hoped that we would have interest from all different types of libraries since we all have the same challenges when it comes to shifting perceptions. But we've been surprised and pleased to see the number of academic libraries who are participating. Institutions like Rutgers University, Virginia Tech and University of Texas – Austin are leading the charge, which is fantastic. There are also a ton of small libraries across the U.S. who are participating which is also incredibly exciting.
This is all a grand experiment, so we can't wait to see what people come up with.
---
We at WebJunction are equally excited about the weeklong activities that libraries will host across the country to rejuvenate the perception of libraries in the 21st century as vibrant, tech-savvy, and cool areas to share and learn new ideas with the help of fun events, gadgets, services, and librarians.
Interesting in participating? It's not too late; sign up now!