Conference Roundup: OCLC at PLA 2014
Jennifer Pearson
/
01 April 2014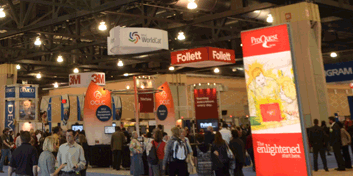 The bi-annual Public Library Association National Conference was held in Indianapolis in March. Thousands of public librarians from across the country came together to learn from and to share ideas with one another. They were also treated to author talks, vendor exhibits, receptions and even some violin covers of Led Zeppelin at the opening exhibits reception (visit the PLA Conference site to view many of the session handouts).  
OCLC engaged with attendees at a variety of sessions:
We co-hosted a pre-conference with PLA entitled We Geek Advocacy: Using Lessons from Turning the Page and Geek the Library. Over 60 attendees got hands-on advice about creating effective advocacy and community engagement strategies from the panelists.  Later that evening we held a reception for the participants and other Geek the Library and Turning the Page alumni. It was a great time for sharing ideas as well as getting to know one another better.
We also were able share out experiences with helping libraries help their users understand and enroll in the Affordable Care Act via our Health Happens in Libraries program. We shared our stories and listened to the stories of the librarians in attendance. It was a wonderful opportunity to work with one another and share our best practices.
Our own Betha Gutsche co-hosted a session about "putting the learner in the center" as a core strategy for staff training in libraries. Strategies like MOOCs or peer collaborations are all part of this trend toward very personalized learning. WebJunction will be hosting a webinar around this subject, The Online Learner: Sinking or Swimming on April 3rd at 2PM EDT.  So if you weren't able to attend PLA to hear about this strategy and it's possible implications, please join us for the webinar.
We had a chance to chat with librarians at a reception about our pilot project around practical models for developing new e-learning content for library staff and building the skills and capacity of CE providers to rapidly and collaboratively design and deliver content on topics essential to the field. This IMLS-funded grant for Strengthening Continuing Education Content for Libraries is just gearing up and we were able to take advantage of the thoughts of our peers as we get started on this program.
Several of us attended PLA's opening session by Bryan Stevenson, the founder and Executive Director of the Equal Justice Initiative in Montgomery, Alabama, called Confronting Justice. Mr. Stevenson gave an eloquent and moving talk around social justice, with a focus that echoes the mission of libraries to provide equal, unbiased access regardless of race or income. If you are interested in hearing from this passionate speaker yourself, try out his TED Talk.
And if all this weren't enough, we shared the convention center with Indiana Comic Con and our hotels with the fans and teams of the Big 10 Basketball Tournament.
In all, PLA 2014 was a great learning experience for us. We love to be able to meet and share with so many of our peers in person. It helps us grow and expand our thinking on the issues and topics that are important to public libraries. Thank you for continuing to share your stories, your thoughts and your opinions with us.