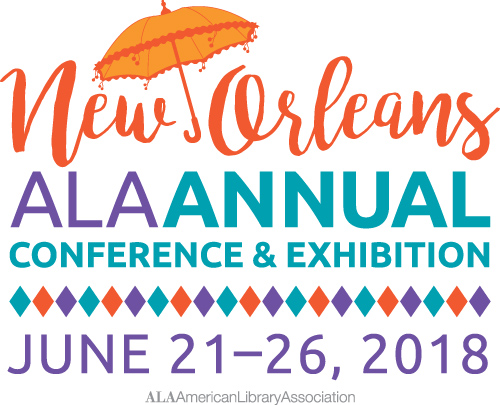 Planning your ALA Annual schedule? WebJunction staff will be at the OCLC booth presenting Spotlight Sessions to share what has been happening with our projects. There is also a wide range of OCLC events in New Orleans where you can learn more about OCLC initiatives and to connect with fellow members. Check out the full listing of OCLC events and register to attend the sessions: https://www.oclc.org/en/events/2018/ALAAnnual18.html

WebJunction staff will be at the following sessions and events:
Library Make'n'shake
Saturday, June 23 | The Howlin' Wolf, 907 S Peters St | 10:00 am–5:00 pm

The Library Make'n'Shake (Hosted by John S. and James L. Knight Foundation and others) welcomes all types of library staff, educators, and community partners to drop by the Howlin' Wolf for hands-on demos and projects accompanied by a brass band, a bar, food, and snowballs. More information

Spotlight session: Wikipedia + Libraries: Better Together

Saturday, June 23 | Booth #2931 | 1:15–1:30 pm

Librarians are embracing Wikipedia as a way to teach information literacy, expose local knowledge sources on the open web, and connect with a diverse range of community members around topics of interest. Get an update on OCLC's ongoing work to bridge the Wikipedia and library communities in support of their shared mission of increased access to the world's knowledge.
Spotlight session: Public Library Advocacy: Reaching Your Key Supporter Segments
Saturday, June 23 | Booth #2931 | 2:00–2:15 pm

The 2018 report from OCLC and ALA, From Awareness to Funding, highlights shifts in voter perceptions and support for public libraries and library funding over the past decade. The research describes the attitudes and behaviors of nine market segments. By focusing on the key segments in your community, your library can strengthen relationships with your strongest potential supporters.
Spotlight session: Newly Launched Community-led Smart Spaces
Sunday, June 24 | Booth #2931 | 10:00–10:15 am

Get a visual tour of small, rural libraries that invited community members to re-envision their spaces to encourage hands-on learning and strengthen social connections. Hear how libraries of any size or type can apply elements of placemaking and design thinking to create more dynamic, engaging spaces.
Learning Roundtable (LEARNRT) Training Showcase
Sunday, June 24 | Morial Convention Center, Exhibit Hall Special Events Area | 3:00–5:00 pm
Do you or your organization provide staff or public training? Join us to chat, share tips and showcase best practices in library training, learning and continuing education. LearnRT members facilitate training talk tables and provide space for sharing training materials and information about all types of training programs. Enjoy free food and drink, and networks with other trainers and learners! Bring your materials, best practices and challenging training situations to this fast-paced, fun, welcoming event!
OCLC Research Update

Monday, June 25 | Morial Convention Center, Room 344 | 10:30–11:30 am

Join several members of the OCLC Research team who will provide updates on selected research projects, followed by Q&A.