More than Healthcare: Community Conversations about Health
Liz Morris
/
14 July 2015
"Libraries are about more than books, libraries are about communities!"
Sound familiar? This popular adage is excellent shorthand for public library evangelists to frame conversations that are essential to building relationships and getting people invested in the modern mission of public libraries. Community health advocates employ a similar turn of phrase in promoting individual and community wellness: "Health is more than healthcare."
We recently had an opportunity to explore this concept in detail in a recent WebJunction webinar focused on Launching Community Conversations with Local Health Data.
Offered as part of our Health Happens in Libraries program, participants heard from panelists Kate Konkle, a Community Coach with the County Health Rankings & Roadmaps initiative, and Renee Masters, an Information Services and Outreach Librarian with Buffalo & Erie County Public Library.
County Health Rankings & Roadmaps is a free and dynamic platform for diverse community stakeholders, including libraries, to identify local community health needs and resources for taking action. The webinar included an overview of how to access and use the rankings data, as well as a discussion of ways partners from multiple sectors can effectively deploy resources from the Action Center.
Participants were also introduced to opportunities for free health coaching available to community leaders advancing local health. The conversation was framed by an overview of evidence-based factors that work for promoting community health and that go beyond healthcare, such as health behaviors, social and economic factors, and the physical environment.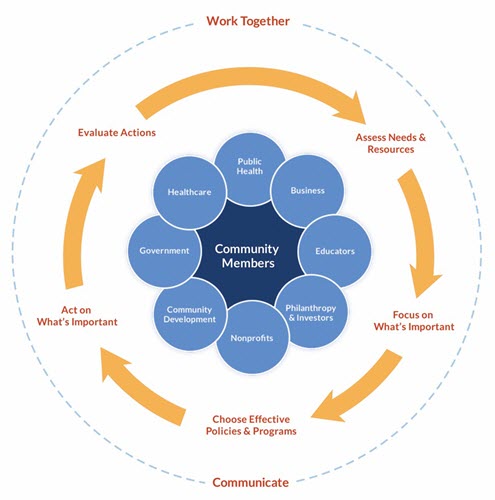 The Buffalo & Erie County Public Library has actively supported community health through ongoing collaboration with community health stakeholders, exploration of local health data available from resources such as state and county health departments, and hosting community events, including a recent Women's Health Fair. This portion of the webinar included an overview of the data Buffalo & Erie County Public Library considered in prioritizing community health activities, as well as some practical tips for preparing, promoting, and delivering a successful community health event at the library.
Participants also learned about some of the unique presenters at the Health Fair, who covered a range of topics and services, including healthy eating, safe relationships, accessing health information online, and bone density screening, among others.
The full webinar archive page includes slides, chat, resources, and access to the full webinar recording. As facilitators of lifelong learning and transformative programs, public libraries can engage local partners and patrons in productive dialogues and meaningful experiences that support comprehensive health in your neighborhoods.
Libraries, after all, are about more than books. Libraries are about communities.