Making Your Place in the Community: The "Outside the Box" Pilot Program and Placemaking
Jennifer Pearson
/
30 October 2013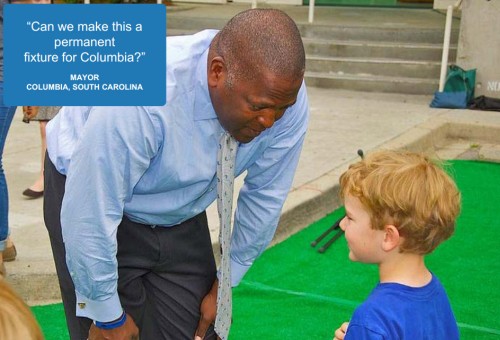 OCLC, the Project for Public Spaces and Redbox have been working with several libraries across the country to understand how public libraries can play a key role in being community anchors. They have been doing this by creating shared entertainment events at public library spaces that build community.
So far the program has put on 12 events that have entertained and engaged over 3,000 people in the libraries' communities. Through this engagement the community is learning to think of the library in new and different ways.
Through meeting with the team from Project for Public Spaces, the library staff and community stakeholders have been able to discuss how not only to put on an event but to create a place that carries forward (or at least the mindset of place) after the event.
How do you create a great public space you might be asking yourself? Well, Elena Madison Vice President of Project for Public Spaces says that any great public space needs these elements:
A great front porch—You need to find your front porch and make it welcoming. Put out chairs. Make it so that people want to stay and chat.


Easy access – Can people access your place easily? Is it walkable? Close to public transportation? Does it have enough parking?


Create attractions and destinations for your place. Give people something to do. Give them special events to enjoy. Make sure that they have a comfortable place to sit. Make it pretty.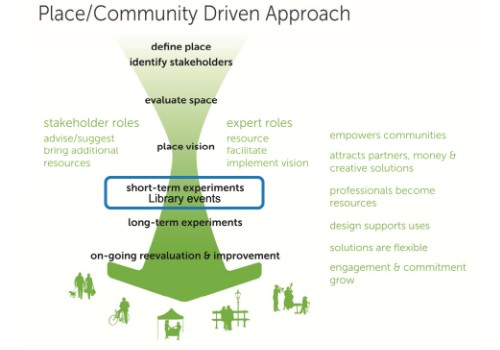 Defining with your community what you want from your space and events is key.
Hallie Rich, Marketing and Communications Director, Cuyahoga County Public Library, gave a wonderful overview of two events that CCPL created as part of the program. Hallie explained that in the case of one event, "Last Blast of Summer," the theme was getting families together to enjoy a movie on one of the last nights of summer vacation. Though the movie night had to be rescheduled due to inclement weather, great engagement from the mayor's office and family activities planned around the movie (Despicable Me) created meaningful community interaction in addition to the place and event. CCPL worked with the neighboring YMCA on the family activities, and forming community interactions was the theme of the day!
Hallie also spoke about the other event that they did at another library in their community. This event was based around the grand opening of a new branch library and the intent was to get the community out to the opening by giving them the chance to creatively use the library's new video and audio equipment.
As Hallie told us the key to successful placemaking and community events is 3-fold. She says you must have community buy-in, comfort with uncertainty and be willing and able to get creative.
Any library, large or small, can take the advice given during this webinar to create great community spaces and events that will help the community think of the library in fun and new ways.
To check out the entire webinar and archives, go to: Libraries Go "Outside the Box" with Redbox.