Library Spotlight: Community, Connections at Geneseo Public Library District
Erin M. Schadt
/
06 June 2016
When you talk with as many library staff as I do, it doesn't take long to pick up on libraries that are at the heart of their communities. The modus operandi starts to feel familiar. Programming that reflects patrons' interests and the needs of the community: check. Leaders who make constant connections with other organizations and businesses: check. Parlaying one opportunity to create the next: check.
And at the Geneseo Public Library District, in the small town in northwestern Illinois, all the boxes are checked.
"We are the cornerstone to the community. We have little children to people in their nineties come in. And we're busy all the time—we average 194 people a day," says Director Claire Crawford.
While the town's population is around 6,500, the library serves 14,633 people in the district. And the library has a long history in the community of Geneseo dating back to 1842 when it was began as a membership library. After changing hands to a city and then township public library housed in various locations, by the turn of the century the library had its own dedicated building. In 1976, with the library "bursting at its seams" the collection moved to a new building; and in the late 1980s, when the library changed from a township to a district library and doubling the population it served, planning once again started on increasing capacity with a new facility.
An unusual fact of the Geneseo library—and one they are very proud of—is that they saved for 20 years for this, their current library building. With donations and grants from individuals and foundations, they raised $2.6 million over two decades and built their new library in 2011 all without having to raise local taxes.
In this new space, a mile from Geneseo's downtown, they hold an astounding number of programs for patrons of all ages and just about every predilection. Beyond their regular programs, such as a genealogy group, adult book club, arts group, and a wide variety of monthly and weekly programs for kids, they also offer many special events and programs for patrons. To get an idea for the variety and volume of the library's programming, take a look at their newsletter just for June 2016.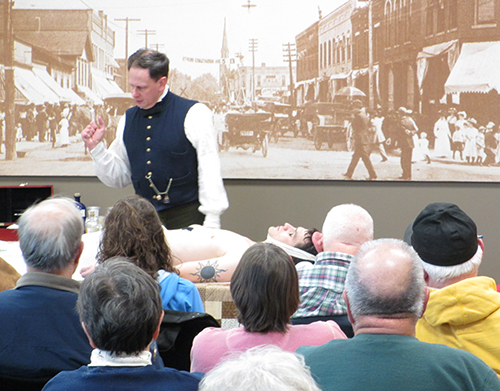 Crawford says kids music programs and for adults yoga and historical programs are always a hit. Take, for example, the program Civil War Field Embalming. "We solicited a volunteer actor from Richmond Hill Players to play the role of cadaver," explains Donna Murray, Adult Program Coordinator. "The Illinois Humanities Council (IHC) has a program called Road Scholars. You can apply for a speaker, off a list of top-notch presenters, with a $75 application fee, and the IHC pays the presenter with grant funds. Most of our program-attending patrons will show up for anything related to Lincoln and Civil War so I went for it. The presenter tied in present day practices and funeral planning at the conclusion of the presentation along with the Q&A so there was relevant information beyond the historical context. I honestly had no idea how well it would go over but we had 60 to 70 in attendance as I recall."
The library features more than programs, however. They showcase their patrons' interests and talents with display areas, in which every month a different community member showcases his or her particular passion, whether Legos or Barbie doll collection in the kids' display case or butterflies or model trains in the adult display case. And, as patrons enter the library, they are greeted on one side by a featured artist display and on the other side with the quilt of the month.
With all this involvement and action, over time, Crawford says, "the community feel has gotten stronger. We started with books, then slowly added computers, and it continues to get better because we keep adding things. People need to use a computer, or maybe a printer or to fax. And we're all notaries. We tell patrons to get a library card, because it's the smartest card you'll ever own."
Popular services the library offers include e-book loans, zoo passes, outreach to homebound patrons or those in assisted living homes and interlibrary loan, with daily delivery and quick turnaround.
To get the input of their patrons, they conduct online and print surveys as well as have a suggestion box. "My main thing is that you have to listen to the community. The community said 'your internet is slow,' and so we found about E-rate—the school had it—and we called up the phone company and got a discount. They gave a donation, and we made sure to get that covered in the paper."
They also host other organizations, such as continuing education classes offered by Black Hawk College, and volunteers from the Kiwanis Club of Geneseo who assist people with their taxes for free.
With a staff of 19 part-time employees, Crawford as the sole full-time employee says, "I don't sit in the office, I work at the front desk and out in the community." Indeed, as a member of the Kiwanis Club, the Chamber of Commerce, and a women's lunch group, Crawford is constantly on the lookout for new partnerships and opportunities.
That can range from STEM programs being promoted in the local schools, to working with the chamber on community events and with the Kiwanis on summer children's programming, as well as with other libraries in the area to hold joint programming and share costs.
Always looking for the next opportunity, Crawford is passionate about the Geneseo library and promoting their role in and value to the community. She puts it well when she says, "Really, there's nowhere else in the world you can get all this for free."
Photos:
First photo: A view of the Geneseo Public Library District building, opened in 2011.
Second photo: Jon Austin, portraying Dr. Benjamin F. Lyford following the Battle of Gettysburg, shows how Civil War Field Embalming is done on an actor cadaver.
Third photo: Josie Peters shows off her display of Legos in the children's display case, which rotates monthly.  
Fourth photo: The App Center, just one of many activities at an event featuring a visit by Buddy, the T-Rex from the kids' show Dinosaur Train, in partnership with local PBS station WQPT.
All photos courtesy Geneseo Public Library District.