Library Community Health Contributions on Display at ALA
Liz Morris
/
10 July 2015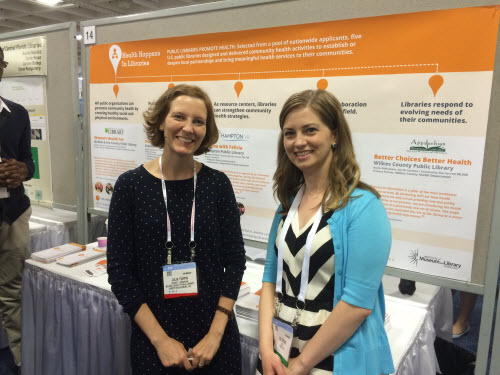 Five libraries from across the United States have collaborated with the Health Happens in Libraries team to develop and deliver community health activities. As a result of their vision and leadership, these libraries have established or deepened local partnerships to bring meaningful health services to their communities, through programs such as a local cooking competition and a multi-week health management series, among others.
WebJunction, along with our partners from ZeroDivide, recently had the opportunity to highlight the motivating work of each library through a poster session at the American Library Association (ALA) Annual Conference in San Francisco. We were thrilled to be joined by representatives from two of our participating libraries, St. Charles Parish Library and Wilkes County Public Library. We will soon produce comprehensive case studies of all five library engagements for publication at WebJunction.org during the summer. In the meantime, we invite you to review and share the poster itself for inspiration on activities and partnerships that can engage your community in health. Feel free to also access the complementary resources that accompanied our poster at ALA. These include a communications guide about the role of libraries in supporting community health, as well as learning pathways on how to develop health literacy, support healthy communities, and understand ethics and privacy while providing health information and services at your library.
If your library is supporting community health, or if you have questions or ideas about this topic, shoot us an email or share your ideas on Twitter using the hastag #libs4health!