Librarians from Mongolia Visit OCLC Seattle
Mantra Roy & Betha Gutsche
/
12 August 2014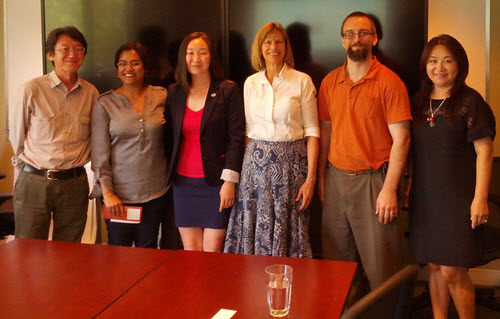 Ninety minutes is all it takes to cross oceans, continents and cultures to find library synergy. That was the experience when staff from the OCLC Seattle office had the chance to sit down and talk about libraries with two librarians from the Ulaanbaatar City Public Library in Mongolia, along with their translator.
Mr. Soyombobaatar Sukhbaatar (Soyom), Director of Ulaanbaatar City Public Library, and Ms. Bayartsogt Boldbaatar (Bayar), the library's Program Coordinator of the American Cultural and Information Center, have been recognized by Mongolia's US Embassy as leaders in the field of library services. The Embassy invited them to visit the US to participate in the "Managing American Corners" program, part of the State Department's premier professional exchange International Visitor Leadership Program (IVLP). Soyom and Bayar spent three weeks visiting libraries across the United States, seeking understanding of the role, operations, and management of libraries, with particular interest in innovative strategies and best practices for using new technologies, social media, public programming, community outreach, and engagement.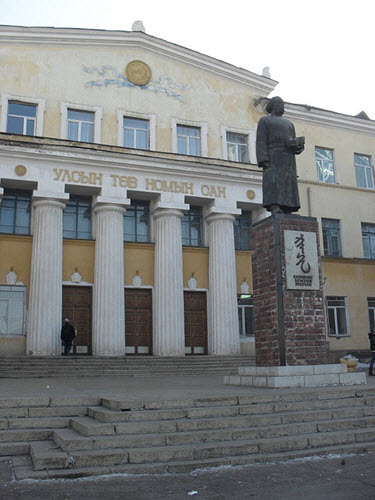 Mongolia is a large and sparsely populated country, with most of the population concentrated in the cities. Ulaanbaatar City Public Library is the largest public library system in Mongolia, serving a population of just over 1 million, with 500,000 volumes and an annual circulation of more than 600,000 transactions. Patrons can submit check-out requests online but they need to pick up the books in person from the libraries. High-speed internet is available in the urban areas, with variations in speeds governed by organizational budgets. For example, the Central Library of Mongolia has the best internet connectivity speed compared with other libraries because it has a higher budget. At Ulaanbaatar City Public Library, the main branch is connected through fiber optic cables while the other 3 branches are connected through DSL. Typically, the bandwidth is bifurcated: half is reserved for administrators and staff while the other half is made available to patrons.
Although the library has a widely accessible online catalog and is active on social media, primarily Facebook, Soyom described the status of "online libraries" in Mongolia as an "infant." He was very interested to discuss the pros and cons of online services and resources. Steven Dalley, Senior Software Engineer for OCLC's Digital Collection Services, demonstrated WorldCat, WordShare ILL, and OCLC ILLiad, and explained what can be achieved by using these resources. Soyom paid animated attention to Steven's overview of the CONTENTdm digital collections management system, injecting questions about servers and hosting options, security and copyright issues, and the process of digitizing content. He is in the planning stage of an initiative to digitize the Ulaanbaatar Library collections and greatly expand access to online resources.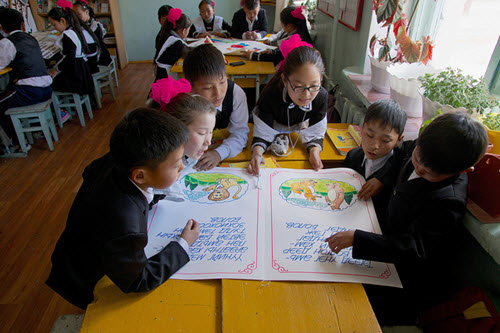 Bayar had come to the meeting with a focus on continuing education for library staff at Ulaanbaatar, so the conversation naturally shifted to a discussion of WebJunction's resources for supporting library staff learning. Betha Gutsche, WebJunction Programs Manager, and Mantra Roy, University of Washington iSchool student and WebJunction's summer intern, enjoyed presenting a sampling from the bounty of available resources. Bayar described staff training and CE opportunities in Mongolia as "very limited" and was hugely impressed at the number of freely accessible resources that she will be able to take advantage of when she returns home. She saw an immediate use for the Competency Index for the Library Field, recognizing the value of defining the essential skills and training that successful library staff should possess or develop. She plans to share the Index with her Human Resources department as a foundation for composing job descriptions, recruiting new employees, and organizing sessions for professional development.
WebJunction has a wealth of material and experience to share about producing live online learning in the form of webinars, which was a term that needed no translation. Both Soyom and Bayar appreciated this format as an attainable entry point to online staff training, and one that continually provides current information in the midst of rapid change. They were impressed with the thoroughness of WebJunction's process for delivering successful webinars, the variety of topics covered, the size of the audiences, the richness of the participant chats, and most of all, the global availability. We won't be surprised if we see some attendees from Mongolia at future webinars. Our visitors were also impressed by the many ways in which webinar content is enriched and extended through the archive recordings, recap articles emphasizing key points, learner guides added to some webinar archives, and the location of archives in the course catalog, which enable receipt of a certificate of completion.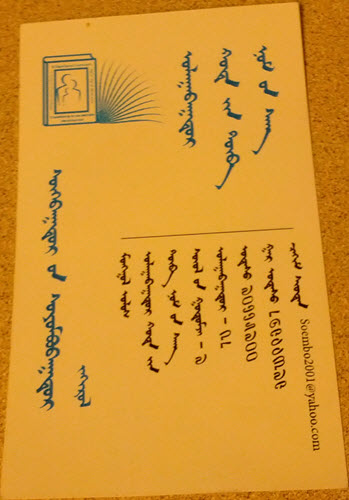 Another challenge that Mongolian library staff face - one that clearly resonates across the US - is the anxiety over being able to teach patrons about new technologies, especially mobile devices. WebJunction's coverage includes dealing with digital devices and Makerspaces, how to teach librarians to use these devices, and then to teach patrons in turn.
The final topic in the all-too-brief 90-minute visit was community outreach and engagement. Soyom and Bayar were nodding in agreement over our description of the evolution of US libraries moving away from being repositories for books and instead becoming community spaces, stating that this is also the hope for their libraries. They are familiar with makerspace ideas and intrigued by the possibilities of space innovations, with future plans to do space and community transformations at Ulaanbaatar. Soyom has a vision of a gallery space that brings Mongolian history to life, with a particular focus on the historic, uniquely vertical old script.
The afternoon concluded with a warm invitation to visit Ulaanbaatar and the hope that our paths cross again, at least virtually. Soyom and Bayar return to Mongolia with increased motivation to explore our webinars, courses, and stories. They intend to introduce Mongolia's Minister of Education to the resources we shared in the hope of some inter-agency collaboration in the near future. We all walked away with the sense of a universally shared mission - how to serve our communities the best way possible by constantly building new skills and knowledge, by offering digitized content, and by welcoming community members into the library space.