January Poll Results: Community Engagement Programs
WebJunction
/
04 February 2016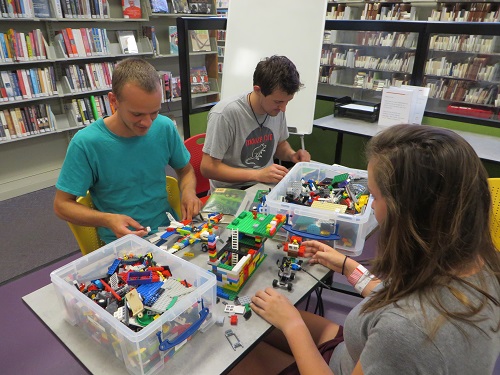 In January we asked Crossroads readers what community engagement program they are looking forward to the most this year and, related, what their top engagement challenge or opportunity is for 2016. Responses varied over many topics but overall revealed a great line-up of programs!
Programs for Teens
Engaging teens was at the top of the responses. One example comes from the Morristown-Hamblen Library (TN) who will use their redesigned teen/young adult area to host a teen Lego club. The Goodyear branch of the Maricopa County Library District (AZ) has created the program series "Fandom," in which each session focuses on a type of fandom where teens can geek out. For example, the first session coming up in March will showcase all things Minecraft: tech trivia, cosplay, debates and live Minecraft battles. Other themes will cover Harry Potter, Comics/Graphic Novels, Percy Jackson and more.
If reaching teens is on your list too, check out the resources in the Young Adults & Teens section of WebJunction including the archived webinars. The Young Adult Library Services Association (YASLA) blog is also a great resource for information and ideas.
Family Outreach
Outreach to families is another focus of libraries in 2016. Community Library Network (ID) is looking forward to Kids Day in the Park, where the library introduces many parents and their children to the bookmobile for the first time. They also use the opportunity to meet other members of the community for possible future collaborations.
Eagle Mountain Public Library (UT) holds a bi-monthly open-house style STEAM night for the entire family (pictured at right), and another library described a reading program where students and parents/guardians support each other in developing literacy skills, thus encouraging both children and their adults no matter where they are on their respective literacy journeys.
Other programs libraries are looking forward to include:
Services to shut-ins
Spanish language programs
Open Art, a drop-in craft room and art studio for all ages
Working with developmentally disabled children
Volunteering for animal welfare
Engagement with local food/farming/gardening community for summer programs
Working with First Nations communities
As will happen, the opportunities and programs readers are looking forward to overlap with challenges. Communicating to patrons about changes, marketing libraries to communities, and fundraising were all themes for challenges.
If this sounds familiar and you would like to increase library awareness in your community, take a look at our Advocacy in Action section on WebJunction. Organized in five phases, the section is designed to help you plan and execute a successful library awareness campaign. The Outreach topic on WebJunction also contains good ideas for reaching out to and engaging more patrons.
Photos:
Top: Think It, Build It Lego program at Bellingham Public Library (WA).
Bottom: Family STEAM Night at Eagle Mountain Public Library (UT).