Inquisitive Leadership in Action
Community Health Partnerships at Spokane County Library District
Liz Morris
/
02 July 2014
Community members visit their libraries to explore topics that span the wealth of human knowledge, and drive ideas for public library programs that address their interests and needs. Library staff members work diligently to prioritize and adapt institutional resources in line with their communities, in an infinite information environment. Many important considerations go into this prioritization – questions like who will be responsible for this activity or service? How does it align with our strategic priorities? What other resources or partners may exist in the community to support this effort? Library leadership is rooted in thoughtful inquiry.
Staff at the Spokane County Library District (SCLD) in Washington State asked themselves one key question when they became aware of a new opportunity for community members to enroll in healthcare coverage through their state insurance marketplace established as part of the Affordable Care Act (ACA): should we lead or should we follow? Their decision to lead and ask tough questions in a complex policy environment resulted in over 500 members of their community successfully enrolling in health insurance at their library, many for the very first time.
Aileen Luppert has worked as a public librarian with SCLD since 2010. Like many people, she has personally experienced periods of uninsurance in her life, and knows first-hand the challenges of managing the administrative complexity of the health insurance environment. When information about ACA marketplace enrollment began to emerge prominently in the spring and summer of 2013, Aileen took a proactive role to identify the marketplace serving Washington State and create an engagement approach for her library.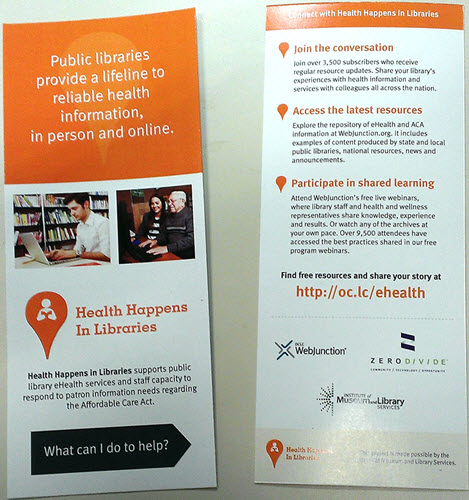 The approach itself was appropriate for the SCLD size and resources. SCLD is made up of 10 libraries serving unincorporated Spokane County with more than 255,000 residents, many in largely rural areas. It was feasible and appropriate for SCLD to train seven library staff members to be Navigators for the health insurance enrollment process and have them meet with Washington state residents by appointment to guide them through the application process. While this type of approach may not be relevant to every library community, the leadership skills that Aileen and her colleagues demonstrated in developing and executing this approach are meaningful to libraries of all sizes, and in multiple service areas.
Show up to community conversations on locally relevant topics, even if the library's role is not yet clear. Connect to these conversations early and often. Attend town hall meetings, or school board and city council meetings, or follow other community-based organizations on social media to understand what issues are prevalent. Engaging in this communication, even without a clearly defined role, can help you and your library identify areas where you can add value. SCLD staff began tracking the ACA landscape in the spring of 2013, attending webinars and showing up at meetings sponsored by their regional marketplace representatives.


Share and seek input with your leadership and staff: Aileen pursued the ACA marketplace opportunity with the input of her supervisor, Stacey Goddard. As the Library Services Manager for SCLD, Stacey provided Aileen with strategic support for exploring and aligning health insurance services at the library in a period of significant organizational change, which in turn supported meaningful staff engagement.


Initiate partnerships by capitalizing on your library's positive reputation: Physical space, flexible service hours, and overall community trust are significant assets that libraries can contribute to community partners working across a range of topics, including health, education, and workforce development. SCLD staff members were able to bring these resources to the table as they connected with partners from their local healthcare marketplace and service community.


Continually seek clarity with partners: When you engage a new partner to address a community need, don't assume you're speaking the same language even though you're serving the same customers! Take time to explore shared partnership goals, as well as the broader missions and other activities of your respective organizations. Define terms together (i.e. what do we mean when we say "training?" Is this formal staff training? Informal point of use assistance?). Work through scenarios together to troubleshoot potential challenges and appropriate responses in advance. If communication gets stalled in email, make time to reconnect in person, and encourage collaborative learning as you go. Library staff members know how to ask great questions – in many ways, partner development (and patron services in complex areas) is like an extended reference interview!


Take it outside: Outside your building, that is. Staff at SCLD connected with their Department of Social and Health Services (DSHS) to bring their expertise to the mobile DSHS community service office, visiting rural communities and helping qualified individuals sign up for public services including healthcare. What interest or expertise areas exist among your library staff, and how can they share those externally?


Tell your story: By expanding their partner network to deliver health insurance enrollment services, SCLD also expanded their communications network. They used every opportunity to promote their library services, for insurance enrollment and beyond, including radio interviews, flyers, and inclusion on partner communications. Aileen and SCLD are featured on the Washington marketplace site. Due to her determined leadership, Aileen was selected as a top navigator for her region by its lead training organization Better Health Together and invited to join a press conference with Washington State Governor Jay Inslee and Senator Patty Murray.
While the outcomes of this relatively new service have been very positive for the SCLD library community, according to Aileen, "We had no idea when we began how well this service might be used." Although moments of frustration did occur when managing the learning curve and technology challenges for navigating their state insurance marketplace, SCLD staff focused on the community members they serve. SCLD staff remembered that patron experiences would be enhanced due to their willingness to start down the path of health insurance services, even when they couldn't see more than a few paces ahead. By seeking clarity, asking questions, and staying open to change, SCLD strengthened their foundation of service delivery and the health of their local community.