iFought the iPads (and iWon)
iPad Displays for Children at Rapid City Public Libraries
Sally-Adrina Taylor
/
28 March 2014
Introduction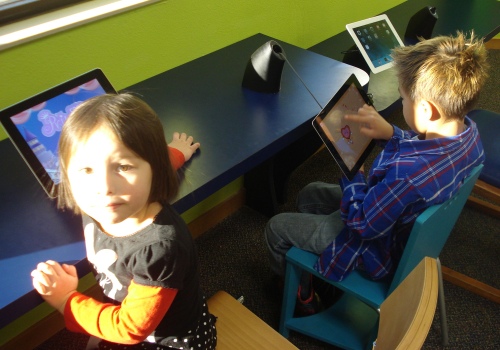 When Rapid City Public Libraries decided to add iPads to the Children's Area, I volunteered for the project. In the end, this project took me a couple of months to tackle but the number of children using the iPads made it worth the effort. I hope by sharing my experience I can alleviate some frustration and confusion on how to successfully set up iPad displays for young children.
Staff quickly decided to focus on iPads and not a generic tablet, because of the brand familiarity of Apple products and because of the iPad's more intuitive touch. When we received our 2nd generation iPads I had to make a series of decisions concerning security, apps, and settings. Although lending devices is the newest trend, that wouldn't work with our target audience of children ages 2-10. One of the reasons we decided to go with tablets was that children from lower income households may not have the opportunity to use mobile devices or tablets before going to school. Plus, limiting lending to only active card holders (who would have to sign a waiver to replace the iPad if broken) would deny children visiting or on vacation from having a chance to use them.

Stands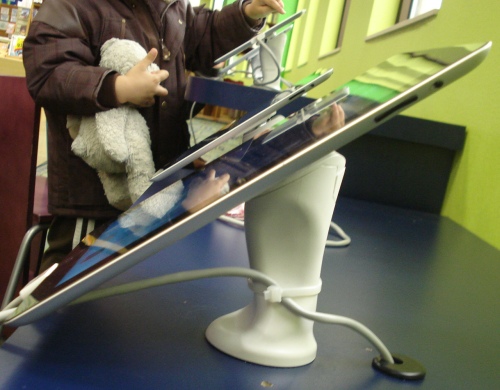 We decided to use stands to keep the iPads secure. Finding the right security system can be tricky. I was a bit overwhelmed when I looked online and found numerous options. A local urgent care was using a model of stand that has the charging cable inside the tether. After learning the hard way I can give the following tips:
Do not choose a stand that includes a tether or security cord without including a bumper, as the iPad will most likely hit against the table.
If the stand is strong enough, you don't need to pay for extra security measures (as long as you don't have a problem with excessive property damage).
You should not be able to tug, pull, or otherwise make the stand release the iPad. The true test is letting children try playing apps and rotating the iPad during games. I highly recommend finding a product with a warranty.
Many games require you to turn the screen; an option to rotate the iPad 45 degrees is preferable.
Make sure the security cord does not break the stand, making the iPad no longer secured.
Buying a stand is an investment as the cost can vary from $25-$1,000 or more. The cheaper stands do not include cables or tethers for security, but most stands run about $90-$400.
In the end Rapid City Public Libraries tried three different styles. One of our first models broke iwithin the first three days and did not come with a warranty. We have had great success with our third try, the Pivot Lockdown System model by Vanguard Protex Global.
iPad Charging Cables

Preoccupied with the safety of the iPad, I never thought about the issues that could arise with the charging cables. Here are a few tips:
Secure the cords to the wall and stands or theft will occur. Since securing the cords with zip ties, we haven't had a problem.
Do not get a stand that has metal edges- although it won't hurt a child, the iPad cord can be sliced and the wire exposed, as the cord rubs against the metal.
Invest in thick iPad cords (such as Griffin) as they are more sturdy, but note that the metal prong can still bend if pushed the wrong way- i.e. when children try to plug the cord in or if accidently bend while using the iPad.
Starting from out of the Box
The hardest part of putting iPads on display was setting them up for public use. Since our IT staff had already set up Wi-Fi for the library's mobile devices, I did not have to ask for them to do this for the iPads. I did have to learn about the various methods to set up an iPad that allow the settings to be backed up. Here are some tips to remember:
If you have access to a Mac computer, use it! Using a PC to create backups or trying to use Apple Configurator on a PC will not work. Do not switch back and forth between Mac and PC for iPad set up/back up. It can cause internal software problems.
One Apple ID can backup as many as 10 iPads. This means you can buy apps and share on all the iPads under the same Apple ID.
If you're purchasing more than 10 iPads, consider the Volume Purchase Program for Business or Education. Not all countries have access to the VPP option.
A credit card is not needed to set up an Apple ID; skip that step or use a gift card.
Choose one iPad as your main iPad. This saves you from trying to unlock purchases made on different iPads later. Another option is to use one Mac computer for purchases.

Creating an Account
Creating an Apple ID was simple and took a matter of minutes. Use a business email address for information to be sent to that address. It will be saved as your Apple ID. Once you have an Apple ID you can now turn on your iPad and set up your account. Follow the simple instructions given to you on the iPad screen. Remember, your Mac computer must have the latest updates downloaded for App Store and iTunes before you can set up your iPad.
Restrictions
The easiest way to set up restrictions is to go to Settings- Restricts (create a four digit code) and go through each of the areas covered to decide what your library/organization wants. However, you'll want to go down all the options on the left hand side in the Settings screen, as you may find more options. For example, did you know there are at least three ways to control the volume on an iPad? There is the volume button on the upper right hand side, Sounds, located in the Settings on the left hand side, and if you push your finger up from the bottom of the iPad a quick control panel will appear.
You might be wondering, is volume necessary? Volume is required so children are able to follow instructions, since a number of the children trying the iPads are unable to read. Keeping the volume on helps children with sound and visual recognition, which is essential for learning to read and write.
A suggestion I have for the side switch (small button on top right hand side) is to set it to mute. If you choose to have it set for locking rotation, when a child tries to use the iPad they get frustrated thinking it's broken.

Apps

When grouping the apps for the iPad I decided to create two separate accounts, one for little kids (ages 2-5) and one for school-aged kids (ages 6-10) and divide the four iPads so two were used for each account. However, when the young children came out of story time, the kids were upset they could only play on two iPads and not all four. My solution for this was to put a couple "baby" games (for 1.5-2 year olds) at the bottom of the screen. I put  "Appy Beginnings " (for 2-5 year olds) on the desktop, and  "Appy Pros " (for 6-10 year olds) in a separate folder. A quick game to show how the iPad works for babies was a hit, plus hiding the harder games in a folder was extremely helpful (because children who knew how to operate an iPad could find it).
Things to remember when buying apps:
How long do you want the kids to be on the iPad? Even if a game is educational, and you have a line of kids wanting to play, it's best not to include apps that make users sign in with an individual account or have lessons to complete before moving to another part of the app.
Free doesn't always mean free. Sometimes you will buy an app and need to set up an account to access it or pay to unlock features.

Two favorite apps are Caillou and Coco Princess; however, to unlock more of the game you need to spend anywhere from $0.99-9.99 (known as paid in-app purchases).
Reading Rainbow, Abcmouse.com, Starfall, and several other well-known educational resources require an account to utilize the app.

No matter how you restrict the volume on an app, it is in the app's individual settings that allow the iPad to play louder.
The more apps you have, the longer it takes to process a backup, whether you reset your backup using a Mac computer or the iCloud--Having over 85 apps took us almost three hours or more to download everything via the iCloud (using our fastest Wi-Fi).
Test all the apps! I had to ask a couple of mini-testers to try the iPads. Even though a game is fun, a child might find: the pop ups frustrating and hard to close; they can't read the instructions to play the game; or the app/game is too hard for the intended age range.

Internet Access: To have or have not?
We discussed whether or not to include the internet on the iPads. There are a lot of great online resources that can be used by creating an app button using a link address. We decided for the following reasons not to enable internet browsing:
Children already have access to the internet via library computers.
Adults are more likely to play on the iPads if internet is accessible, making it necessary for staff to enforce age restrictions.
To protect a user's private information, internet history and cookies would need to be cleared often by staff.
However, since we wanted to set up a survey, I had to create restrictions for Safari only allowing the one website. The Safari app would disappear but access to the survey was still granted. If the kids found a way to Safari, they couldn't open anything else.
Survey
Creating a survey app is a great way to track if there are any problems with apps or games that have too many annoying pop ups (since we did choose free apps). It also gives children a voice to express their opinions. One survey answer said that the child was just happy that we gave him the option to tell us what he thought. Our staff created a survey with Wufoo.com to get an e-mail every time a survey was completed. Survey Monkey was our first option, but they don't have a way to let you know when a survey has been completed. Survey Monkey told us the company is looking into having that option in the future.
Now when the kids come into the children's area they run to use the iPads. We haven't had to use time restrictions, as parents or other children make sure everyone is taking turns. It's rare these days to see the iPads completely empty, even during school hours. I decided not to limit to only educational games, as children can learn from all the apps: hand and eye coordination, following oral and/or written instructions, problem solving, and even social skills. I often see kids turning to the kid next to them to ask for help. A mother stood looking at her son in shock one day and told me, "We don't have anything like this at home but he knows more [about the iPad] than I do!" Our iPads for the children have been such a success that we will be installing iPads in our Young Adult area soon.
Further Help